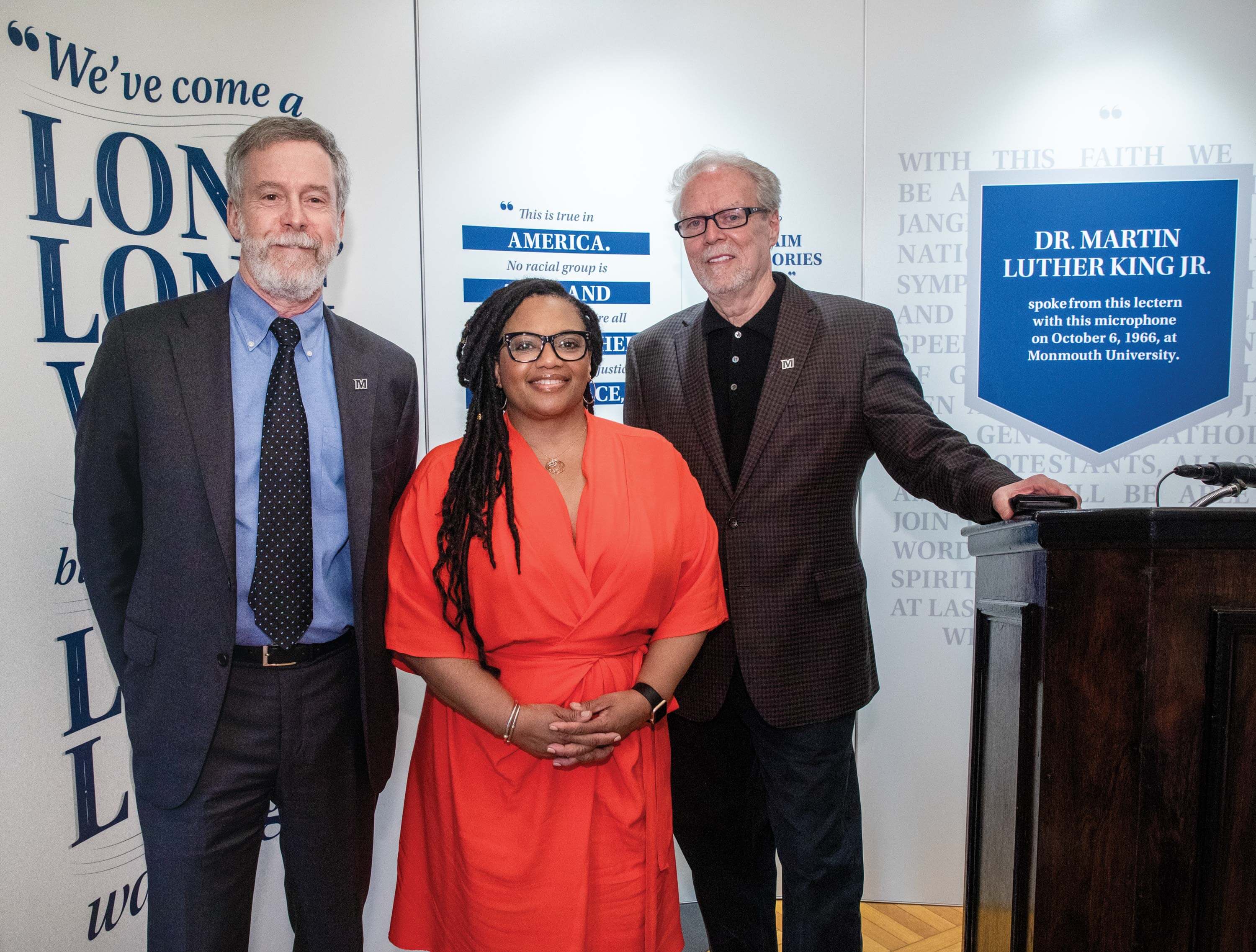 Campus Briefs
The scene at West Long Branch.
Exhibit honors MLK's visit to campus
Waves of Change: An Interactive Exhibit of Dr. Martin Luther King Jr. at Monmouth University is a new, permanent installation honoring the civil rights leader's Oct. 6, 1966, speech on campus. An initiative of the President's Advisory Council on Diversity and Inclusion made possible by the generosity of Monmouth University Trustee Raymond G. Klose '77, the exhibit memorializes the lectern and microphone that were used by King when he addressed approximately 2,600 students, faculty, administrators, and community members in what is now Monmouth's Boylan Gymnasium. In addition to the podium, the exhibit features a wavelike wall with an audio timeline of King's speech, complete with accompanying visual callouts of historical references made throughout the speech. Visitors can listen to the speech by scanning a QR code with their cell phones or utilizing available tablet computers. Come experience the exhibit in person: The installation, which is on the main floor of Wilson Hall, is open to the public for viewing during regular business hours.
Cronin receives Fulbright Award
Michael Cronin, associate professor of social work, has been named a Fulbright Scholar. Cronin will spend the 2019–2020 academic year teaching classes in social work in emergencies, social entrepreneurship, international social work, community social work, and social work professional concepts at the National University of Kyiv-Mohyla Academy in Kiev, Ukraine. During that time, he will also provide consultation and training for psychosocial support capacity building for affected populations of war and emergencies, including support for staff and volunteers who are conducting this work at the Centre for Mental Health and Psychosocial Support at NaUKMA and the Ukrainian Red Cross Society Psychosocial Support Team.
Bread winners
Students Zack Sandler and Mike Veit's app, "Save Bread.," won the Business Pitch Contest at the third annual Hawk Tank Challenge. The duo took home $2,000 for their app, which helps students find the best student discounts on food, clothing, nightlife, and more at businesses within their college community. The free app is available for download in the iTunes App Store.
Social justice champion
Johanna Foster, associate professor of sociology and the Helen McMurray Bennett Endowed Chair in Social Ethics, was named a corecipient of the Society for the Study of Social Problems' 2019 Michael Harrington Award. The organization grants the award each year to an individual or organization that, by their actions, advances our understanding of poverty, social class, and/or inequality, and/or proposes effective and practical ways to attend to the needs of the economically marginalized and reduce class inequalities.
Poll positions
In conjunction with a Monmouth University Poll on wild animal exhibits, five University experts shared their perspectives on current issues related to animal welfare, animal research, and animal law during a March panel discussion. "Animal welfarists are about promoting better conditions for animals in whatever situations they find themselves in, whether they be in research or agriculture or in entertainment," said panelist Randall Abate, the Rechnitz Family/Urban Coast Institute Endowed Chair in Marine and Environmental Law and Policy. Faculty members Lindsay Mehrkam, Chris Hirschler, Megan Phifer-Rixey, and Anastasia Wheeler also took part in the discussion, which was moderated by Patrick Murray, director of the Monmouth University Polling Institute. You can watch the complete discussion at monmouth.edu/polling.
Colleague extraordinaire
Associate Professor of English Stanley Blair received the Steven J. Rosen Mentor Award from the New Jersey College English Association (NJCEA). The honor is bestowed upon a college English professor who has served as a mentor to colleagues, and has "contributed to the profession beyond assigned teaching duties by demonstrating leadership, giving wise counsel, and providing extraordinary guidance," according to the NJCEA.
Examining the past
Christopher DeRosa, associate professor of history, was one of a select group of faculty members nationwide chosen by the Council of Independent Colleges and the Gilder Lehrman Institute of American History to participate in a special American history seminar, "The Civil War in American Memory," held at Yale University in June. Seminar participants assessed the historical memory of the most divisive event in American history, examining why the slavery, Civil War, and Reconstruction epoch has remained an unending dilemma in American historical consciousness.
Band aid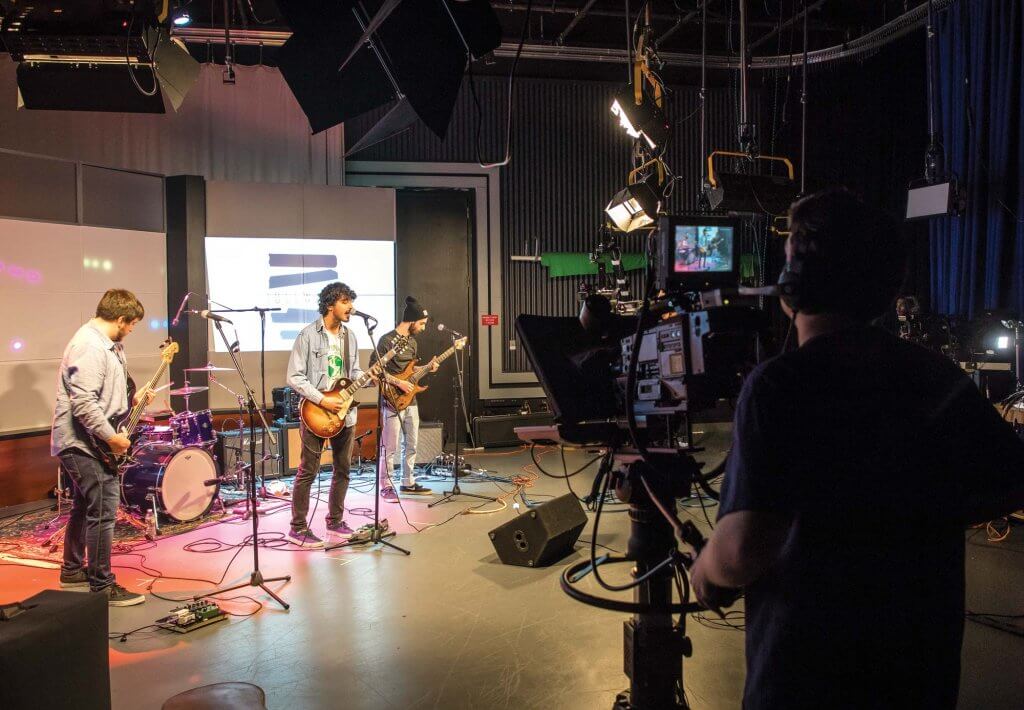 Rock 'n' Raise, an annual charity event run by Monmouth's student-run television station, Hawk TV, and student-run radio station, WMCX, raised $1,600 to benefit the American Cancer Society. The event, held in the Monty Television Studio in the Plangere Center, featured a battle-of-the-bands showdown of live musical performances, and was livestreamed on YouTube and simulcast on WMCX.
Social recognition
The School of Social Work's Master of Social Work program was ranked among the top programs in the country according to the recent "2020 Best Graduate Schools" rankings from U.S. News & World Report.
Sounds like a winner
Broadcasters from Monmouth University's student-run radio station, WMCX, received national recognition at the Intercollegiate Broadcasting System's 79th Annual International Media Conference held in New York City earlier this spring. Glen DeNigris won first place for best baseball/softball play-by-play announcer and was a finalist for best football play-by-play announcer. Other finalists at the conference were Molly Fichter for best live music broadcast and Karla Avila, Denisse Quintanilla, Odalis Caraballo, Paola Sosa-Siguenza, and Juan Vega for best foreign language program for their show Nuestros Sonidos Latinos.