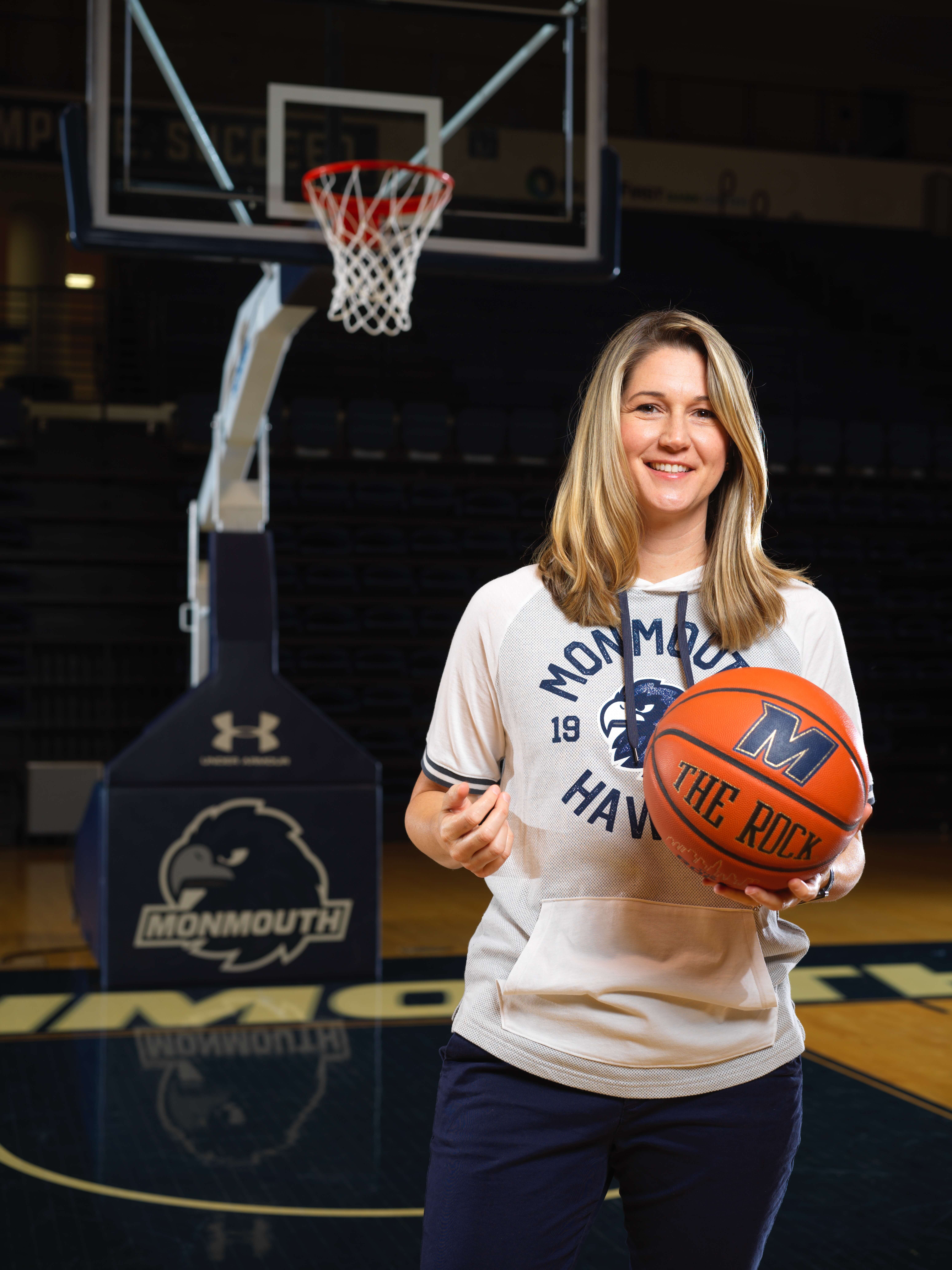 Building a Championship Culture
With new Head Coach Ginny Boggess at the helm, the future looks bright for Monmouth women's basketball.
When you first talk with Ginny Boggess, you quickly sense that you're speaking with a high-energy, confident professional. Those character traits—high energy and confidence—are precisely what she expects fans to see from her players on the floor.
Last April, Boggess was named the ninth head women's basketball coach in program history at Monmouth. She is tasked with building a new culture within the Hawks' program—a winning one that will ultimately make the dream of advancing to the NCAA championship tournament a reality.
"We want to create an environment where players want to learn how to get better every day," says Boggess. "The kids clearly love it here. No one entered the transfer portal, which says a lot about their commitment to Monmouth and to each other.
"We need to instill toughness and discipline and establish our pace of play. Those are the key areas of focus in year one. We want to push the pace and get more scoring opportunities and points per possession."
Although Monmouth is her first head coaching position, this is not Boggess' first rodeo. The West Virginia native has an extensive coaching background that includes stints as an assistant at Penn State, Marquette, Hofstra, Jacksonville, and Columbia universities.
I absolutely love it here…. It is the perfect place to do my job, which is to empower young women and build leaders for life.
Boggess helped turn around the women's program at Marquette. The Golden Eagles posted a 9–23 record in 2014–15 and, two years later, secured an NCAA championship tournament berth. She helped guide Marquette to three consecutive NCAA appearances before becoming the assistant coach and head recruiting coordinator at Penn State.
The Wingate University graduate has earned a reputation as an exceptional recruiter who develops talent. She pursues athletes who are self-motivated, competitive, and great teammates. When discussing prospective recruits with her staff, she always asks them to consider this question: "If you were still playing, would you want to play with her?"
"I've built a reputation as a recruiter, but I'm at my best when I'm teaching," says Boggess. "Some of my recruits early on were not big-time prospects and went on to win major individual awards and set program records. They made me look like a great recruiter, but it was really about developing those players.
"Here at Monmouth, I want to bring in players who are a good fit for the institution and will thrive in our system. I want to get to know them beyond their jersey and find out what makes them tick as a player, person, and student. That allows me to coach them a little harder because they can trust that I have their best interests at heart."
Boggess understands the importance of connecting with players past and present. She recently hosted a Zoom meeting with women's basketball alumnae and a virtual happy hour. She welcomes all former players to visit her and, more importantly, to attend games and watch the Hawks play a style of basketball that will make them proud. Boggess delivered a direct message to Monmouth's 1982–83 team (NCAA qualifier) and 2010–11 team (WNIT qualifier) promising that more women's basketball banners will join theirs in the OceanFirst Bank Center.
Her confidence in achieving success is rooted in her coaching experiences, and her energy is amplified by the assets at Monmouth that will appeal to recruits.
"I absolutely love it here," she says. "Monmouth offers a great education and access to internship opportunities in New York City and Philadelphia. The facilities are unbelievable, the housing is fantastic, and the location near the beach is the cherry on top.
"It is the perfect place to do my job, which is to empower young women and build leaders for life."