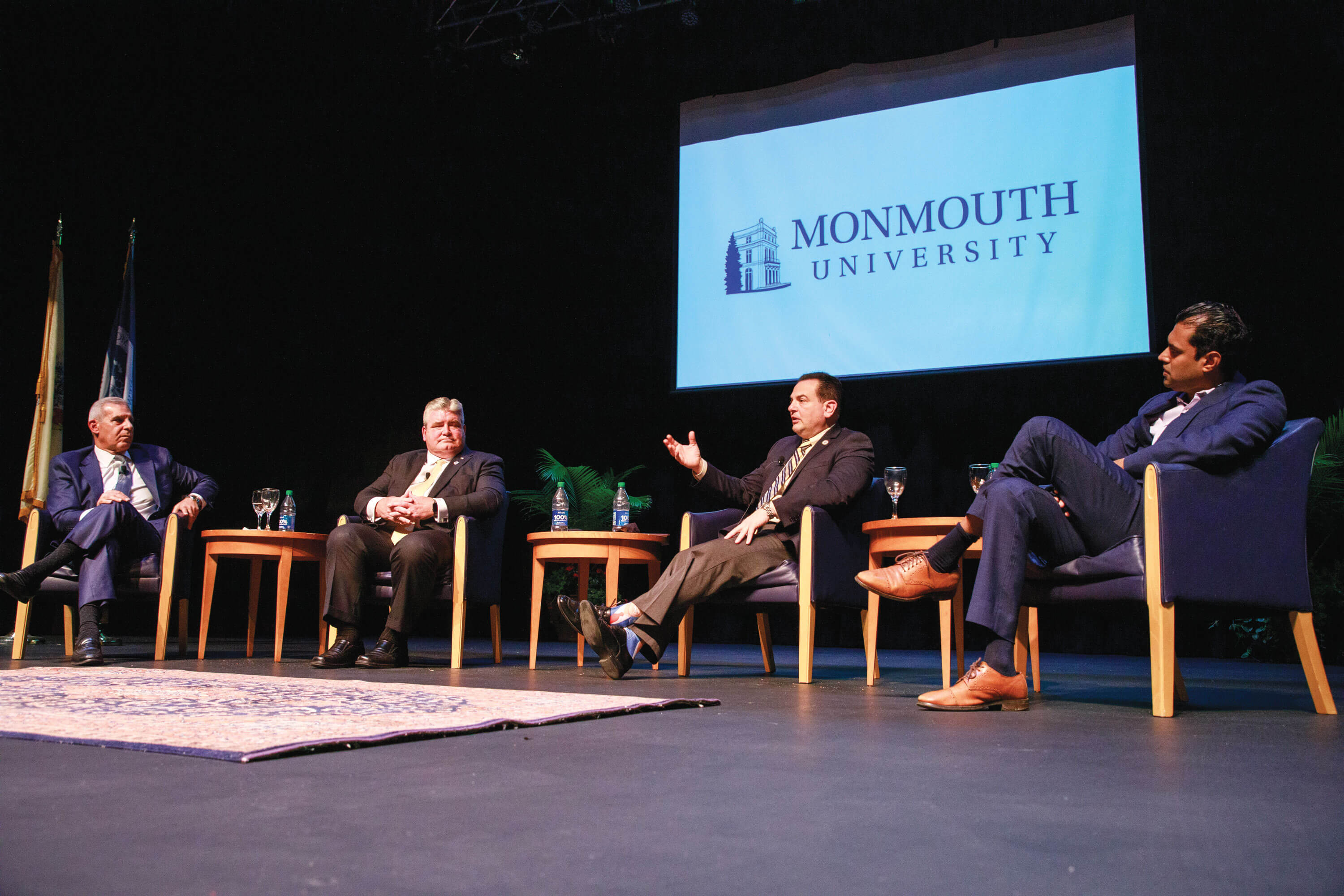 Bridging the Political Divide
A new campus initiative promotes civil dialogue in the advancement of public good.
Have we lost the ability to respectfully disagree?" That was the question posed by Provost and Senior Vice President for Academic Affairs Pamela Scott-Johnson at the March 2 kickoff event for Leadership, Civility, and Common Ground in Politics and Public Service, a new conversation series aimed at bridging the political divide through civil discourse.
The series came to fruition after New Jersey state Sen. Vin Gopal, an adjunct professor at Monmouth, reached out to President Patrick F. Leahy with the idea of bringing state Republicans and Democrats together for a series of discussions on civility and how it can help create common ground and advance public good.
The first event, which focused on how civil discourse can lead to good public policy, was led by Gopal, a Democrat, and former New Jersey Republican state Sen. Joe Kyrillos. The pair facilitated a conversation between two other public leaders—New Jersey Senate President Nicholas Scutari, a Democrat, and New Jersey Senate Minority Leader Steven Oroho, a Republican—who shared their thoughts, personal experiences, and plans for continuing to engage in civil dialogue in order to work successfully across the aisle.
The event, sponsored by the Office of the President with support from the Department of Political Science and Sociology and the Institute for Global Understanding, is the first in a series that Leahy says is fitting to be held at Monmouth.
"If society needs a haven for free exchange of ideas, it need look no further than its colleges and its universities," Leahy said. "As John Masefield, poet laureate in Great Britain, said back in the '40s, 'Wherever a college or university exists, the free minds of men and women, urged on to full and fair inquiry, may still bring wisdom into human affairs.' And that's what we're all about here at Monmouth."