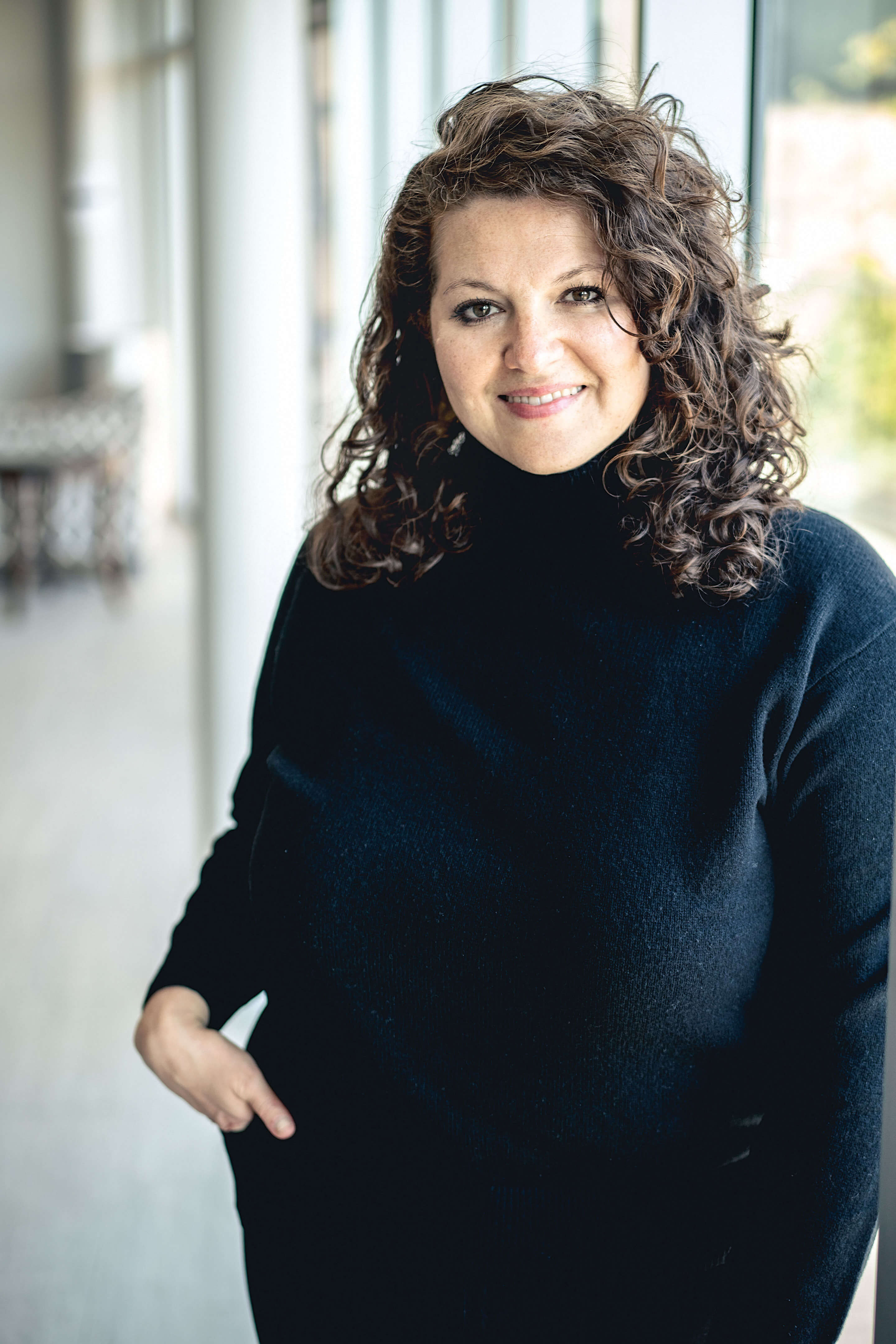 Beyond Business
Alison Gilbert, the new director of the Center for Entrepreneurship at Monmouth University, is reinventing how the center serves the University community and beyond.
One of the key initiatives set forth in Monmouth's five-year strategic plan Excellence. Access. Ambition., is the reimagining of the Center for Entrepreneurship at Monmouth University.
For years, the center has connected students and faculty from the Leon Hess Business School with local businesses. Looking to build on that success, President Patrick Leahy, while discussing the initiative on one of his Monmouth Weekly podcasts, said he envisions a sort of center "2.0"—a place that fosters entrepreneurism, innovation, and creativity for all members of the University community as well as the surrounding state and regional communities.
The person responsible for making that vision a reality is Alison Gilbert, who last summer was hired as the center's new director. For the last 15-plus years, Gilbert has consulted, coached, advised, and workshopped with hundreds of early-stage entrepreneurs, helping them launch, build, and grow their businesses. She's also an entrepreneur herself, having started and scaled multiple businesses.
Gilbert talked with us last fall about how those experiences will help her "build out a thriving center that supports, inspires, and grows entrepreneurial activity on campus and throughout the region." One area of particular importance, she says, will be ensuring the center serves as a resource for students from all majors, not just business, so it is perhaps fitting to note that Gilbert herself was a humanities major in college.
After earning her bachelor's degree in English and Spanish from George Washington University, Gilbert thought her next step would be law school. But when she couldn't think of a good answer to the application essay question "Why do you want to be a lawyer?," she pivoted. The Monmouth County native says she always had a passion for cooking, so she moved to Manhattan, went to culinary school, and ran a pastry catering company while working in the kitchen of a private dinner club. Then a serendipitous turn of events led her down the entrepreneurial path.
How did you go from pastry chef to entrepreneur and business strategist/advisor?
It was one of those right-place, right-time moments. While working in New York City, I connected with the CEO of a just-started food media startup, Tasting Table, who hired me for a part-time job. I worked at the food media company by day and in the kitchen of a private dining club at night. After burning the candle at both ends for a while, I quit my kitchen job. When I told the CEO, he said, "Oh no, I don't have a job for you yet." I said, "That's OK. I believe in this company, and I'll be here when one opens up." The next month, he hired me full time, and within that first year, I became the COO. We scaled that into a multimillion-dollar business with readership in the millions, and by the time I left, the company had grown to a team of 40.
From there I started my own strategy coaching and consulting practice called Project AG. I wanted to bottle up what we did and bring it to as many businesses as I could. More than 10 years later, I've worked with hundreds of entrepreneurs across different industries and sectors and with various business models to help them transform their visions into thriving businesses.
How are those experiences helping in your new role as director of the Center for Entrepreneurship?
I built my business, Project AG, like a business incubator. I call it a "studio'" because I think of it less as a coaching and consulting practice and more as a lab: a creative environment to help my clients—leaders, innovators, and founders—make their visions a reality. It's less about providing the answers to my clients and more about providing the space, guidance, access to resources and connections, inspiration, and learning opportunities to help them find the answers for what's right for them to fulfill their visions. I'm building the Center for Entrepreneurship the same way.
I've worked with entrepreneurs who have built businesses that generate meaningful revenue. I've worked with entrepreneurs who have fundraised. I've worked with owners who have pivoted. I've worked with entrepreneurs who have decided to stop building their businesses. All of this experience has prepared me for this role leading the center, and I'm excited to deepen the impact we can make in our society and on our economy through the medium of entrepreneurship.
What are your immediate priorities?
In the near term, I am focused on uncovering existing entrepreneurial activity on campus and cultivating new additional opportunities at the University to build a vibrant entrepreneurial culture here. Right now, anyone at the University can visit the center and receive coaching guidance and learning resources to help them prepare, launch, and build a business. We're also building out programming such as workshops, boot camps, and competitions and creating a mentorship and advisory network.
Can you give us a preview of the programming you're planning for the upcoming semester?
I'm excited to be running the HawkTank Spring 2023 Pitch Competition, which will build upon the HawkTank Challenge that was started by Joseph McManus, the center's previous director and now associate professor and chair in the Department of Management and Leadership, as well as building upon the entrepreneurship learning foundations set forth by John Buzza, senior specialist professor and another former center director.
HawkTank '23 will be a University-wide event in which undergraduate and graduate students from all schools can submit an entrepreneurial idea. Those who are selected as finalists will present to a team of judges for a chance to win a cash prize they can invest in furthering their entrepreneurial idea. Along the way, the finalists will receive one-on-one coaching through the center, gain mentorship guidance from strategic advisors in our network, develop a pitch, and learn how to take their products or services from the idea phase to market.
I have a lot of ideas for how to expand the competition in the future with additional tracks for alumni, faculty, and entrepreneurs across the state to participate.
You mentioned alumni, many of whom read this magazine. Can Monmouth graduates currently make use of the center?
Absolutely. Alumni can benefit from the same resources as students and faculty. We can provide strategy coaching and mentorship matching and can create opportunities for networking to help alumni move their entrepreneurial ideas forward. As we build out our offerings and capabilities at the center, deepening the support we offer to alumni will be a part of that.
Getting back to the broader topic of entrepreneurship, what changes or trends have you noticed over the years? And how might those influence the work you're doing through the center?
One of the biggest trends that I'm seeing is that what some people once called "social impact" or building a "socially responsible" business has become mainstream. Now, most founders when starting their businesses incorporate some sort of mission or impact focus into the strategy of what they are building. Most business owners realize that to be relevant and competitive in this market, it's necessary to build something that both generates profits and helps society or the environment in some way.
I'm also seeing more and more people leading entrepreneurial lives, even if they don't identify as entrepreneurs. More people have side hustles or work on entrepreneurial projects in addition to their full- time jobs to supplement their incomes and experience and channel their passions.
You've said you want the center to be a resource for all students. Why is it important for non-business majors to develop entrepreneurial skills? And how will the center make that possible?
Now more than ever, employers value entrepreneurial skills in their employees, and they're looking for that skill set—creative problem-solving ability, emotional intelligence, resourcefulness—in their new hires.
In addition to incubating and coaching businesses at the center—what I'm calling the Business Impact Path—we are working on a learning and coaching path that I'm calling the Personal Inc. Path: Be the CEO of Your Life. The idea with the Personal Inc. Path is to take the principles and strategies for building a business and apply them to your life: What is the vision for your life? What is the mission for your life? What are the different ways you will make money? What are the ways you will invest back in yourself, your family, and your community to become personally fulfilled and financially secure and be able to contribute to society? We're piloting a set of Personal Inc. Path workshops on campus this spring and will build it out from there.
Looking further ahead, what is your long-term vision for the Center for Entrepreneurship?
The longer-term goals involve taking this blueprint of programming and experiences that we're offering to the University community and using it to support greater regional entrepreneurial communities and projects as well. I want this center to be a leading destination in the state for incubating innovative projects and entrepreneurial endeavors that make local, statewide, national, and in time, global impact. Shoot for the moon and land among the stars, right?
Why do you think it's important for this center to foster entrepreneurship and innovation in the external community?
By intentionally hosting gatherings, creating opportunities for knowledge sharing, and developing workshops, boot camps, and incubator initiatives, we'll be bridging connections between the outward community and the inward University community. The more we engage in and support innovation and entrepreneurship in our local and regional communities, the richer the ecosystem of people, activities, and resources we create for all who participate—and the more impact we're able to make on society and the economy.