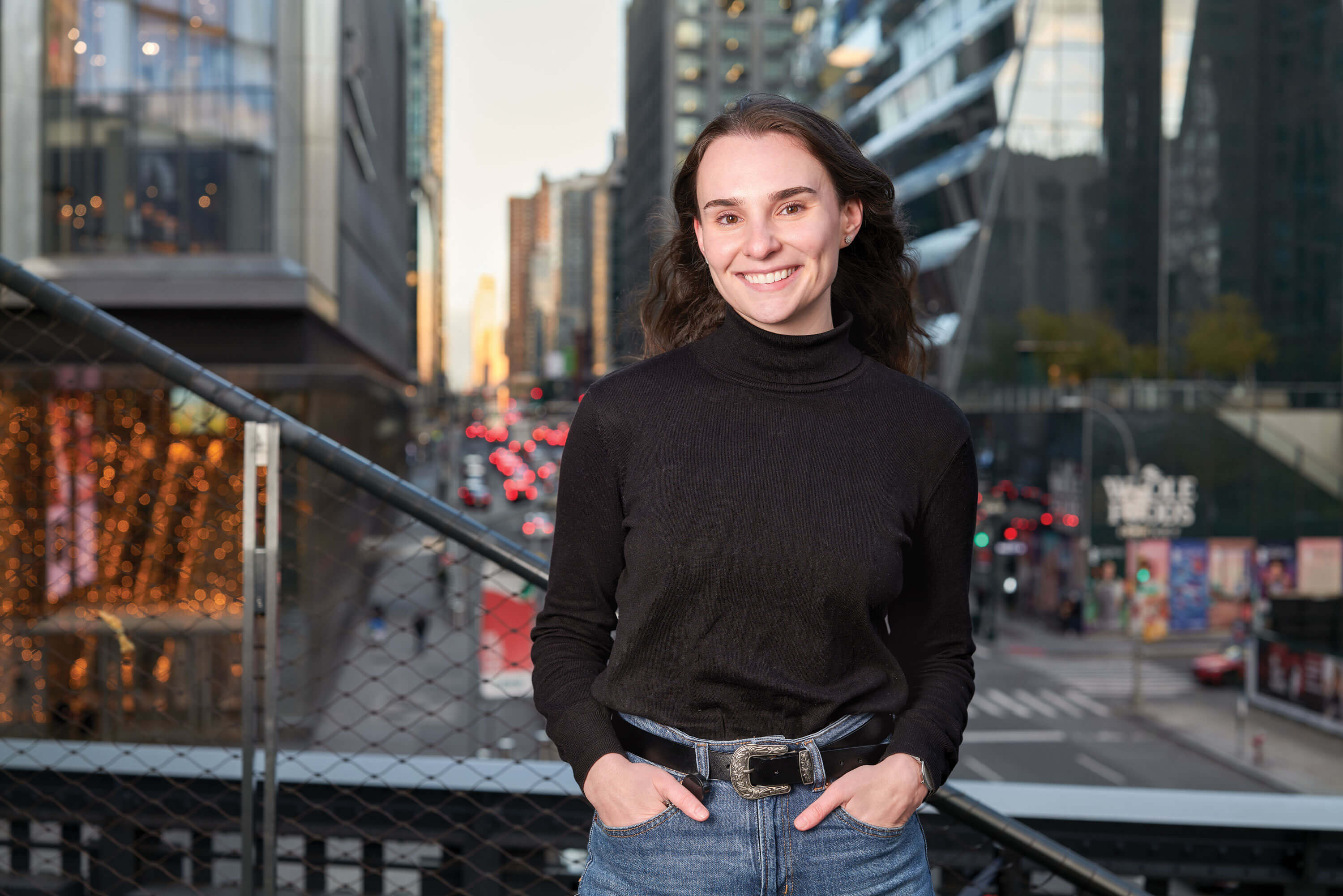 Better Living through Data and Science
At Monmouth, data scientist Michelle Grushko '15 fell in love with the idea that you can answer nearly any question with the proper research design and data analysis.
Michelle Grushko's research experiences at Monmouth, where she pursued dual majors in political science and psychology, piqued her interest in human behavior and the power of data. In turn, that led her to graduate school at Columbia University, where she earned a master's in quantitative methods in the social sciences.
Today, Grushko puts her degrees to use at Meta, where as a marketing science partner she helps the company's advertisers grow their businesses. Before Meta, Grushko worked in similar roles at Twitter and Glossier Inc.—a beauty, makeup, and skincare startup.
"Meta marries both of my worlds in terms of the marketing analytics work I did at Twitter and the data science work I did at Glossier," says Grushko, "and I love it."
At Monmouth, Grushko—who also completed a minor in gender studies—was a member of the Honors School, which required her to write a thesis for graduation.
"My thesis was on the perception of female candidates on social media," says Grushko. "I ran an experiment where I simulated a Twitter feed with Hillary Clinton's tweets but masked [them] in terms of name, picture, and gender."
Subjects were randomly assigned into groups in which they read the tweets and then were asked questions about the likability of the candidate.
"I learned there's definitely a lot of gender bias when it comes to the perception of female candidates," says Grushko. "I think the research was really eye-opening in terms of the world of social media and especially with the 2020 election and even the elections before."
That experience helped Grushko when she was on the marketing insights and analytics team at Twitter, working on a project that investigated gender stereotypes and representation in sports advertisements. "We looked at these ads to understand how people react to them and whether or not it drives brand metrics such as ad recall," says Grushko. "People actually remembered the ad, and we also found that ads that went against the stereotypes were more memorable and empowering."
Looking back, Grushko cites two factors from her time at Monmouth that have helped her in her career path. The first was the emphasis on statistical methods in both her political science and psychology courses at Monmouth. "Even while writing my thesis, I had to employ statistical methods and answer research questions," says Grushko. "Being able to answer any question with data or with experimentation—that's something that I've carried throughout my career as well."
The other factor was being on the debate team, which she joined her first year and for which she eventually earned the role of captain.
"Being in a debate round prepares you to think outside the box, think on your feet, and understand arguments from different sides," says Grushko, "and I genuinely use that in my career almost every day."