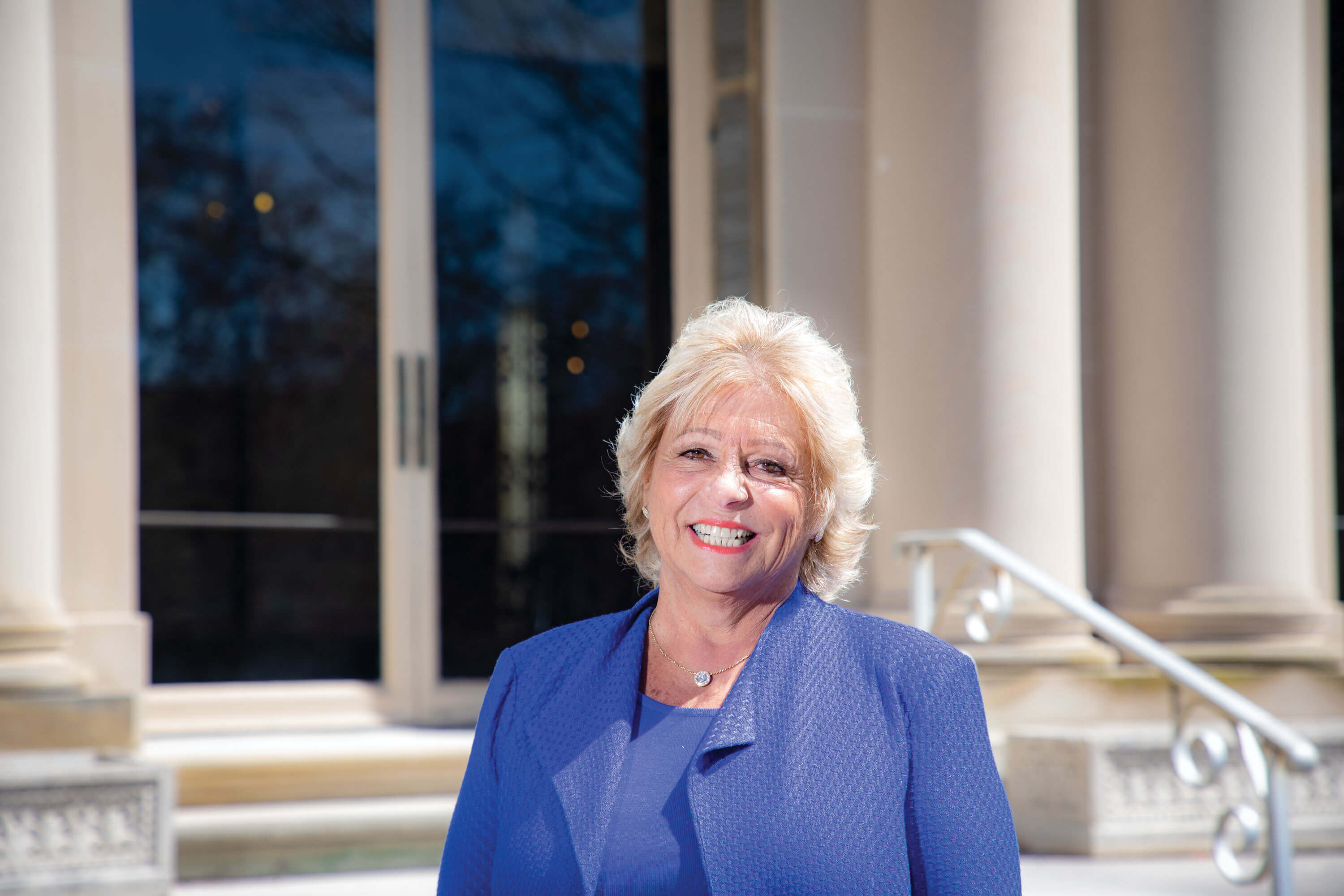 An Institution Unto Herself
Patti Swannack reflects on her 46-year career at Monmouth.
Since she arrived at Monmouth more than four decades ago, Vice President for Administrative Services Patti Swannack '02 has been witness to institutional history several times over.
She was working in the human resources department when the athletics program celebrated its move to Division I. She saw Monmouth welcome its first female president, her friend and mentor, Rebecca Stafford. And she was newly appointed in her current role when Monmouth gained University status in 1995. She's also witnessed the University community come together to persevere through trying times including 9/11, Superstorm Sandy, and most recently, the COVID-19 pandemic.
As she readies for retirement this June, Swannack, who has worked at Monmouth for more than half of the institution's history, took a moment to reflect on the accomplishments she's had and the friendships and memories she's made along the way.
"When I came to Monmouth, I'll never forget, there was one female administrator and she wasn't even permitted to wear slacks," Swannack laughs. "I never expected I'd end up becoming the executive director of HR let alone the vice president for administrative services. I treasure every moment of my career."
Swannack was just 19 years old when she began her career as an entry-level clerk in the human resources department. She quickly moved up the ranks, becoming executive director, and then, in 1994, vice president, where she has spent the last 27 years overseeing the departments of facilities management, campus planning and construction, human resources, student employment, and the University police department.
Under her watch, the University has performed over $325 million in construction and renovation projects including, in 1996, the installation of what was then the largest solar energy system in higher education east of the Mississippi River. She oversaw projects that forever changed the campus footprint, including the construction of four residence halls and three academic buildings; the renovation and addition of the Edison Science Building; the renovation, restoration, and expansion of the Guggenheim Memorial Library; the restoration of the Great Hall at Shadow Lawn, which included securing more than $4 million in preservation grants; and the University's largest construction project, the OceanFirst Bank Center. She also negotiated the contract for, and oversaw the multiyear renovation of, the University's satellite campus at the Monmouth Park Corporate Center.
During her tenure as vice president, the University's property holdings have increased over 50% while its financial obligation for utilities has remained flat. Thanks to her efforts, the University has won numerous awards for being a leader in sustainability.
Despite her laundry list of accomplishments, Swannack says she's most proud of the 40 odd years' worth of friendships that she's made during her tenure.
"Every person that reports to me directly has worked for me for 18 to 20 years and we've laughed, we've worked through trials and tribulations, through personal issues, and celebrations," she says. "Even when I was in HR—it was always more than just hiring people, it's helping people who are experiencing difficulties and challenges every day, and I think we've had some great success stories and I've made wonderful friends whom I will never forget."