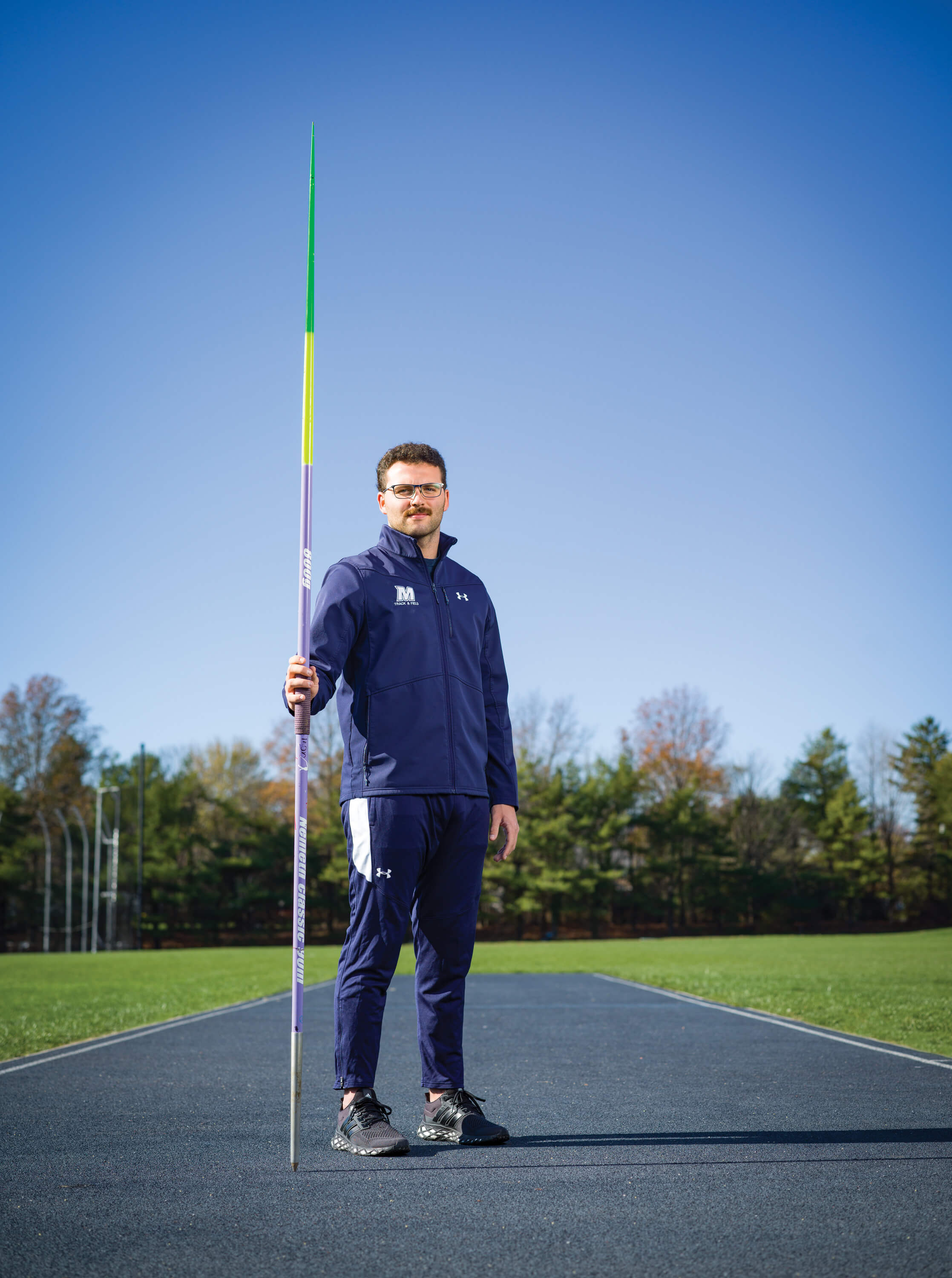 A World-Class Debut
Evan Niedrowski battled back from a shoulder injury to compete with Team USA.
Last August, javelin thrower Evan Niedrowski competed for Team USA at the World Athletics U20 Championships in Cali, Colombia. It was the perfect capstone to an impressive first collegiate season—one made all the more remarkable considering that, just a year prior, it was unclear whether Niedrowski would perform competitively in the sport again.
Niedrowski was a standout thrower in high school, earning All-County, All-District, All-State, and All-American honors. He won the javelin state championship in 2019 and still holds his high school's record in the event.
He also excelled at football, and it was on the gridiron in fall 2020 that he suffered an injury that put his throwing career on hold. During practice just before the season's first game, he dislocated his throwing shoulder. "I didn't think it was bad at first," says Niedrowski, who finished out the football season. "Every year I got banged up from football and was used to it."
It wasn't until the season was over that Niedrowski realized the severity of the injury. An MRI revealed he had a torn labrum. "When I found out, it was like a punch to the gut," he says. He had surgery to repair his shoulder in March 2021, which forced him to sit out his senior track season. He was still rehabbing when he arrived at Monmouth in fall 2021.
"I eventually started throwing again around late November [2021]," says Niedrowski. "My shoulder felt great, and I continued to get stronger in the weight room. I worked with Aaron [Bottinick, assistant athletic trainer] and Christian [Spaulding, assistant throws coach], and we were being extra cautious and not taking too many risks all year long to make sure my shoulder stayed healthy."
Meeting athletes from around the globe and hearing what they had to say, how they speak, how they train—it was surreal.
Finally, in spring 2022, Niedrowski returned to action. In his collegiate debut at the Lehigh Invitational—his first competition in more than two years—he finished first with a throw of 68.45 meters. Two weeks later at the Virginia Challenge, Niedrowski placed third with a throw of 71.42 meters—a personal best and Monmouth record for first-year students. Last May, he won gold at the Metro Atlantic Athletic Conference (MAAC) Outdoor Track and Field Championships with a throw of 63.83 meters.
Niedrowski's strong showings throughout his first-year campaign earned him an invite to the NCAA Eastern Regionals, where he placed 10th with a throw of 70.04 meters. That in turn qualified him for the NCAA National Championships, held last June at historic Hayward Field on the University of Oregon campus. There, Niedrowski posted a mark of 70.22 meters, securing 11th place and Second Team All-American status.
A week later, Niedrowski returned to Hayward Field to compete in the USA Track and Field U20 Outdoor Track and Field Championships. In one of the biggest competitions of his career to date, he threw 70.58 meters, earning gold and punching his ticket to last summer's World Athletics U20 Championships.
"Worlds' was a whole different animal," says Niedrowski. "Meeting athletes from around the globe and hearing what they had to say, how they speak, how they train—it was surreal."
Niedrowski finished 8th at the World Championships with a final throw of 69.25 meters. Competing on a global stage is something most athletes can only dream of. Not only did Niedrowski accomplish it; he finished in the top 10, in a throwing event, less than two years removed from tearing his labrum.
The enormity of the experience of competing at the World Championship hasn't escaped Niedrowski. "The atmosphere that I was surrounded by in Cali is something I'll always remember," he says. But the sophomore business administration major is now focused on helping his Hawks track and field team—perennial MAAC champions—excel in the program's inaugural season in the Colonial Athletic Conference this spring.
Looking further ahead though, Niedrowski says he still has a few personal goals to accomplish. "I want to be an NCAA champion. … And I want to represent the United States at the 2024 and 2028 Olympics," he says. Eventually, he'd like to throw professionally.
With the grit and determination Niedrowski has shown, all of that seems within reach.