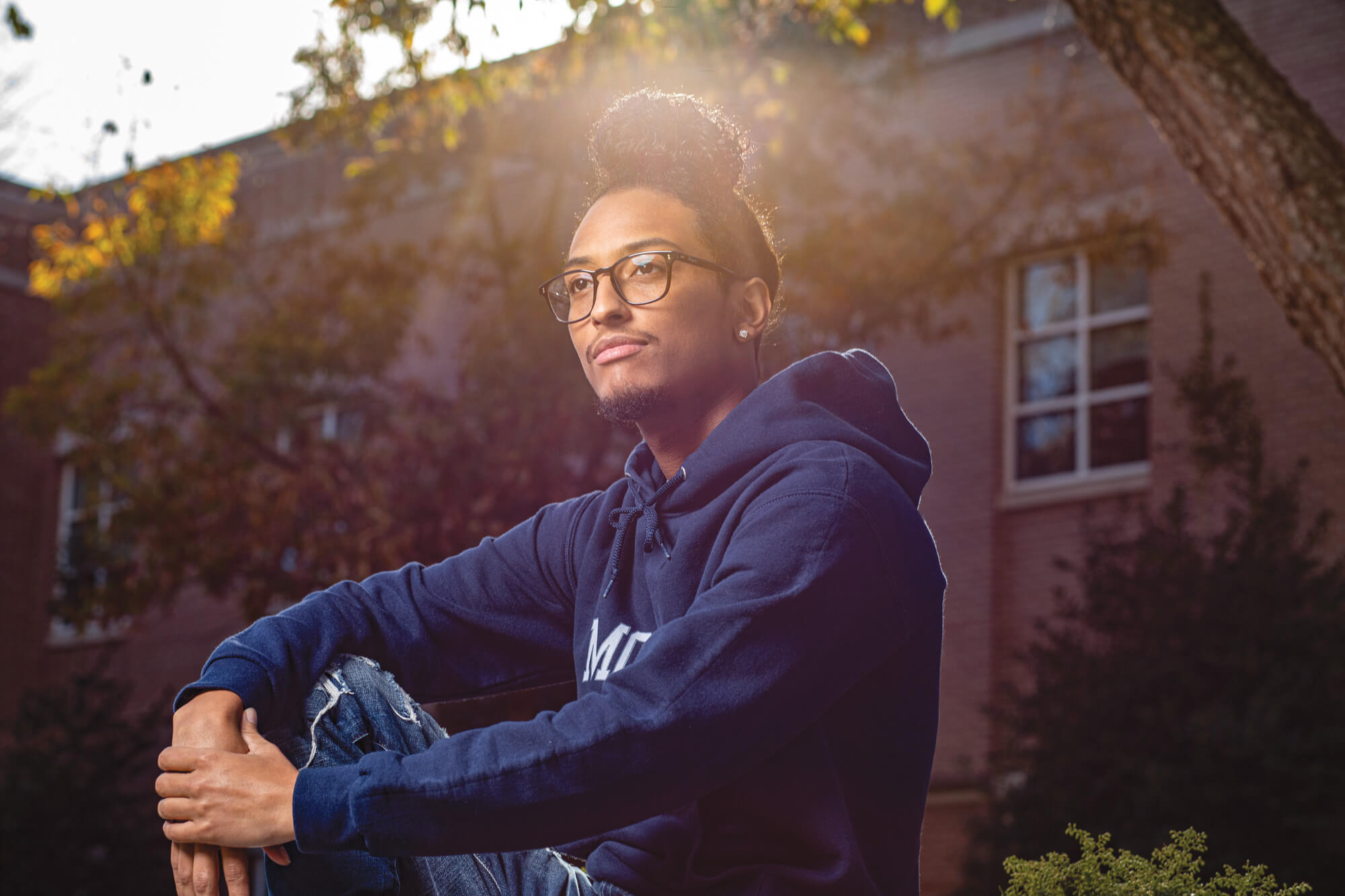 A Hollywood Ending
At Monmouth, Leon Galloway worked on the set of a major motion picture, an experience that led to a post-graduation job on one of TV's longest-running shows.
If there is any truth to the adage that achieving success in the film industry comes down to the people you know and the connections you make, a bright future awaits Leon Galloway.
Last spring and summer, Galloway worked behind the scenes of the upcoming feature film Miranda's Victim. The movie, co-written and co-produced by Monmouth University Trustee George Kolber, was filmed partly on campus and chronicles the events that led to the establishment of the Miranda rule.
Hired initially as an intern, Galloway quickly wowed the film's producers with his talents and tenacity and was promoted to production assistant and then to first team. By the time production wrapped, Galloway had gained real-world professional experience and made several industry connections, one of which led to his being hired as a production assistant for Law & Order, a job he begins this January.
A communications major with a concentration in media studies and production, Galloway says he was already looking for an internship to fulfill his graduation requirements when a departmental email alerted him to the opportunity to work with Navesink River Productions, the company behind Miranda's Victim. After interviewing via Zoom with Carly Harper, one of the film's producers, Galloway was hired.
Two weeks later, another producer, Alexandra Guarnieri, pulled him aside to tell him he was being promoted to production assistant. "She said the producers appreciated the work I'd been doing and thought I had a knack for it," recalls Galloway. "She said they could see this is a field that I want to pursue and they wanted to give me an opportunity to grow."
Shortly after, Galloway was again promoted, to first team, which gave him the opportunity to work directly with several of the film's A-list actors, including Oscar nominee Abigail Breslin ("She is super cool," says Galloway) and Enrique Murciano ("He's the funniest man I ever met. He has 10 personalities, and they all come at you at once.")
Part of Galloway's responsibilities entailed serving as a liaison to the actors. That meant coordinating their schedules with the hair and makeup departments, arranging their transportation to the various filming locations throughout Monmouth County, ensuring the actors were properly miked and outfitted by the props and costume departments when they got to the set, and assisting them throughout. After shooting was done each day, he did all of that in reverse.
Being on the set of a major motion picture was more than just fun, says Galloway—it was incredibly educational.
"I got a clear view of how everything runs in the real world," he says. "I saw how the props department works. I saw how the art department dresses the set for the scene. I saw the director doing her thing and the camera and audio and lighting people doing their things. I saw how it's all intertwined and how one area can't function without the other. I was really in the thick of it."
One day you're working the camera, the next day you're directing, [and] the next day you're the talent. It's an all-hands-on-deck type [of] thing. There's never a time you're not learning.
The workdays were long—12 hours or more—and Galloway says he used the time to learn as much as he could about what it's like to work in the industry.
"I was just picking people's brains about everything they were doing," he says. "You get really close to people when you're working together every day for two to three months. No one had any problems letting me know how things worked, what the difficulties of the job are, [and] what the rewards are."
Galloway, who earned an associate degree from Brookdale Community College before transferring to Monmouth, says he arrived on campus knowing he wanted to pursue a career in the TV and film industry. Getting involved with Hawk TV early on was the perfect way to get his feet wet, he says. Working at the student-run TV station gave him the opportunity to contribute to a variety of productions, from pop culture and sports talk shows to news broadcasts and live event coverage.
"I'd been around sets before coming to Monmouth but never as intensely as what I experienced with Hawk TV," says Galloway. "One day you're working the camera, the next day you're directing, [and] the next day you're the talent. It's an all-hands-on-deck type [of] thing. There's never a time you're not learning."
His coursework at Monmouth only amplified the experience.
"My favorite class was Introduction to Television Production with Professor Donna Dolphin," he says. "It's very hands-on, and you really take a deep dive into how to operate the cameras, how to work the technical director board, and how to operate the other equipment."
This January, Galloway will put everything he learned at Monmouth to work behind the scenes of Law & Order. The production assistant job came through a connection he made with Paula Clarkson, the second assistant director on Miranda's Victim who also works on the TV procedural.
Galloway says that as filming on Miranda's Victim wrapped, Clarkson tried to persuade him to forgo his final semester at Monmouth and come work with her right away. "I mulled it over for maybe five minutes," he says, before he decided he wanted to finish his degree.
"I've worked hard, gone to class every day, completed all of my projects, [and] put in my 50 hours of practicum," he says. "I didn't want that to be in vain."
Besides, he says, "I knew my mom would probably kill me if I didn't finish."