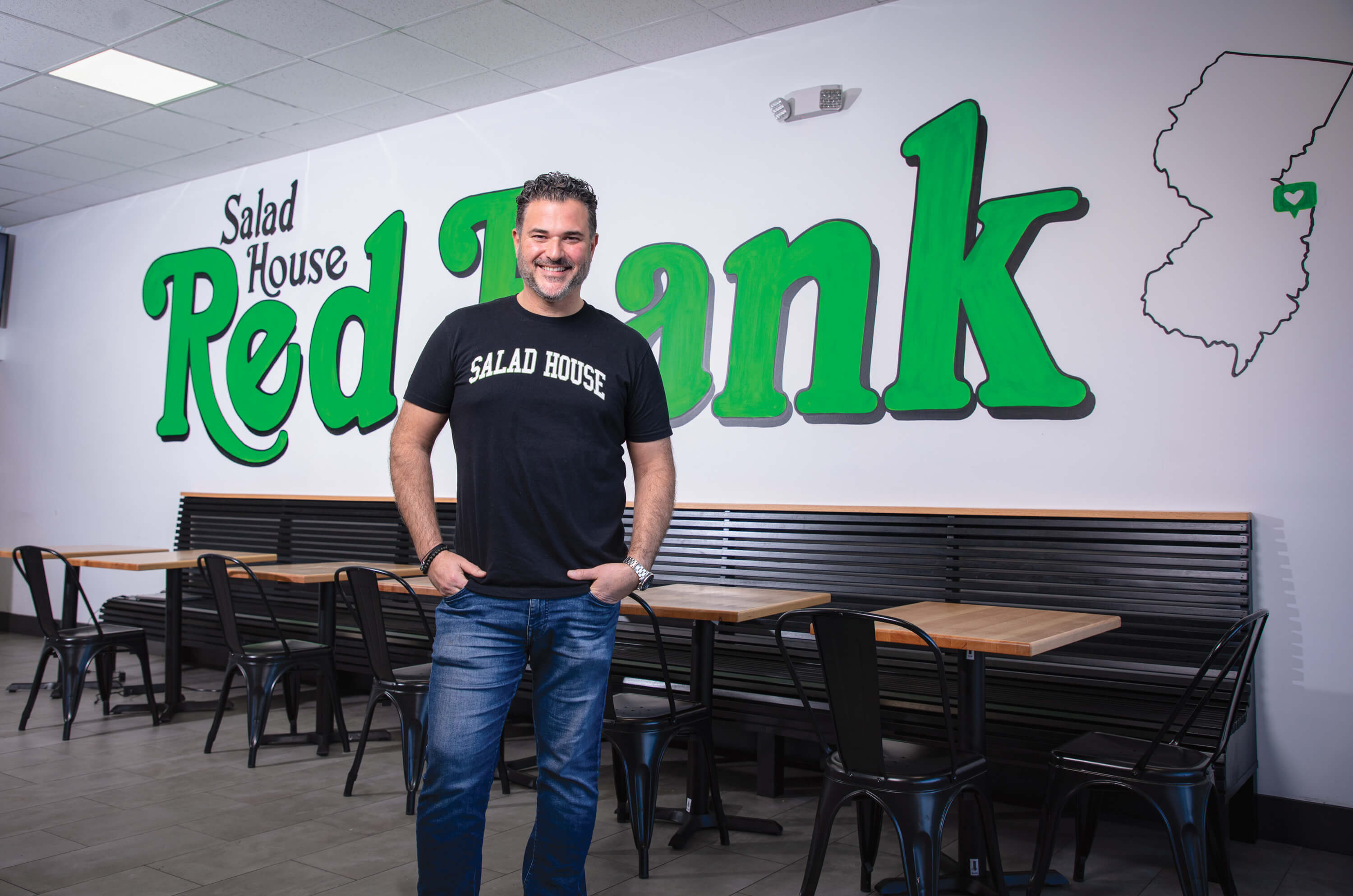 A Healthy Outlook
Joey Cioffi, CEO and founder of the rapidly expanding Salad House franchise, explains why his family is the secret to his success.
If there is one thing Joey Cioffi '99 loves more than "making people smile through their stomachs," it's his family. Family shaped his past, inspires his present, and motivates his future.
Cioffi's business title is CEO and founder of The Salad House, a rapidly growing franchise that began as a single, health-conscious restaurant in Millburn, New Jersey. But the descriptors he prefers are son of Italian immigrants, brother, husband, and father of three children.
"I know my purpose is my family," says Cioffi. "My mother and father built a family business in Tony's Pizza in Newark and instilled values in me that I can never repay.
"My father wanted me to go to college and would say, 'An education is something that can never be taken away from you.' Monmouth University was the perfect fit for me."
As a first-generation student, Cioffi studied finance in Long Branch and played tight end for Head Coach Kevin Callahan for four years. Hard work and toughness were requisites in the Cioffi family, but the Hawks football family took those to another level. As a first-year student, Cioffi recalls being hit so hard by junior linebacker Anthony Berke '98 in practice that he called his brother, Jerry Cioffi, to tell him he was quitting for safety reasons. Jerry calmed his younger brother down, and Joey made an important decision that night.
"I realized I had to put more work in the weight room, eat better, and do all the little things off the field so I could not only compete but survive," says Cioffi. "That has stuck with me. No matter how hard you work, there's always more in the tank."
After working for Merrill Lynch on Wall Street, Cioffi gravitated back to his entrepreneurial roots at Cioffi's Deli and Pizza in Springfield, New Jersey. But in his mind, he was tossing around a modern concept that would appeal to families who moved from city to suburbs.
"You could get terrific, fresh salads in the city but not in the suburbs," says Cioffi. "My wife and I were driving and saw a vacant spot in Millburn in 2010. I drew up a business plan, took a loan, and just went for it."
The restaurant name, The Salad House, was intentional. Cioffi wanted to create a casual restaurant atmosphere where families could feel at home and eat healthy. As the father of three children, he also recognized that all kids aren't eager to choose from among 15 proteins and add-ins like walnuts, black beans, or baby kale. He offers a Happy Kids menu that includes healthy options as well as grilled cheese, chicken fingers, and of course, french fries.
The concept, matched with Cioffi's industry experience and interpersonal skills, took flight. There are nine locations in New Jersey, and he has commitments from 12 additional franchise members to open in New Jersey and beyond in the coming year. Cioffi's work family has expanded to include Salad House franchising partners Jerry Eicke, Jarrod Bravo, and Tim Banos.
The success of The Salad House can feel overwhelming at times, but the motivation for Cioffi has remained fundamental.
"I want to make my family proud," says Cioffi. "My wife has been amazing and always believed in me, and my children are my 'why.' I teach them the importance of hard work and keeping a positive mindset and to always give back."
Antonio Cioffi is proud of how much his son, Joey, gives back—much like the pride he feels in the Monmouth degree that no one can ever take away.