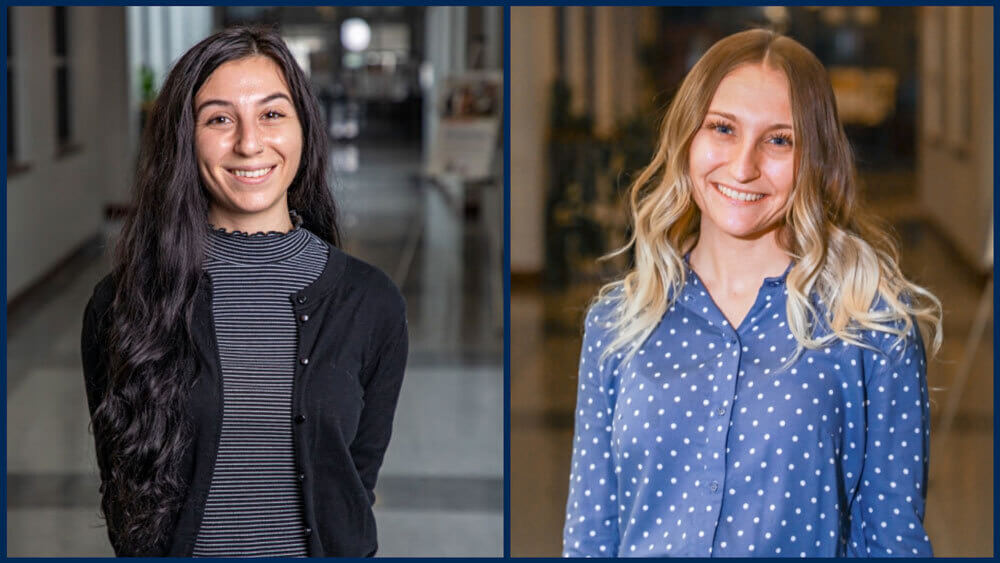 Two Alumnae Receive Fulbright ETA Awards
Brittany Scardigno '21M and Jennifer Stolte '18, '22M have each been awarded a prestigious 2022–23 Fulbright U.S. Student Program award to South Korea and Spain, respectively. As Fulbright English Teaching Assistants, Scardigno and Stolte will teach English, share knowledge, facilitate intercultural exchanges, and foster meaningful connections across communities in the United States, South Korea, and […]
Brittany Scardigno '21M and Jennifer Stolte '18, '22M have each been awarded a prestigious 2022–23 Fulbright U.S. Student Program award to South Korea and Spain, respectively.
As Fulbright English Teaching Assistants, Scardigno and Stolte will teach English, share knowledge, facilitate intercultural exchanges, and foster meaningful connections across communities in the United States, South Korea, and Spain, Mihaela Moscaliuc, Ph.D., Fulbright program advisor and associate professor, said.
The Fulbright Program is the U.S. government's flagship international educational exchange program. Recipients of Fulbright awards are selected in an open, merit-based competition that considers leadership potential, academic and/or professional achievement, and record of service. As Fulbright recipients, Scardigno and Stolte join a network of thousands of esteemed scholars, many of whom are leaders in their fields, Moscaliuc said. Fulbright alumni include leaders who are making a difference in their communities and the world, including 61 Nobel Prize laureates, 89 Pulitzer Prize recipients, and 40 who have served as a head of state or government.
Brittany Scardigno
Experiencing the struggles of new beginnings through a close friend's immigration journey from South Korea, Scardigno was intent on helping secondary students of the same country for her Fulbright project. Scardigno plans to assist students in learning the English language and balance multiple languages and dialects, along with navigating the translation process.
"That is the start of my drawing to South Korea in general, seeing [my best friend and her family] feel paranoid about pronunciation, or having something they said be misunderstood, or fearing the risk of miscommunication, or just not being taken seriously because of the dialect they are speaking. I want to continue helping people and the marginalized portion of South Korea with those complexities of the English language," Scardigno said.
The current Monmouth adjunct professor will focus on building confidence in her student's linguistic identity and help them become effective communicators within a wide variety of audiences.
Her project will implement mock interviews to prepare her students for the difficulties of the English language along with their collegiate and professional futures, including speaking with professionals in their desired areas of study. Scardigno will also prepare her students for the College Scholastic Ability Test, a standardized test recognized by South Korean universities.
Jennifer Stolte
Stolte is ready to immerse herself once again in the Spanish culture, but for her second trip to Spain she is focused on the regional community of Galicia.
After studying abroad with Monmouth in Andalusia, Stolte pinpointed Galicia as the only trilingual environment, making her decision an easy one. Stolte will participate in a multilingual educational system that teaches Spanish, English, and the Galician native language, Galego.
Stolte's main goal is to implement experiential education, getting students out of the classroom and lecturing while walking through town. She hopes that situational context will help the fluidity of all three languages and plans to introduce the plurilingual and multilingual cultures, methodology, and organization to the United States.
"The biggest goal for my career was to create a multilingual or a plurilingual curriculum for a school district. So, I'm hoping that it all works out, because it would allow me to have the best experience," Stolte said.