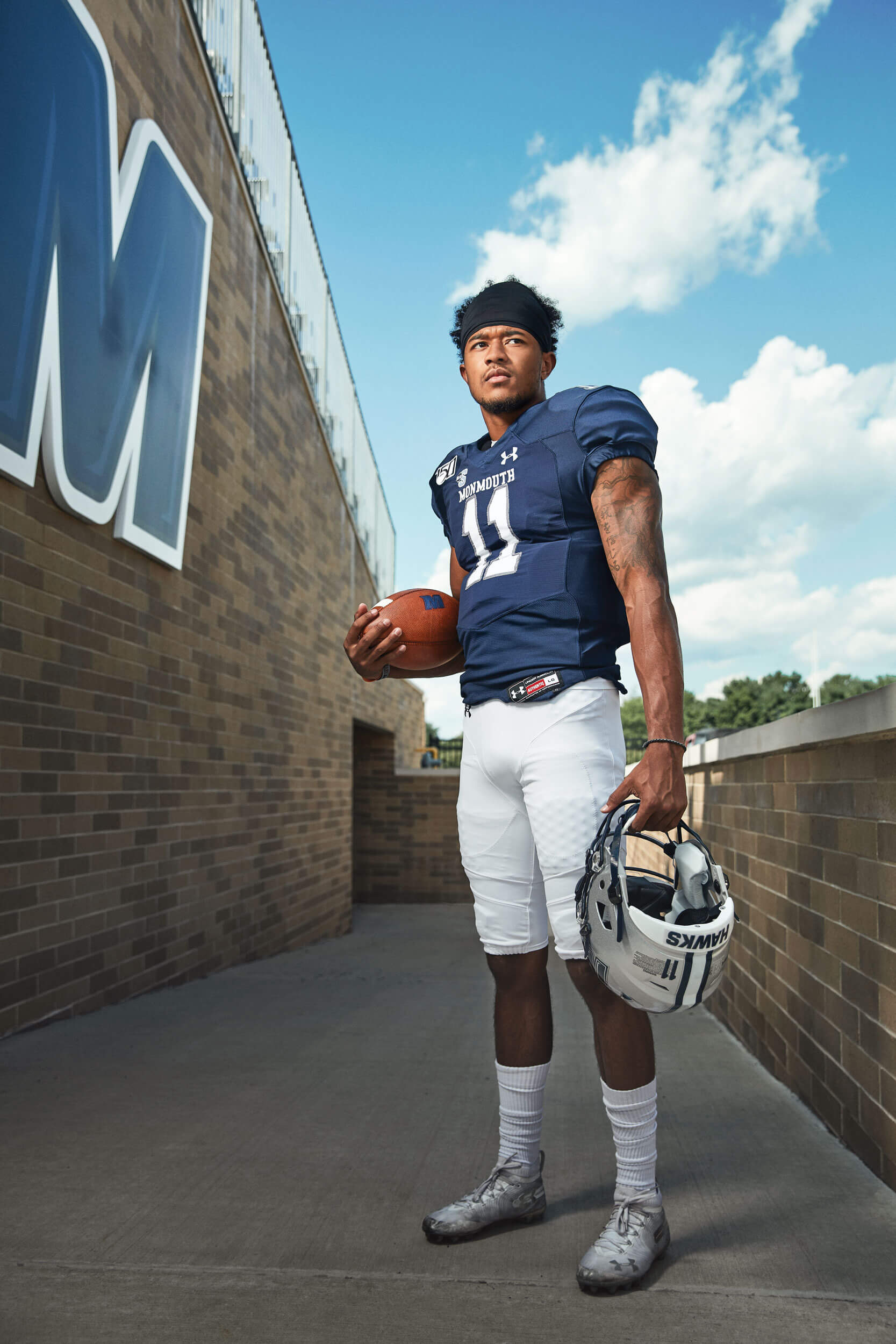 The field general
Kenji Bahar is perfecting his management skills in the classroom and on the gridiron.
While earning his undergraduate degree in business administration, budding entrepreneur Kenji Bahar '19 loaded up on as many management classes as he could take: Operations Management, Principals of Management and Organizational Behavior, Logistics and Supply Management, to name just a few.
But the classroom isn't the sole source of training that makes Bahar an appealing prospect should he decide to enter the business world. He is also about to complete a five-year study through which he's gained more hands-on managerial experience than any internship could offer. Bahar is a college quarterback—a really good one at that—and when it comes to developing management skills, there may be no better training ground than standing behind center and assuming the role of field general.
"At some point, I'd like to operate my own business," says Bahar, a fifth-year senior who is now pursuing his Public Service Communication Specialist certificate. "I think my greatest strength is being an effective communicator. To be a good leader, being personable, talking to people, and getting to know them goes a long way."
Consider these syllabus requirements of being a starting quarterback: Bahar has to manage relationships with the coaching staff, players, and media. He has to manage a medley of personalities on the field, manage successes and failures, and manage emotions. And he has to do all of that with an incredibly hectic schedule.
Expectations are high for both the Hawks and Bahar this year, and Bahar has also had to manage those under an intense spotlight. He was named the Big South Preseason Offensive Player of the Year and one of 40 Football Championship Subdivision players cited for the College Football Performance Awards Performer of the Year Watch List. Monmouth is looking to return to the playoffs, a goal that Bahar had a major hand in achieving in 2017.
"All of those preseason polls and watch lists don't mean anything," says Bahar. "You have to keep your focus on preparation and winning games. Our goal is to win games and win the conference championship. If you do that, other things may come as a result."
A clear strength of Bahar's is his ability to slow things down in a hyper-paced environment. He is a master of managing his emotions, a skill that he's been developing since Pop Warner football. Bahar believes composure is essential to being an effective leader, and he credits Hawks' offensive coordinator Jeff Gallo with refining his innate talents.
"As the quarterback, everyone is looking at you, so you have to showcase confidence and control, especially in the most stressful situations," says Bahar. "I have a responsibility to my teammates to stay calm whether we're up by a lot or down by a lot. It's the only way you can lead and to help your teammates manage their own emotions.
"Coach Gallo recruited me out of high school [Calvert Hall in Maryland] and we've built a great relationship. He's given me a lot of advice on how to be a better leader and a better man."
He's also made him a better player. And so before Bahar posts his resume to LinkedIn, he has unfinished business on the gridiron. His goal is to play professionally, and his success leading the Monmouth offense has made him a legitimate prospect.
"I'm going to work as hard as I can to play as long as I can," says Bahar.
The future is bright with possibilities for Bahar. He'll soon bid farewell to the West Long Branch campus with a comprehensive education. And whether it's between the lines, behind a desk, or in the front office, one thing is certain for him: He'll manage.