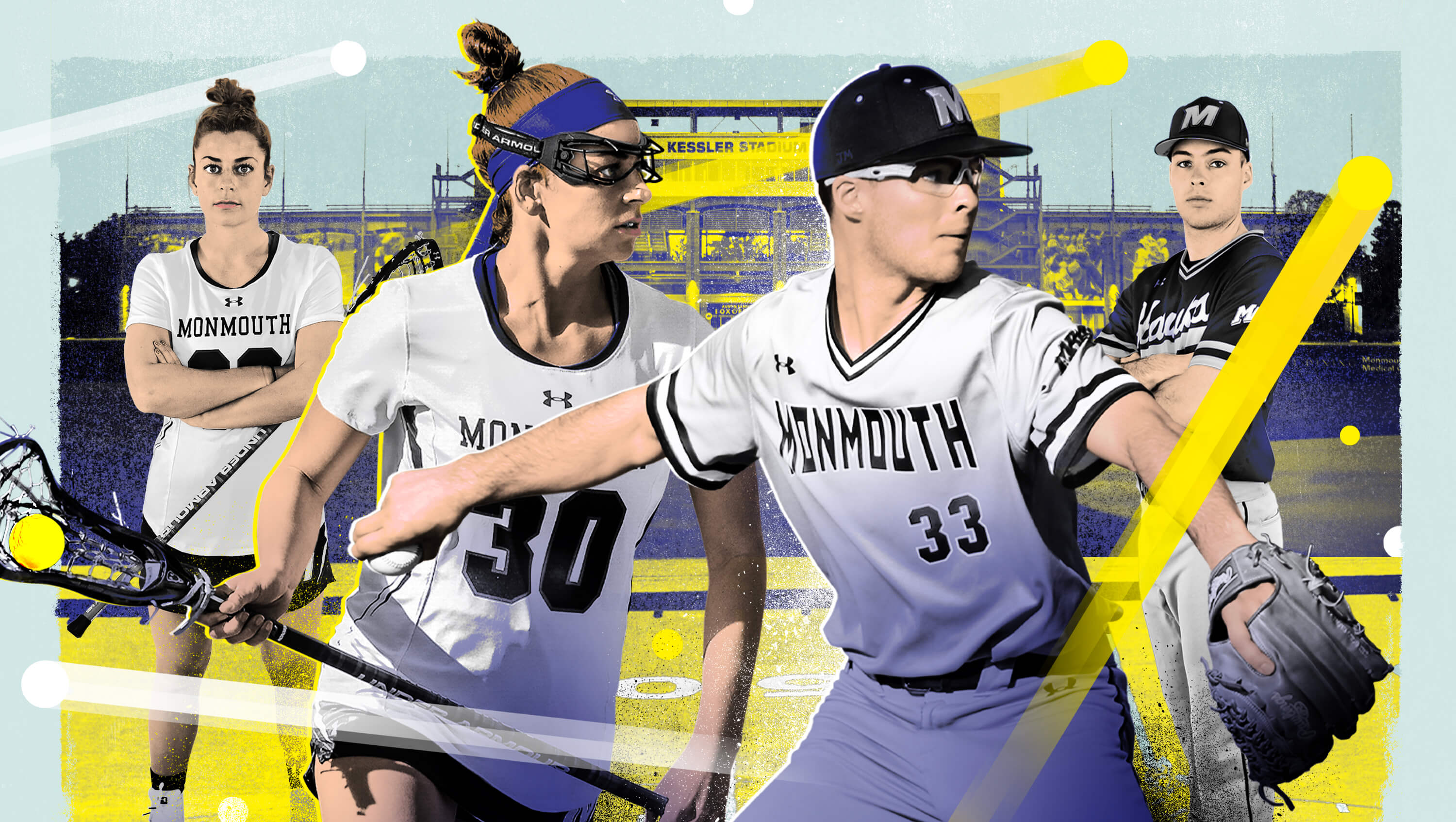 Split Decision
Their seasons canceled because of coronavirus, two seniors reflect on their careers and share whether or not they'll be back in 2021.
Shortly after the spring 2020 sports season was canceled due to the pandemic, the NCAA Division I Council voted to give senior athletes one extra year of eligibility. We talked with two Hawks about their decision on whether or not to return.
Nicole Ceraso
"We all have unfinished business."
Ceraso is the captain of the women's lacrosse team and the 2020 recipient of the program's MVP and Leadership Awards. She was recently inducted into Chi Alpha Sigma, the national scholar-athlete society.
You could say lacrosse is in my blood. I grew up watching my older sister play; she was an All American and won three national championships at Adelphi. My dad coached my school and travel teams for most of my life. So while I was thrown into the game at a young age, I loved it. It just clicked for me.
It's been my goal since coming here to put Monmouth on the map for lacrosse. We're a mid-level DI program, but we haven't won a MAAC championship in lacrosse. I've always wanted to be the one to change that. After Jordan [Trautman, head coach] and Christie [Kaestner, associate head coach] took over my sophomore year, I knew that goal was within reach. They had both played at top schools: Jordan at Georgetown and Christie at Duke. They were both All Americans. And they quickly set about changing the culture here.
I knew that would take time though. My sophomore year was a rebuilding one for us. I think the turning point came in our win over Canisius. They had won 27 straight regular season games coming in, but we took it to them. After that I think we were all like, "OK, we're not there yet, but this is doable."
We had a chance to do it my junior year. We were there [in the MAAC tournament], and we knew we could have won it all. But after leading Siena by six for most of the semifinals, we lost by one. I remember being in coach's office afterward, and we all knew why we had lost. We had the skills; we just weren't mentally tough enough to pull it out. Since then that has been our focus—to never let another team have that mental edge over us.
Jordan says a team is a reflection of its senior class, and everyone in my year is on the same page. We all want to be the best this program has ever seen. We worked so hard last fall and this preseason—literally the hardest we ever have. We knew this was our year. We weren't cocky, just confident. And right up until the season was canceled, we were playing the best lacrosse I've ever seen us play.
It was a Thursday when we learned the season was over. I woke up and got dressed for practice. We were supposed to play in Arizona that weekend. We went to the dining hall as a team, but then the coaches got pulled out. We're thinking, "This can't be good." We knew the Ivies had already canceled their seasons. The NBA had too. When the coaches called us back in and said the season was over, everyone started crying. I just ran out of the room. I didn't want to be there.
Taking the extra year of eligibility was a no-brainer for me. I'm in a five-year finance/real estate program, so I was already coming back in the fall to finish my MBA. My plan was to be an assistant coach next spring; now I get to play. But six of my seven classmates are coming back and they had tougher decisions to make than me. They had jobs and grad school placements lined up that they're deferring. But we're all willing to sacrifice a year because we know how good we are. We want to be the best this program has ever seen, and we all have unfinished business.
Jordan McCrum
"If money weren't part of the equation I'd be back."
McCrum was captain of the men's baseball team and the 2020 male recipient of The Joan Martin Award, which is presented annually to senior student-athletes who have shown dedication to their team while staying the course through adversity.
I could have graduated last year. I had finished all of the classes I needed for my marketing major. But three weeks into the 2019 season I tore my UCL during an appearance against FAU, and I elected to take a medical redshirt and come back for the 2020 season. I wanted to prove to myself that I could overcome the injury. And I wanted to give myself a chance to play professionally. I've had some interest in MLB teams so that's always been a goal of mine.
I had Tommy John surgery on April 1, 2019, and was in a brace for the next eight weeks. The rehab early on was minimal; it was mainly about letting my arm heal. Last summer I went home to Georgia, where I worked with someone who has helped a lot of former Atlanta Braves players recover from Tommy John. We focused on building up the strength that I'd lost from not using my arm for two months.
They say it takes about 12 to 18 months to fully recover from this type of surgery, and to be honest, I was probably pushing things a bit more than I should have. This April, a year after my surgery, I wasn't 100%, but I was throwing bullpen sessions consistently and working off the mound developing my secondary pitches. I was hoping to get back out there by early May so I could help the team make a push for the postseason and, hopefully, a MAAC Championship.
Finding out the season was canceled was probably the weirdest few hours of my life. We were at practice that Thursday, and were supposed to head to Richmond afterward, where we were scheduled to play that weekend. We knew what was going on elsewhere, but at that point we thought we'd play that weekend, come back to maybe a brief suspension of conference play, and then start things back up again. Then coach got a call about an hour into practice and told us the season had been canceled.
When the NCAA came out and said they were adding a year of eligibility for seniors like me, I definitely thought about doing it. College baseball is such an incredible experience. You grow closer to the 35 guys on your team than you do with anybody else, because you're pretty much with them every day—from the moment you step on campus in the fall until the last game each spring. You travel together, and have your ups and downs together. And I have grown a good bond with my coaches. In the end though it came down to a financial decision for me—nothing else. It would have been tough to pay for another year of school. If money weren't part of the equation I'd be back here.
It's hard to have trained for something like this—to have prepared for one last ride in college—only to have it taken away. But ultimately these are circumstances no one could have planned for, and they're affecting people in ways that are far greater than my situation. People are out of work. They're struggling to get by. I feel like those are the people who we should be thinking about.
My goal hasn't changed though. I still want to play professionally. My pitching coach, Josh Epstein, came up to me after the season was canceled and said, "Don't let this stop you." Obviously it hurts to have the season, and my college career, cut short the way it was, but I have to stay focused on the light at the end of the tunnel.