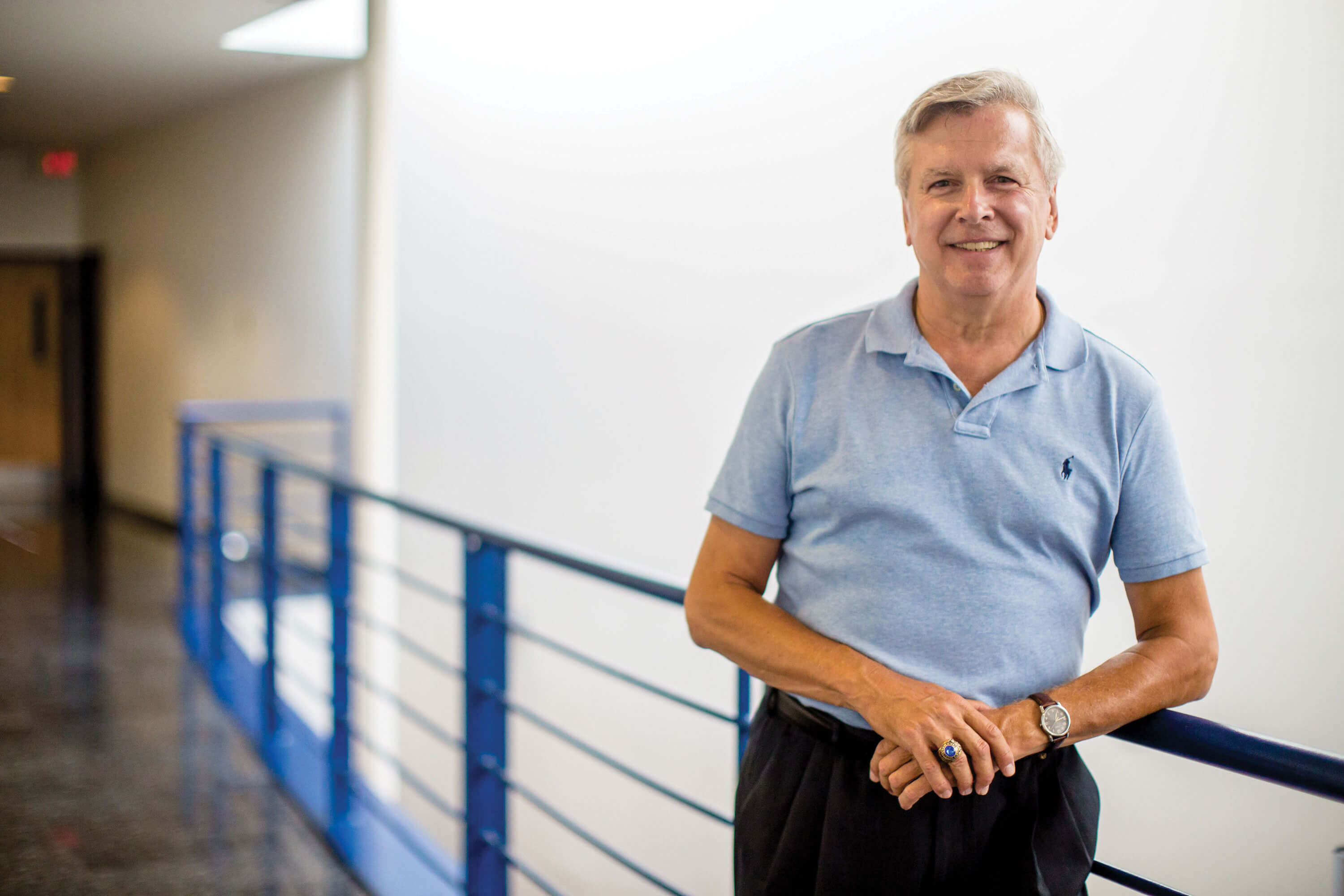 Remembrance: Eugene Simko
Associate professor of management and decision sciences, 1953–2018
When Gene Simko stopped by my office on a Monday this past June, he exhibited his typical fervor in describing what he had done over the weekend and what his plans were for the week ahead. He also told me about the latest scale model he was building and shared recent photos of his children.
Then, sadly, he died the next day, at age 64, and his unexpected passing shook the Monmouth family beyond belief. His memorial service brought a huge outpouring of support from across the University, which is a testament to his life and legacy.
As Guy Oakes, the retired Kvernland Endowed Chair in Philosophy and Corporate Social Policy in the Leon Hess Business School, remembers Monmouth at the time of Gene's arrival in 1978, there were no Ph.D.s in management on the faculty and no intention to attract them. Management professors were drawn largely from Wall Street and Madison Avenue. Academic publication was not a priority, and "peer-refereed journal" was barely a concept.
So it was not surprising that Monmouth hired a personable graduate student in management, still taking courses. When Gene's dissertation finally emerged, like so many others it was based on the research of his thesis advisor: an unconventional project of developing a dialectical theory of strategic planning from the formidable writings of the German philosopher G.W.F. Hegel. In Hegelian dialectics, truth is produced by conflict.
Oakes recalls Gene embracing these ideas with his customary exuberance along with a corresponding academic habitus— dispute and some measure of disputatiousness were good. He took considerable delight in upsetting the status quo, bouncing ideas and their faculty proponents off one another, and observing the results. This was certainly a novel approach to the older, top-down conceptions of management.
Over the succeeding 40 years, Gene's presence at Monmouth University was significant. He reciprocated the commitment that the University showed to him as a young man in spades—his dedication to the life of Monmouth was unmistakable. Gene's service to the institution was extensive. At the time of his death, he was busy preparing for his second term as chair of the Faculty Council. As for his teaching, Gene was very proud of his 1989 Distinguished Teaching Award; he enjoyed engaging his colleagues about the state of higher education and what needed to be done to improve it. He possessed a considerable amount of charm, with an ability to walk into a crowd of strangers and become everyone's friend with a smile and a wink of his eye.
Most days since his passing someone will invariably come up to me and ask what it's like to not have Gene around. They tell me that they miss him. It's evident that his loss has created a sizable void, but for those of us who were fortunate to know Gene as a friend and colleague, it's also evident that his impact on us is indelible.
Stuart Rosenberg is chair of the Department of Management and Decision Sciences.