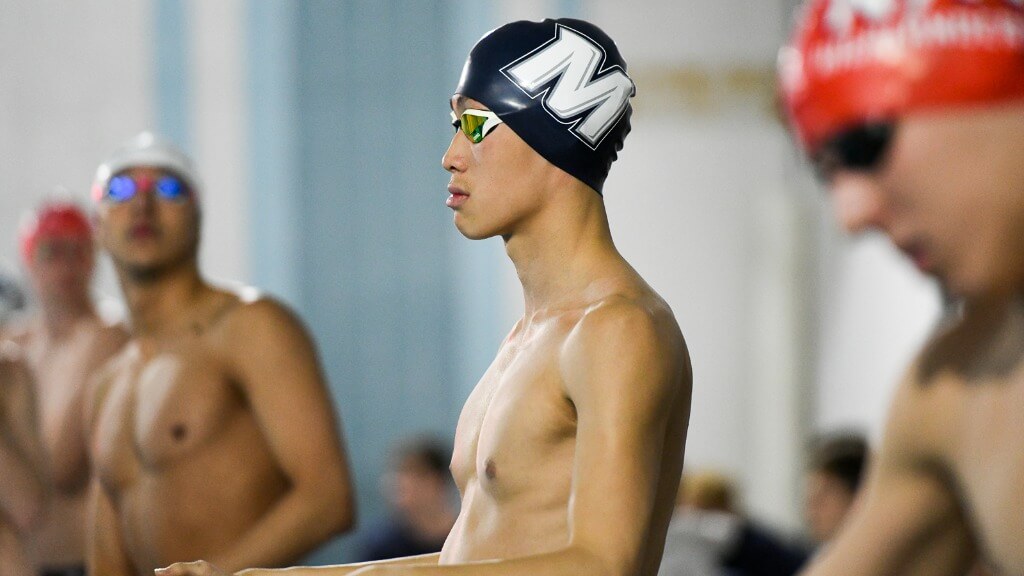 Personal Best
Ben Yeung made a big splash during his streamlined collegiate swimming career.
Ben Yeung is not your average Monmouth University graduate.
Yeung, a member of the men's swimming team, completed his undergraduate degree in Health Studies last semester. An accomplishment to be celebrated, for sure, but even more significant considering his time spent on Monmouth's campus.
Weeks after his 20th birthday, Yeung entered the work world with his Monmouth degree and embarked on a career as a physician assistant. He recently accepted a position at an Urgent Care center in Philadelphia where he works full time, gaining valuable patient care experience while preparing to apply to physician assistant programs.
All of these personal successes were set in motion when Yeung was a sophomore in high school at Gloucester County Institute of Technology. GCIT is a technical-vocational high school in South Jersey that offers a dual-enrollment program.
"I took health-specific courses and college classes at the start of sophomore year," Yeung said. "The college classes fulfilled both high school requirements and earned credits toward completing a degree. While many students in this program graduated senior year with nearly 30 credits, I took additional classes during the winter and summer, throughout high school, which helped me graduate with an associate's degree."
Yeung was not like most students. He came to Monmouth in September 2019 with 63 total credits, more than half of the required number needed for a Bachelor of Science degree in Health Studies. His goal was always to graduate early, in addition to swimming competitively at the Division I level. Monmouth provided an opportunity to accomplish both.
"I really felt a sense of personal growth during my time at Monmouth," Yeung said. "Monmouth prepared me by shaping me into becoming more social, independent, and a better communicator."
He also improved in the pool and set two lifetime best times at the 2020 MAAC Championships. A freestyle swimmer, Yeung swam 21.61 in the 50 free and 47.26 in the 100 in February 2020.
Postponements with the program's schedule due to the COVID-19 pandemic forced a premature end to Yeung's swim career, but he is focused on the positives from his experience in West Long Branch.
"The team has an atmosphere that felt like a family," Yeung said. "I feel very close with the coaching staff, it was easy to make lifelong friends with my teammates and those relationships are something I am going to miss very much. Being on the swim team gave me opportunities such as being a team representative on the Monmouth Student-Athlete Advisory Committee as well as being a mentor for first-year athletes through the FLIGHT program."
His coach, Matt Nunnally, is proud of Yeung's achievements and will miss Yeung's presence on the team.
"Ben performed at a very high level both academically and athletically," Nunnally said. "His strong GPA is a reflection of his commitment to his academics. In the pool, Ben was a leader since the moment he arrived at Monmouth. He was always leading a lane in practice and taking on any challenge presented to him, and was always working to improve. He was a big part of the growth of our program by helping raise the expectations of the group overall."
Yeung was part of the resurgence of Monmouth swimming that has included a steady rise in the MAAC each year. This past season, the Hawks earned their highest finishes ever at the MAAC Championships with the men placing fifth and the women sixth overall.
---
A version of this story originally appeared on the Monmouth Athletics website. It is adapted here with permission.