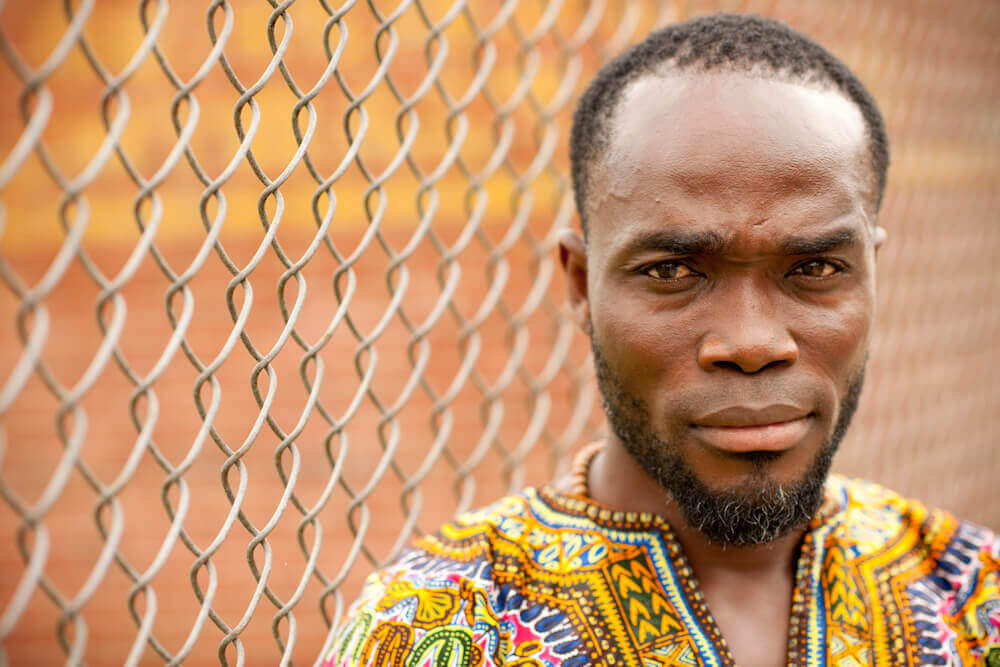 No Ordinary Life
As a teen, Patrick Julu was forced to flee his homeland when a series of brutal civil wars took place. Today, this former refugee helps others overcome the toxic legacies of poverty and violence.
The manner in which Patrick Julu '15M describes his early life—in an even tone, his voice leavened with the lilt of a West African accent, a broad smile on his face—gives the impression his was an ordered and ordinary childhood. It was not. When Julu was seven, his native Liberia was beset by a series of civil wars that resulted in more than 250,000 deaths and displaced or made refugees of more than 750,000 people. West Point, the densely populated Monrovian slum where he lived with his eight siblings and their father, aunt, uncle, and cousins, was particularly hard hit by the conflict.
"Before the civil war, we were living like normal kids," he says. "We had fun. We played. We went to school." But "life began to disintegrate" when fighting broke out in 1989. In the years that followed, Julu saw his neighbors murdered or driven from their homes. In 1997 rebels burned his house, and his family scattered. "I was separated from my people," Julu says with an almost preternatural calm, "and I couldn't locate them again." He was 15.
Julu banded together with a small group of friends to find a way out of the country. They traveled by bus across the Liberian border into Ivory Coast, and then to Ghana, where they'd heard the Buduburam refugee camp was host to a large number of Liberians. The roads leaving Liberia were thronged with fellow refugees, and during the two-day, 900-mile trip Julu was haunted by thoughts of what he might find: Where am I going? Who do I know out there? But there was a counterbalance to those anxieties, he says: "As long as I could be in a place where I wouldn't be harassed, where I'd never have to hear the sound of bullets, where I was just going to have peace and be safe—those were my motivating factors."
An Imperfect Refuge
Buduburam, run jointly by the Ghana Refugee Board and the United Nations High Commission for Refugees, was a haven—but to call it safe would be an exaggeration. People living in nearby villages resented the camp's inhabitants for receiving what they believed was government aid at their expense, says Julu. At night the villagers made forays into the camp and attacked the refugees, many of whom slept outdoors to escape the heat inside their crowded, largely airless dwellings. For 10 years Julu lived in a small mud hut with 10 other refugees. "It was a bit tight and very humid," he says, "but that was what was available at the time." He ends the observation with a single word, "So," an apparent acknowledgment that some things must be endured.
While Julu's life in Buduburam was punctuated by moments of chaos, it was also strictly regulated by the authorities who ran the camp and oversaw the distribution of food and medications, along with lesser concerns like where and when people could shower. "It was like you were totally under control," says Julu, "like you had no voice."
He found an outlet for his frustrations in sports. Not long after arriving in the camp, he was recruited by the authorities for what they saw as his leadership potential. Like most who grew up in Liberia, Julu was passionate about soccer, so he helped organize a league for young refugees in the camp, becoming both a coach and mentor to his charges. "It was great," he says, "working with people who were having the same experience I was, and serving as a motivator, as a changer."
Eight years after arriving in Buduburam, Julu was afforded a potential exit. A friend in the camp, Anthony Payne, was leaving with family in hopes of making it to the U.S. "If I get there, I'll see what I can do for you," he told Julu, who, until then, had planned to return to Liberia after the war. Two years later, Payne sent information about the U.S. government's Diversity Immigrant Visa program, a lottery for immigrants from countries with historically low levels of immigration to the states. Julu applied and was accepted. His flight to America was paid for by Zah Rahan Krangar—a soccer player with FELDA United of Malaysia, whom Julu had coached as a child in the camp.
Forging a New Home
In a perfect world, Julu's arrival in the U.S. would constitute a happy ending to his story. But even in 2007, four years before events in Syria launched another torrent of asylum seekers into the world, the life of a newly arrived refugee was fraught with uncertainty and struggle.
Settling in Trenton, New Jersey—just downstairs from Payne—he quickly discovered that life in America wasn't as "rosy, rosy" as Hollywood portrayed it to be. He'd imagined "that the United States was a nation that accepted everyone without regard to differences," he says. Instead, he was denied job opportunities because people questioned his capabilities given his status as a former refugee. He eventually found work pumping gas, but was determined to forge a better, more productive life. "I had a goal," he says.
In the camp he'd met many social workers—from organizations like Oxfam, Catholic Relief Services, UNICEF, and UNHCR—who advocated for the refugees and provided emotional and material support. In America, he began to dream of taking up social work himself. "My inspiration came out of their empathy toward me and the other refugees," he says. "I felt I had to give back to vulnerable populations across our societies—that's my driving force."
He took out a loan, applied for financial aid, and enrolled at Mercer County Community College. He was bullied there, he says, because of an accent that sometimes makes it hard for speakers of American English to understand him and which remains a source of frustration for him. But he found academic and moral support from a counselor who exhorted him to keep working and remain determined. He did, earning his associate's degree from Mercer and, in 2012, a bachelor's degree from Rutgers.
In 2015, eight years after arriving in the U.S., Julu received his master's in social work from Monmouth University. He says he found both an education and a home at Monmouth. "Such wonderful people there," he says, adding that Robin Mama, dean of the School of Social Work, "took me in as if I were her child."
Julu reunited with his once-dispersed family, visiting them in Liberia in 2013 and again earlier this year. The family expanded in 2012 with the birth of his son, Josiah Thierry Julu, whom Patrick credits with making him feel even more fiercely protective of children the world over. In 2016, the older Julu founded Project Football: Liberia, an organization that uses soccer to send Liberia's kids the message that education is the only way out of poverty.
Today, Julu works as a mobile therapist at Carson Valley Children's Aid, a nonprofit in Philadelphia, as part of a treatment team delivering behavioral health support to troubled children and adolescents. He follows the story of Syria's nearly 5 million refugees—many of them turned back from European countries in which they sought asylum—with a growing and profound sense of sadness. "It hurts," he says. For Julu, the issue is as personal as it is political. He knows what it feels like to be powerless—to leave your home not because you want to, but because you have no other choice. "Those are people who are innocent," he says of the Syrians fleeing the carnage in their homeland. He might also be speaking of himself when he adds, "No man is going to say to you, 'Today I want to become a refugee. Today I want to be vulnerable.'"
He muses on the fundamental problems that create refugees. "Other people make policies that shift our destinies," he says, referring in part to the events in Liberia that altered his life, but also to all-too-similar occurrences happening around the world today. And he's angry, he says, at politicians who appeal to voters with anti-refugee rhetoric.
But for all that, Julu remains resolute in his optimism. When asked about his goals, he puts the universal before the personal. "My first major goal," he says, "is to see mankind experience its full potential, to see that everybody has equality [and] understands, 'Yes, I belong here, regardless of my social and economic status, my religion, my ethnicity.'" More than anything, Julu wants to give back, particularly to young people struggling to overcome the toxic legacies of poverty and violence. "I believe," he says, "my story can make a change in their life."