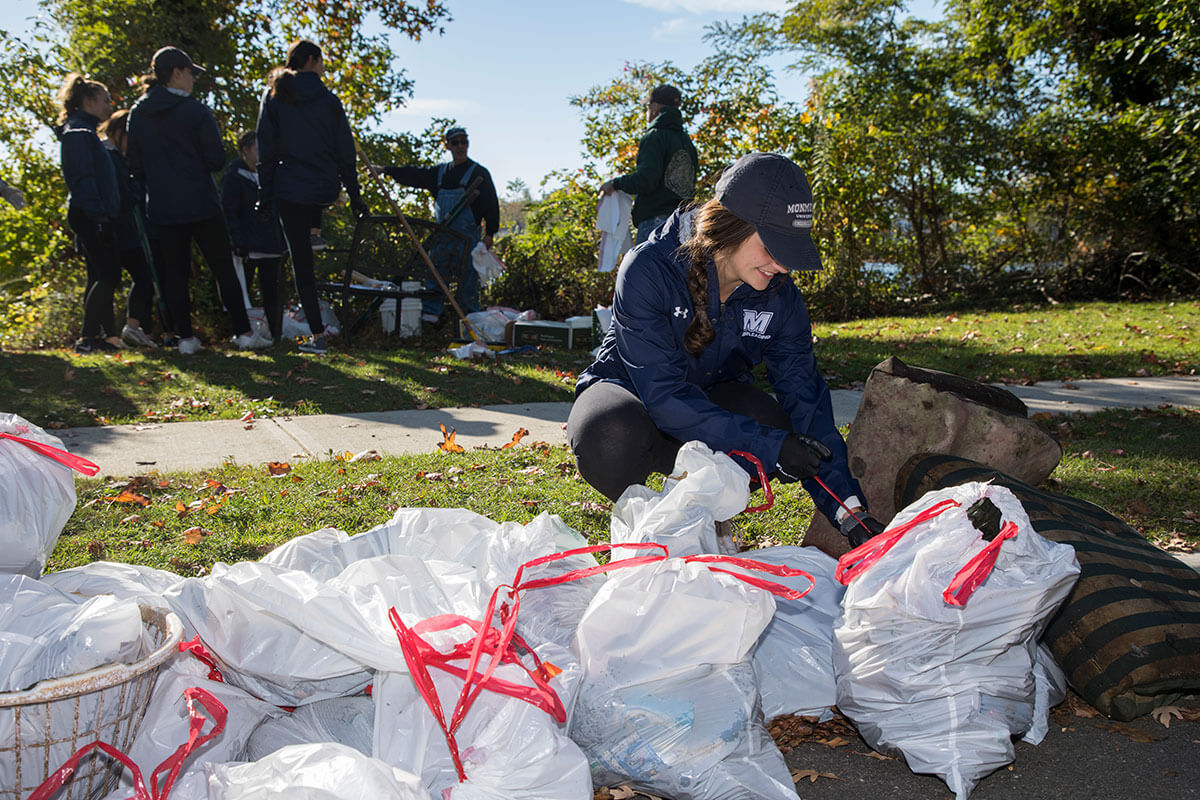 Monmouth University students fan out for day of service
This article originally appeared in the Nov. 2–9 issue of The Two River Times. It is reprinted here with permission. Over 500 students from Monmouth University came together bright and early on Saturday morning, Oct. 28, to lend a helping hand and give back to the surrounding community. Students arrived at The OceanFirst Bank Center […]
This article originally appeared in the Nov. 2–9 issue of The Two River Times. It is reprinted here with permission.
Over 500 students from Monmouth University came together bright and early on Saturday morning, Oct. 28, to lend a helping hand and give back to the surrounding community.
Students arrived at The OceanFirst Bank Center on campus at 8 a.m. to participate in the university's 18th annual community service project, The Big Event. They were divided into groups and sent to 31 work sites in Red Bank, Asbury Park, Deal, Long Branch, Ocean, Neptune, and West Long Branch.
The Big Event is Monmouth University's largest community service project and is organized by the university's Student Government Association. Victoria Petruzzella, a senior at Monmouth and member of the Student Government Association, led this year's event. "It's a nice day to give back because these surrounding communities do so much for us," she said.
This is getting months worth of work done in one day. This is phenomenal to see so many people caring and helping.
Before student volunteers were sent off to their sites, they heard some wise words of encouragement from the university's president, Grey J. Dimenna. "I can't think of a better reason for you guys to be up and doing this. This is awesome that you guys are here to help your local community," said Dimenna. "We are educating you not just to get your degree, but we're educating you to be citizens of this country, and part of being citizens of this country is helping out. You guys are pitching in and helping out and I for one am very proud of each and every one of you."
Any organization or individual neighbor who needs a helping hand may participate in The Big Event. Community-based agencies, municipalities, houses of worship, local schools, and assisted living facilities requested help this year, including Lunch Break, Ronald McDonald House, Deal Lake, Long Branch Middle School, and many more.
Two of Monmouth's Greek organizations, professional business fraternity Alpha Kappa Psi and sorority Delta Phi Epsilon, helped revamp the school garden at Long Branch Middle School. The garden serves as a hands-on learning tool for the sixth- through eighth-grade students, giving them a real-world application for concepts taught in the classroom. Courses like science, math, and social studies are all tied to the work the middle school students do in the garden.
The Big Event volunteers weeded old crops, planted some new ones, and prepared the foundation for future gardening. They also painted the garden area to make it more vibrant and beautiful for students when they returned to school Monday morning.
Jonathan Trzeszkowski, a teacher at Long Branch Middle School, was very grateful for the Monmouth University students' help. "I think this is outstanding," he said. "This is getting months worth of work done in one day. This is phenomenal to see so may people caring and helping. This is going to be a brand new garden and the students are going to be so excited and amazed."
Lauren Fox, Monmouth's Student Government Association site captain for the Long Branch Middle School work site, said she was very pleased with the work her group accomplished. "I think today went very well and it was a very productive day overall," she said. "Community service like this gives the Monmouth community connections outside of the university and this event helps us build those connections. I think getting to put together this garden for these middle schoolers to come in and look at on Monday morning was really special."
The Big Event began in 1982 at Texas A&M and was adopted at Monmouth University in 2000. It is the Student Government Association's signature community service program. Anyone associated with Monmouth University can volunteer to help during the event.