Monmouth Athletics 2022 Hall of Fame Class
Two former Hawks standouts and members of the Touchdown Club to be honored.
Ryan Kinne '11, Bobby Smith '06, and members of the Touchdown Club will be inducted into the Monmouth Athletics Hall of Fame during Alumni Weekend this June. The Induction Ceremony and Reception is scheduled for Friday, June 3, at 6 p.m. More information is available on the Alumni Weekend website.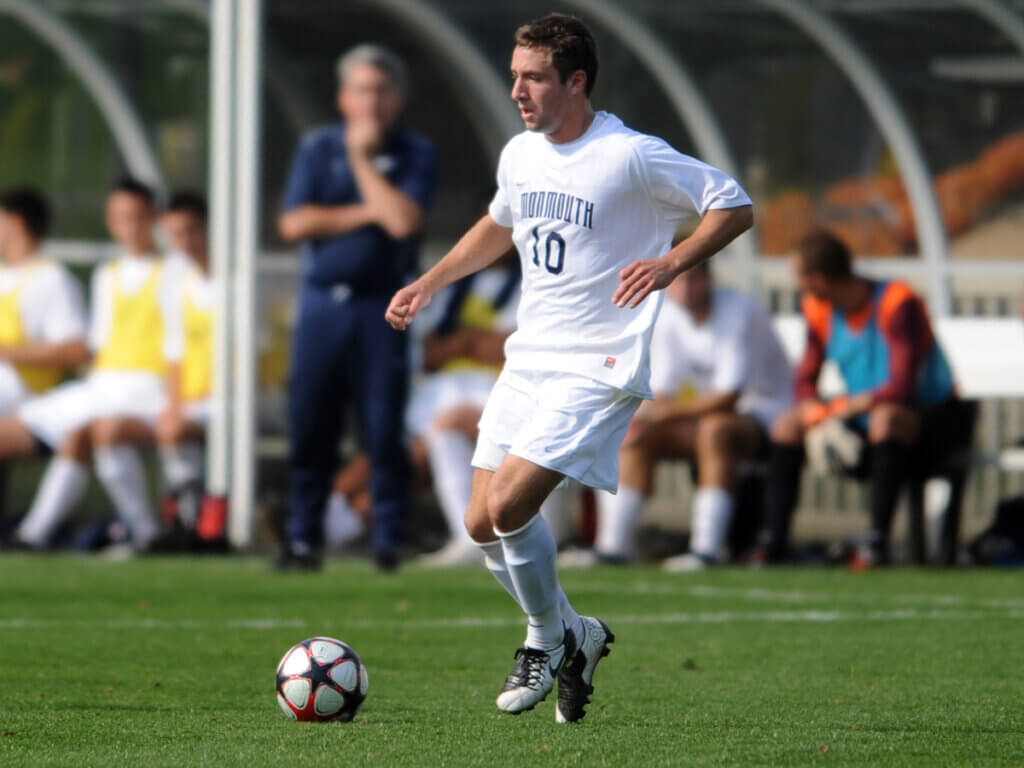 From 2007 to 2010, Kinne led Monmouth men's soccer to four regular season championships and two NCAA appearances. The midfielder/forward is third in program history with 91 career points. His 35 career goals ranks third in program history, while his 21 assists is tied for fifth.
 
Kinne was a two-time All-American, earning the distinctions in both 2009 and 2010. The Naugatuck, Connecticut, native also earned All-Region honors three times and was named NEC Player of the Year after his junior and senior seasons. Over Kinne's four-year stretch, the program developed into a national powerhouse, ranking as high as No. 4 in the NCAA and compiling a record of 56-12-12. 
Smith is one of the most accomplished track and field athletes to ever put on the Blue & White. In 2005, he placed fifth at the NCAA Outdoor Championships earning All-America honors. Smith was an All-East Region performer twice in the javelin and earned three-consecutive All-East honors at the IC4As, winning the event as a junior. Smith and then–Head Coach Joe Compagni led an impressive team effort in the NEC, winning four consecutive outdoor track and field titles while Smith won the javelin in back-to-back years as a junior and senior. The Hopatcong, New Jersey, native still owns the top two javelin marks in school history, including his record 240′ 8″ throw set at the 2005 NCAA Regionals.
 
After graduating from Monmouth, he won the U.S. National Championship in 2008 with a throw of 249′ 06″. Smith played running back for the Hawks during the most dominant two-year stretches in school history, winning Northeast Conference Titles in 2003 and 2004 while helping lead the Hawks to a combined 20-3 record over that span. The two-time offensive co-captain finished his career with 1,545 rushing yards and 11 touchdowns on the ground. He graduated with the fifth most rushing yards in school history.
The Touchdown Club is credited with being one of the driving forces financially in bringing collegiate football to Monmouth's campus. Led by alumni Don Burnaford '72 and the late John Kessler '69, the group tirelessly solicited funding from a number of sources to get the seed money together to start the program in spring 1992. Today, the program boasts seven conference championships, multiple NCAA Division I FCS Playoff Appearances, 29 All-Americans, and numerous professional players, all while sending close to 600 former student-athletes into the workforce with Monmouth degrees in hand.
 
The following people will be honored as a Team of Distinction in the Hall of Fame as part of the Touchdown Club: Donald L. Beaty, Norma J. Beaty, Mr. Leonard H. Berkeley '68, Teri D. Berkeley '68, Margaret C. Bey, Stanley S. Bey '59, Stephen R. Braswell '94HN, James A. Bulvanoski '68, Joan K. Bulvanoski '69, Deborah Burnaford, Donald R. Burnaford '72, Joan M. Carr '94, Robert J. Casper, Susan Casper, William Clayton Sr., Paul S. Doherty Jr. '67 '04HN, Judith Ann Eisenberg, Ambassador Lewis M. Eisenberg '01HN, Edward Fitton, Wayne Friedland, Fred Golden, John Golden, Bernard M. Goldsmith, Nadine D. Goldsmith, Dr. Robert B. Grossman, Dr. Frank P. Gudicello '67, Joan Gudicello, Michael K. Hart, Karyn M. Jeffery '84, William J. Jeffery Jr. '82, Henni K. Kessler '68, John H. Kessler '69, Joseph W. Ketusky '86, Keith R. Lowy '82, Stephan Lowy, John MacAllister, Margaret B. Matthews '90M, Robert C. Matthews, Robin Matthews, Thomas A. Matthews, Frank J. Mazza Jr. '68, Virginia Mazza, Donna L. Muscarella, Stephen J. Muscarella '74, Charles T. Parton '01HN, Gertrude B. Parton, Frank J. Patock Jr., Jane Plangere, Jules L. Plangere Jr. '86HN, Richard S. Sambol '04HN, Phil Shaheen, Timothy J. Shaheen, Mitchell E. Shivers '70, Nancy J. Shivers, Lynn A. Spector '73, William D. Spector '74, Maria Steinberg, Wallace H. Steinberg, Dr. Yvonne S. Thornton '69 '95HN, Benedict Torcivia Sr., Richard H. Turrell '92HN, Sally W. Turrell, Charles Weissman, Betty G. Young, and H.R. Young.