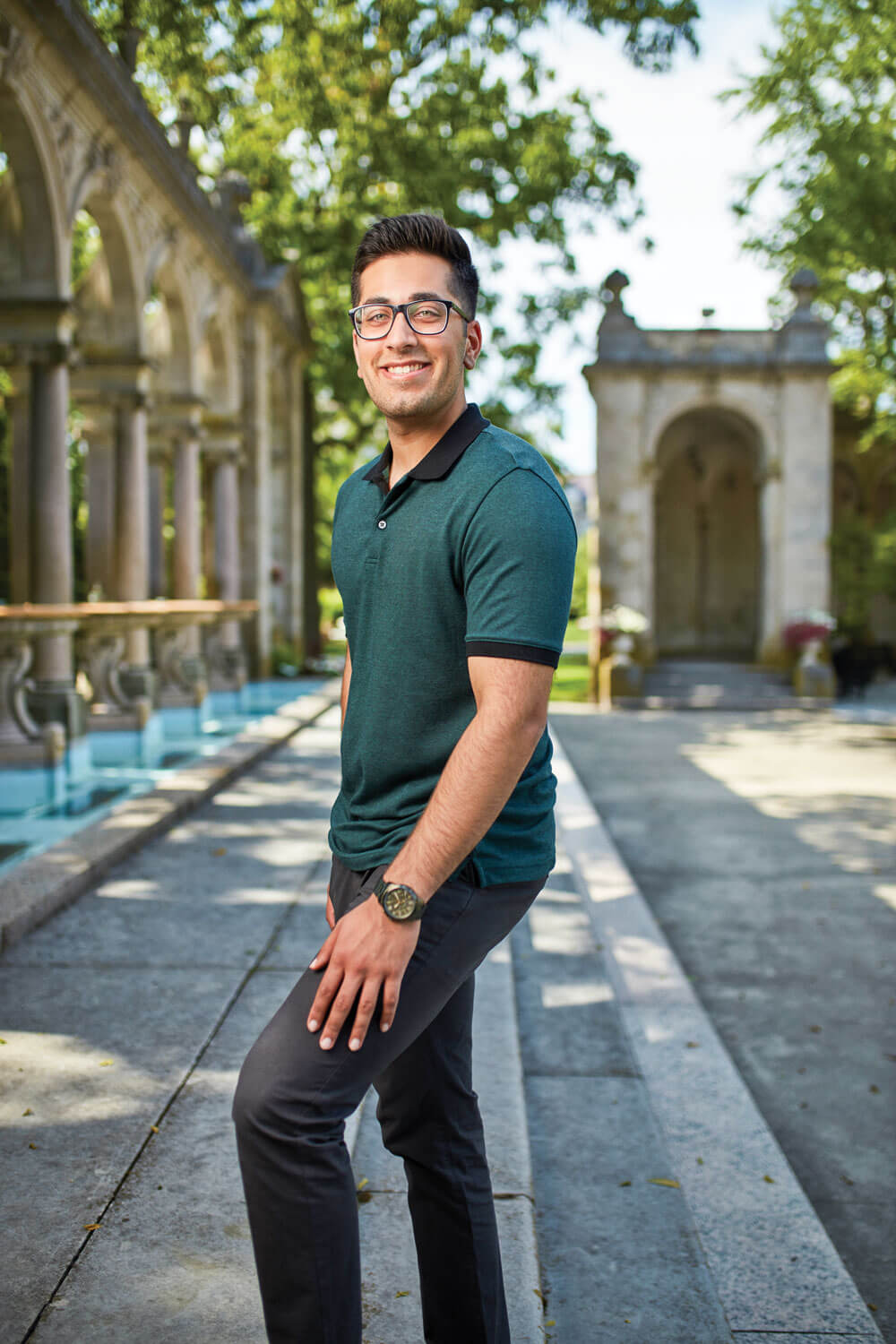 Meet Mehdi Husaini
From the SGA offices to the bio labs, the senior is making his mark while looking toward the future.
I'm a senior majoring in biology with a concentration in molecular cell physiology. I'm also minoring in Spanish and physics. Keeping up with a major and two minors definitely keeps me busy, but I enjoy it—even if it's already given me a few gray hairs.
As a student researcher with Assistant Professor Cathryn Kubera since my freshman year, I've been investigating the importance of a protein called fascin in the aggressiveness and motility of certain brain cancers. Doing cancer research as an undergrad has been a highlight of my time at Monmouth. I've even presented my research at the National Collegiate Honors Council, where I won second place in natural sciences at their national conference.
From the time I was a child, my parents have told me that we're here to help other people. That's part of the reason I work as a volunteer interpreter for Spanish-speaking patients at the Parker Family Health Center in Red Bank, New Jersey. The patients are uninsured, mostly from the Latino community, and some have made it through incredible hardships. The experience has opened my eyes to the things we take for granted—and the work that has to be done by my generation.
I have already taken the MCATs, and I'm currently applying to medical schools. I don't know what specialty I want to pursue yet, but I know that I want to balance clinical work with a role in health care policy or administration. With the way things are today, the medical field needs good, vocal representatives who are also physicians.
Doing cancer research as an undergrad has been a highlight of my time at Monmouth.
I've been involved in Monmouth's Student Government Association since my first year, and last year served as president. When I found out that roughly 30% of college students nationally struggle with food insecurity, I wanted to help Monmouth take action. So last year, SGA started The Nest—a University-owned food pantry for Monmouth students. The effect on campus has been palpable, and I think we've created something that will continue to influence the culture at Monmouth for a long time to come.
The walls of the SGA office are covered with inspirational quotes by everyone from Shakespeare to Dolly Parton. Each president and vice president gets to pick something to put up there when they leave. Former Vice President Leslie Valdez and I haven't decided exactly what we'll write yet, but we're leaning toward "Be the change you wish to see in the world."
I'm from East Windsor, New Jersey, and at first I wasn't sure about going to Monmouth—a small school that's so close to home. Now I tell everyone that I've never been more proud to be wrong about something in my life. I've found people at Monmouth who have become my mentors, I've met friends who have changed my worldview, and I've had countless experiences that made me who I am today.