For one alumna, this holiday season promises to be 'Legendary'
If you haven't heard of Natalie Imani yet, you soon will. The 2004 Monmouth grad (who went by Natalie Curtis while a student) has established herself as a go-to vocal accompanist for some of the music industry's biggest names, including Jennifer Hudson, Cardi B, Nicki Minaj, and Lauryn Hill. Imani is also making waves as […]
If you haven't heard of Natalie Imani yet, you soon will. The 2004 Monmouth grad (who went by Natalie Curtis while a student) has established herself as a go-to vocal accompanist for some of the music industry's biggest names, including Jennifer Hudson, Cardi B, Nicki Minaj, and Lauryn Hill. Imani is also making waves as a solo artist, and her most recent single, "Cranberry Liquor," is available for download on most major streaming sites.
Imani is currently performing with Grammy winner John Legend as part of his "A Legendary Christmas Tour," which runs through December in cities across the U.S. We caught up with her by phone recently to ask what life is like on the road and learn what's next for this up-and-coming star.
How did you first start performing with John Legend?
My best friend sang with him for years, and she told me about an audition. I tried out he picked me, and I've been touring with him for seven years now. In this new show I have a solo with him—we sing, "Have Yourself a Merry Little Christmas."
What's an average day on the road like?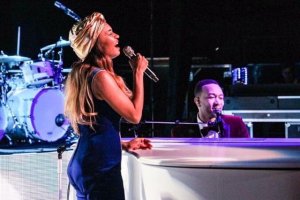 Right now, it's early in the tour, so we're still kind of in the learning process—making sure we're hitting all the notes and all the right movements at the right times. Any downtime we have is usually spent practicing, making sure we have our part down pat. But normally we'll get to a city and have a little bit of downtime to ourselves. Then we'll do the sound check, which usually lasts about an hour; go to catering to get some lunch; do our makeup and hair; and then it's show time.
Your work with John Legend also led to an appearance in the Oscar-winning film La La Land. What was that like?
It was a really cool experience. I'm one of the background singers you see when John performs on stage during the movie. I'm the singer in the middle with the short hair. It's a very brief performance, but I'm in there [laughs]. I flew out to L.A. and we filmed in a theater. Ryan Gosling was there—he played the piano and John played the guitar, which is different for him. It was my first time filming a movie and being on set, so it was cool to see how everything works and how it's all put together.
Is it safe to say you'd be open to more offers to appear on screen?
Yes, for sure [laughs]. I would love to get into commercials and movies and that type of thing. I love being in front of the camera.
Speaking of which, you sang with Cardi B on Saturday Night Live last April. Was it nerve-wracking to perform on live TV in front of a national audience?
I think I was more excited than anything else, because it was my first time meeting Cardi B and I'm such a fan of hers. So, it was pretty cool to share the stage with her.
The internet went crazy about your performance. There was a ton of buzz about you after the show, with one news outlet reporting that you sang "so perfectly that you couldn't help but get chills." When did you know you nailed it?
Alec Baldwin came up to me afterward and said how much he enjoyed my performance. And then people started discovering me online and writing articles about me—sometimes without even reaching out to me first. It was cool, because I think sometimes when you're hired to do background work you don't really get noticed. And it was such a big moment for her [Cardi B] as well. I didn't know that she was going to reveal her pregnancy [during the performance]. It turned out to be a pretty historic night for her, and I was glad that I was able to be a part of it.
"A Legendary Christmas Tour" runs through December. What's up next for you once the tour is complete?
I want to put out a project for Valentine's Day. I have a microphone and a setup in my hotel room, so in my downtime I'm going to be working on as much new music as I can. Kaveh Rastegar, who's playing bass for John on the tour, produced my last single, "Cranberry Liquor." We got a lot of good feedback on that song, and I think that we have a good thing going musically, so hopefully we'll be able to get some new music together by the end of the tour.
You can read more about Natalie Imani in the next issue of Monmouth magazine, due out this spring. To catch her performing with John Legend, visit the "A Legendary Christmas Tour" website for a complete listing of cities and dates.