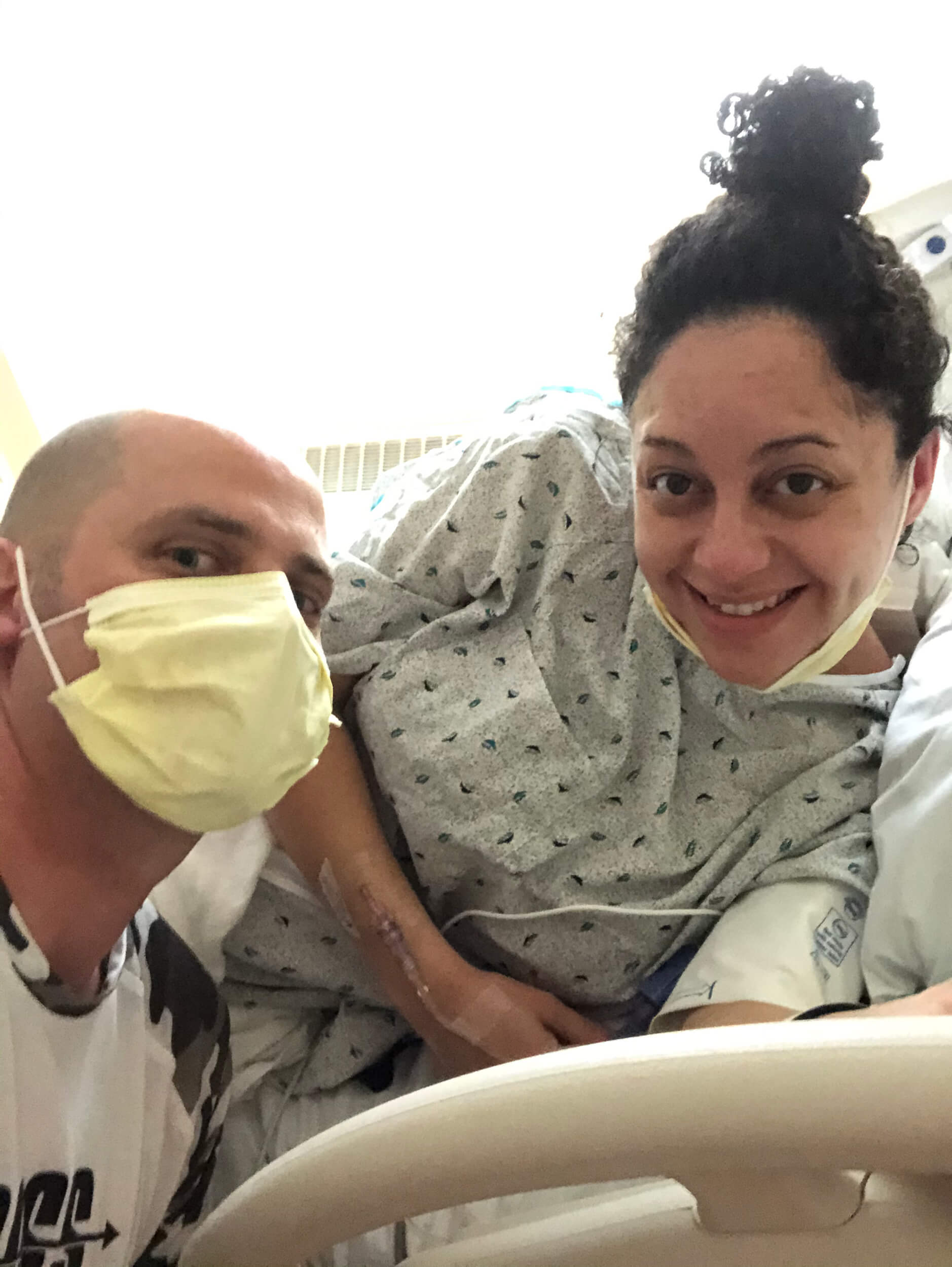 "Be prepared for a different type of experience."
Alumni couple shares what it's like giving birth during the COVID-19 pandemic.
Bringing a child into the world can be one of the most joyous moments in a couple's life, but even under normal circumstances it can also be incredibly stressful. Doing so during a pandemic only amplifies the anxiety.
Brian '01 and Grace (Pelerin) Hirshblond '18M say the weeks leading up to the birth of their daughter, Amaya, on March 30 nearly brought them to their breaking point. "There were some grim moments," admits Brian, a former longtime assistant track coach at Monmouth.
Now home safely, the couple are talking about their experience in hopes they can provide some measure of calm to anyone about to give birth during these uncertain times.
"We're blessed that we're able to sit here now with our daughter," says Brian. "Ours is a success story, and we want people to know their experience can be too."
Was there one specific moment when the severity of the situation hit you—that you'd be having a baby during a pandemic?
Brian: Probably the second week of March. Schools were closing. We heard rumors that some hospitals weren't allowing anyone in the room with the birth mother. Then Grace's doctor called and said I wouldn't be allowed in the office for the next ultrasound appointment. I think that's when the panic really started setting in.
Grace: That was probably my biggest fear come to life, because I always imagined Brian would be at my side when I delivered. And to have that potentially taken away—it was one of the darker moments for me.
Brian: Luckily that didn't turn out to be the case. But we knew based on what they were saying on the news that Grace's due date was during what was predicted to be the peak of Coronavirus cases. That only intensified our anxiety. Then low and behold her water broke 10 days early.
I had this feeling like we had walked into a burning building. We were in a safe spot, but the fire was closing in on us.
I imagine it was still nerve-racking being in a hospital at that point. Can you describe what it was like?
Brian: We got to Monmouth Medical Center around 1:30 a.m. on March 30. There was a huge, makeshift tent set up outside. We parked, I grabbed the bags, and started walking toward it. I saw two people in masks watching us from behind the hospital door. I was giving them the sign that Grace was pregnant, and sort of saying, "Hello, is anyone going to help us?" But the people just stayed behind the door and kept staring at us.
We walked into the tent and there were two other workers there, both in masks and gloves. You could see in their eyes how exhausted they were. They immediately put masks on us and said, "This stays on at all times." They took our temperatures, asked us some questions, disinfected our bags, and put those into bigger bags. Then they quickly whisked us out of the tent and in through a side door into the delivery area, where we were immediately quarantined in our room. Everyone had a mask on, and you didn't hear or see another person—other than hospital staff—the entire time. It was isolating.
Grace: The whole process was pretty quick, but it was strange. I was in labor and I just wanted to get to the hospital room, but first we had to go into the tent, and get questioned, and have our temperatures taken, and put masks on…. And we had to wear those masks the entire time. I was trying to take my breathing seriously, but it wasn't easy with the mask. You can't get much air when you're wearing one.
At any point did you think about what might be happening elsewhere in the hospital?
Brian: At some point I looked out our window. Right underneath us was the tent. There were sick people being dropped off—they all had masks on—and they were lining up, waving for help. I felt terrible for them, but it was also kind of a nonstop reminder of what we were surrounded by. I remember I had this feeling like we had walked into a burning building. We were in a safe spot, but the fire was closing in on us.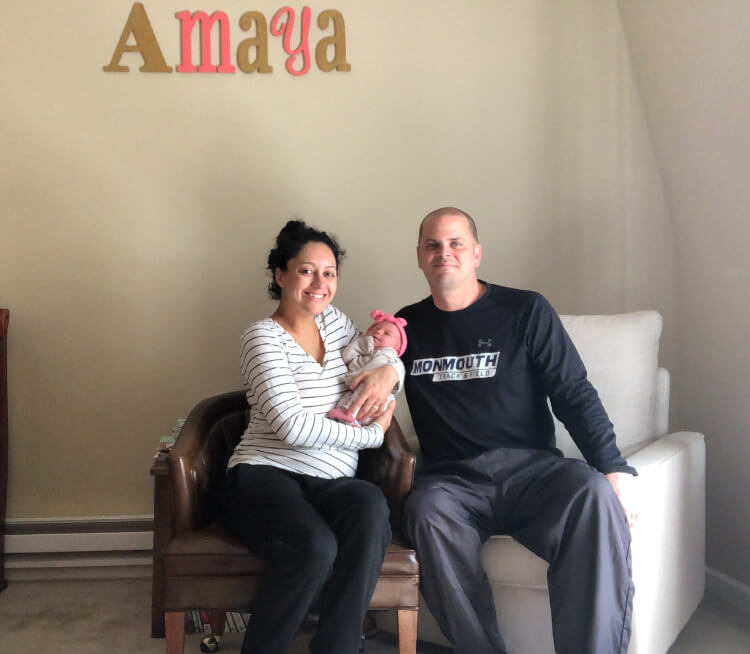 What happened after Amaya was born?
Brian: The doctors said they wanted to get us in and out in 24 hours. Amaya was born at 5:12 Monday evening, and by 9:45 Tuesday night we were on our way home. As first-time parents going through that process…
Grace: It was a pretty quick turnaround (laughs). I mean, we did want to leave, but I also felt like, "Wow, this is happening so fast." They didn't make me feel rushed in any way, and they did everything they needed to do. It was just so…compact.
Brian: We had nurse after nurse showing us what to do, giving us pamphlets. It was a lot of information to absorb, but we understood why they were doing it so quickly. And they did an amazing job.
Looking back on it now, is there any advice or insights you'd offer people who are about to experience what you just did?
Grace: Something we tried doing before Amaya was born was checking in with each other. Working together as a unit is always best for couples. So you might ask each other, "What can I do to support you?" "How can I help you finish your hospital bag?" "How can we calmly talk about contingency plans?"
For expectant mothers, I'd say just stay calm. Don't let the news, or thoughts of what could or might happen, get to you. Some days I just had to say myself, "Well as of now, I can still have my support person in the delivery room, and I'm going to live this day as if it's going to stay that way," rather than living in dread for the worst that could happen.
Also, know that precautions are being taken, and you just have to trust that you're going to be OK, that you're in good hands. Focus on what's really important: getting through your labor and working with the staff to deliver a baby.
Brian: Be prepared for a different type of experience. At a minimum you're going to have to wear a mask the whole time, you're going to be quarantined to your room. So if there's something you'll want or think can give you comfort while you're isolated—maybe it's essential oils to help you relax, or music you want to listen to during delivery, or just even some reading material—make sure you bring it with you. Once you're in the room you can't even go into the hallway.
And while you need to stay informed about the ongoing pandemic, don't overdo it. The last couple weeks [before Amaya was born] I was checking the news every 15 minutes, and I let it consume me. I got caught up thinking, "Oh my gosh, I have to have a plan for every scenario." That didn't leave me in a healthy state. I wasn't sleeping; I had trouble breathing; I had panic attacks. It's important to unplug and take a breath. Just get it in your mindset that it's going to be a different experience, but you'll be alright if you're there for each other and help each other out.