All Creatures Great and Small
From betta fish to boa constrictors, Jen Steinman '10M helps grieving pet owners deal with the loss of a beloved companion.
It's all in her voice—at least that's what Jen Steinman's clients tell her. A Virginia native who moved to New Jersey a decade ago to pursue a career in funeral directing, Steinman has a soft, Southern accent that helps her make grieving pet owners feel as if they're being consoled by a dear friend.
"A lot of people tell me they decide to come here after they talk to me," Steinman says about Forever Remembered Pet Cremation & Memorial Services, the pet funeral home she owns and operates in Jackson, New Jersey. "It's all about being patient and kind. I just make sure to take the time to listen to every single person's story."
The idea for the business came to Steinman while she was pursuing a master's degree in education at Monmouth. At the same time, she was also working toward a mortuary science degree at Mercer County Community College and working in a funeral home for humans.
"I had this idea in the back of my head the whole time, and honestly, it sounds pretty crazy—opening a funeral home for animals. Doesn't it sound nuts?" Steinman laughs. "But humans have a place where they can grieve humans, so why can't pet owners have the same for their pets?"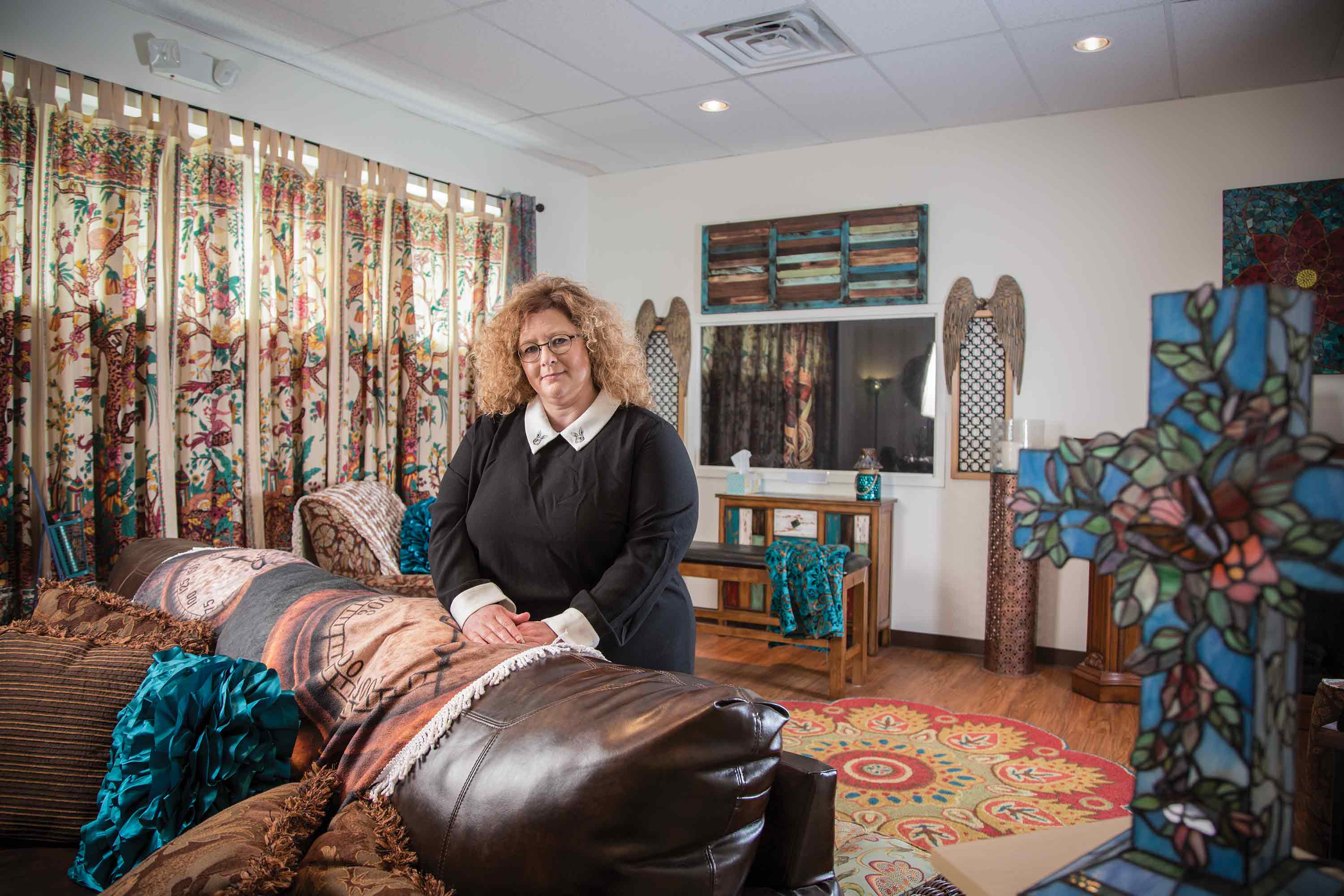 After graduating, Steinman bought a dilapidated 1950s-era building that once housed a post office and spent three years renovating it. It cost her nearly $100,000 to purchase, transport, and install a retort, or chamber, in which an animal's body is placed during cremation. She also installed a body morgue—just like those used for humans—and decorated the welcome room and chapel in a homey, country store vibe.
"Everything I do here is done the same exact way as I would do for a human," says Steinman. "I have a chapel where families can hold a small wake and where they can watch me perform the cremation. Everything is private."
When a deceased pet arrives on site, Steinman places it in the body morgue on its own shelf while the owner decides whether to cremate or bury their pet. "The difference between taking your dog to the vet versus coming to us is that the vet puts them in a typical white freezer. Usually all the animals go in there, and the crematory comes once a week to pick them up," says Steinman. "I had a body morgue made for me. It's just a little shorter, and I put [pets] in there on a shelf, alone, with respect."
Owners who choose the burial route can select from biodegradable, animal-sized caskets made of corn husk. Those who choose cremation can watch it be performed, either through a large window in the chapel that looks into the crematory or by streaming it online from the comfort of their home. The process takes anywhere from 30 minutes to four hours depending on the animal's weight. Once complete, the owner can either take the skeletal remains that are left or have them reduced to ashes and placed in an urn, some of which are handmade by Steinman on site.
Regardless of which option they choose, owners can also hold a small wake where they can request a priest and invite family to say goodbye. The pet is cleaned when necessary, and laid out for viewing, much like at a human wake.
The process provides tremendous closure for pet owners, some of whom travel from as far away as Connecticut, Pennsylvania, and New York City. In turn, Steinman tries to personalize the experience based on the pet's personality. If someone describes their cat as a princess, for example, Steinman might make the urn pink with a crown on top. She also offers taxidermy services for animals smaller than 18 inches, as well as disinterment services for pet owners who are moving and would like their previously buried animal cremated.
"Sometimes in losing a pet, you don't expect to be as upset as you are," says Steinman. "But when you think about the unconditional love and everything that pet gave you all those years, it hits you—sometimes even a little harder than the death of a human can."
Dawn Berman '83, '00M and her husband, David '81, have gone to Forever Remembered twice, most recently after losing their 10-year-old golden retriever, Molly. Dawn says they were sold after their first experience and plan to return in the future when the time comes to unfortunately say goodbye to their other pets.
"[Jen] has a great way about her that helps even in the worst of times, so I didn't hesitate to go back to her because it just helped a bad experience be as tolerable as it can be," says Dawn. "It helps with the grieving process to actually be able to have a private time and pay respect to the pet, and it helps to let go and bridge the life-to-death process."
The pet funeral and cremation business is a busy one these days (see sidebar). Steinman says that calls from owners who lost a pet come in around the clock, and that, on average, she performs 50 private cremations each month. But she makes it a priority to get the cremains back to families as quickly as possible. "We return everything within 24 hours," she says, adding that owners also leave with a small booklet that contains the animal's prints, whether nose and paw prints for a dog or a tail and feet prints for a lizard.
While she uses her degree from Monmouth to poignantly educate pet owners about the cremation process, what Steinman is most passionate about is being able to offer her clients a private and personalized experience.
"It doesn't matter how rich, how poor, how educated you are—if you have a pet, at some point you'll have to deal with loss," says Steinman. "So, I give everyone the respect they deserve and take them through this process one step at a time."