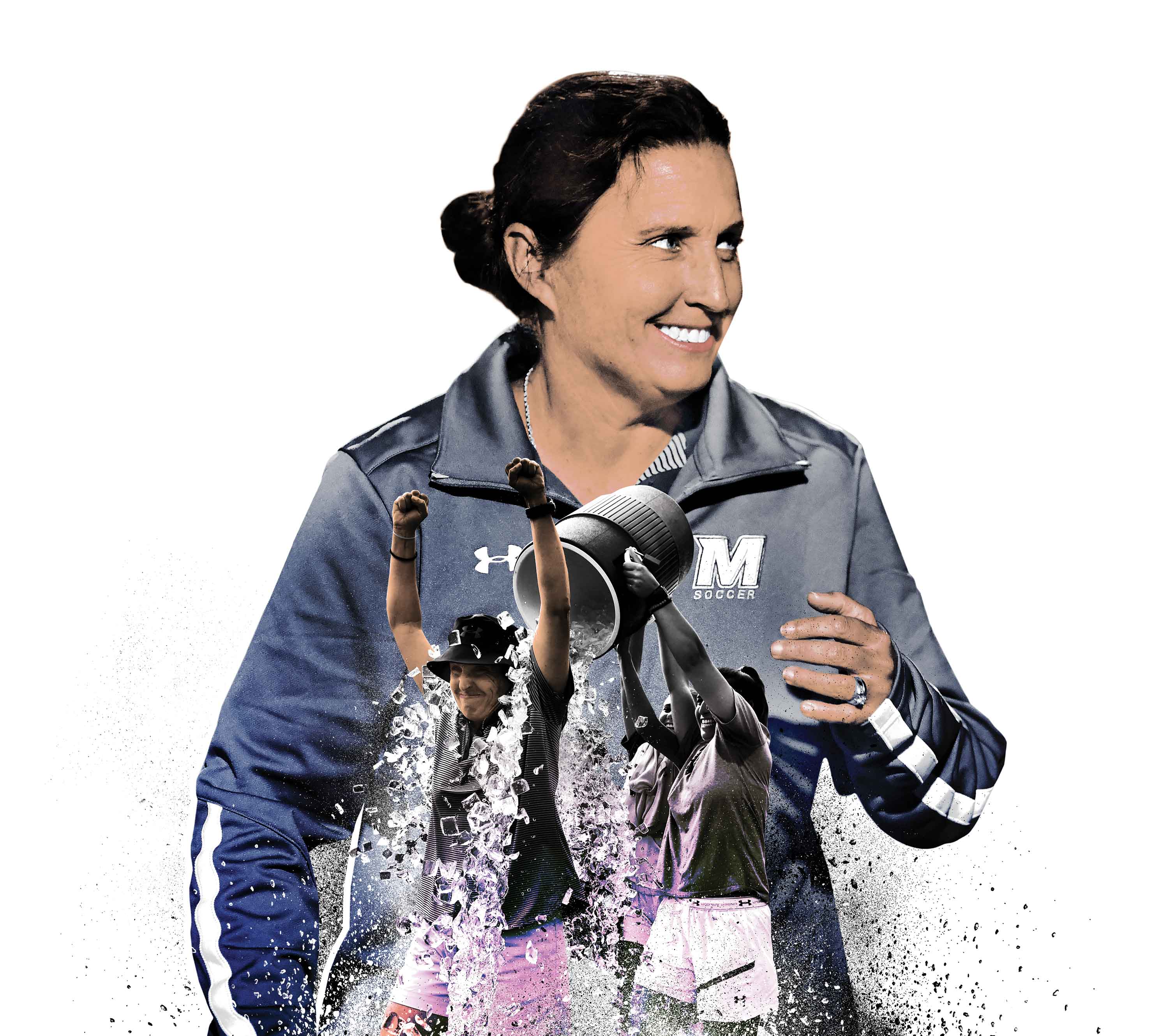 Ahead of the game
A Q&A with women's soccer head coach Krissy Turner.
Want proof that Krissy Turner truly loves coaching soccer? Her first collegiate coaching position paid a grand total of $1—before taxes. As an assistant at then–Trenton State College in the early '90s, Turner was called on to drive the team van. "To do so I had to be a paid employee," she recalls. "There was no money, so they paid me $1. When I got the check, they actually took taxes out, and I deposited the remaining 69 cents."
Humble beginnings aside, Turner, who's now in her 21st season at the helm of the Hawks' program, is considered by many to be the "dean of New Jersey's Division I women's soccer coaches." We caught up with her recently to ask how she and the game she loves have changed.
What's the biggest difference between women's soccer players today and when you began coaching in 1992?
I would say greater athleticism and a higher degree of technical skill. The sport has better athletes due to more advanced training and competing in multiple sports. I know it can be unhealthy to specialize in a sport too early, but having opportunities to play more often throughout the year does allow players to develop better touch on the ball and technical skill.
How has your coaching style evolved?
To be an effective coach, you need to build relationships with your players. It's much more than X's and O's and recruiting the top talent. In order to motivate players, you need to get to know them and let them know that you care. Not only as a soccer player, but as a person.
Your roster is loaded with talent from the Garden State. Is there a reason you recruit so heavily here?
There are two main reasons. The first is that New Jersey now ranks at the top in the women's soccer talent pool. College coaches from all over the country are coming to New Jersey to recruit players. The second is that we have the opportunity to see local players more often. So not only does your assessment become more accurate, but you learn more about the player's character and whether or not they are a good fit for the program. Also, New Jersey players have that swagger and carry some attitude that a coach wants in a player.
You're a staff member of the U.S. Soccer National Training Centers Program, so we'll ask you to make a prediction for the 2019 World Cup. What two countries will square off in the championship match?
Well, the brackets aren't out yet, but I'm going to go with the U.S. vs. Australia. Australia has been up and coming, and they have the best player in the world in Sam Kerr.
What motivated you to pursue your Ph.D. in performance psychology?
I was looking for a new challenge and the subject came up during a conversation with our athletic director, Dr. Marilyn McNeil. Since I work in higher education, I wanted to become a better role model for my players. I'm in the final stages of my dissertation and hope to earn my degree in the next few months. My dissertation discusses the relationship between leadership behavior, team cohesion, and athlete satisfaction.
Your husband, Bob, is a longtime assistant soccer coach at TCNJ. Is that a good thing?
Some nights I wish he knew nothing about soccer. Like the other night driving home after a tough loss to Lehigh, he said, "I don't think I've ever seen your team play that poorly." I could have done without that at the moment. But seriously, it's great. We both have great respect and understanding for each other, along with a mutual love for the game. We are both huge sports fans.
Footnotes
4 MAAC, 3 NEC, 1 ECAC
As of Oct. 10, 2018