Act, Naturally
Monmouth kindled Class of 2020 grad Joe Marano's love for the theater. His next stop? New York City.
Joe Marano '20 was in eighth grade when he didn't audition for his school's production of the musical Seussical.
He certainly wanted to. But Marano was a devoted wrestler, and when his teammates heard about his song-and-dance aspirations, "I don't want to say bullied, but they convinced me not to do it," he says. He still remembers going to see Seussical and shuffling back to the car with his mom afterward, crushed that he hadn't been up on stage.
It wasn't until he reached college that Marano finally gave theater a try, and now he hasn't stopped performing since. After transforming himself from fledgling cast member to leading player at Monmouth, this fall he's heading to the prestigious Actors Studio Drama School at Pace University—the program famous for its Inside the Actors Studio seminar.
It was only four years ago that, as a freshman at Monmouth, Marano had his first-ever audition. He was cast in the ensemble of Sweeney Todd and enjoyed the experience so much that he began scouting out local community theater auditions. Soon he was performing on Monmouth stages and nearby ones, too. He declared a minor in musical theater and got to work turning himself into a triple threat.
"In the beginning, it was very intimidating," he says of performing with peers who had been singing, dancing, and acting practically since birth. "It was tough to try to catch up, but once I started to get into the groove of things, I felt much more comfortable."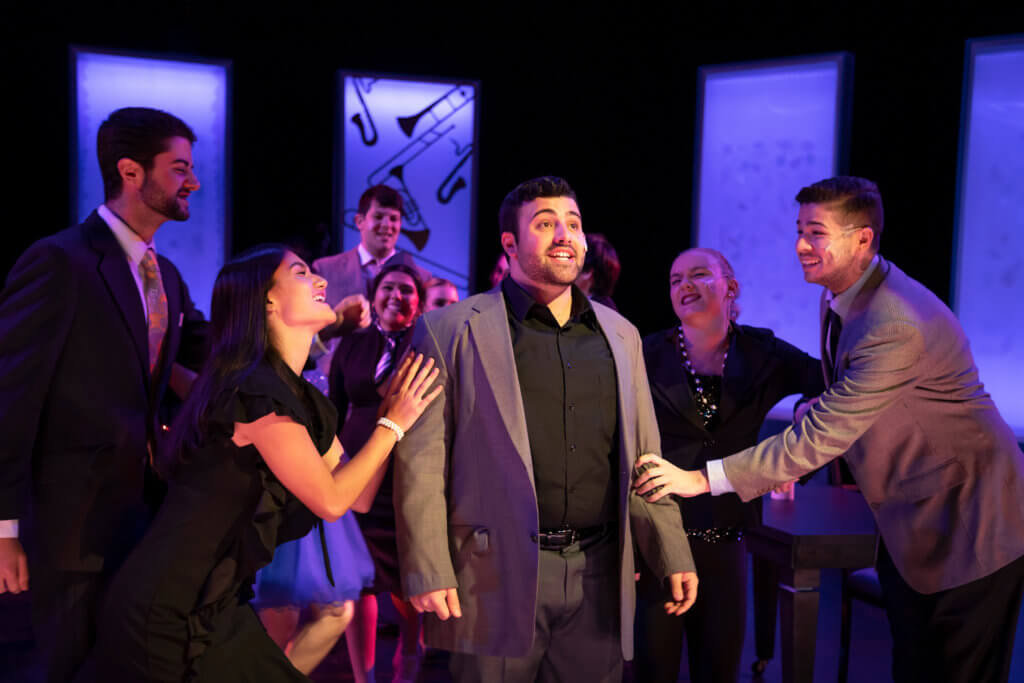 The fact that he'd played the clarinet as a kid and could already read music helped. But "really, it was just a lot of passion," he says. "I knew this was what I wanted to do."
Marano credits Adjunct Professor Karen Huffstodt with helping him grow into a more confident singer. "A lot of teachers teach you how to sing like everybody else," he says. "She digs into your individual talents and your true self comes out."
Professor David Tripold and Specialist Professor Sheri Anderson helped guide him along the way as well, he says.
Marano began landing lead roles in Monmouth productions, including Company, The Drowsy Chaperone and The 25th Annual Putnam County Spelling Bee. He even learned to tap dance for a community theater production of 42nd Street. By the end of his junior year, Marano had decided to apply for MFA programs after finishing his BA in history. He was ecstatic to get into his top choice, Pace, which plans to reopen for classes this fall.
Though COVID-19 has put all live performance on hold—nixing Marano's senior recital and halting the summer shows he'd hoped to appear in—he's been making use of the downtime. After seeking out lists of the plays every actor should read and the movies every actor should watch, he pieced together his own syllabus and has been working his way through 91 classic plays and 40 films.
Since his transformation from wrestler to performer, Marano hasn't talked much with his old teammates, though "I heard through the grapevine they weren't pleased," he says.
But he believes that, at their core, wrestling and theater have a surprising amount of overlap. "Both are incredibly demanding physically, mentally, and emotionally, so a strong mindset is required," he says.
"The differences are mostly just the workout regimens," he adds.