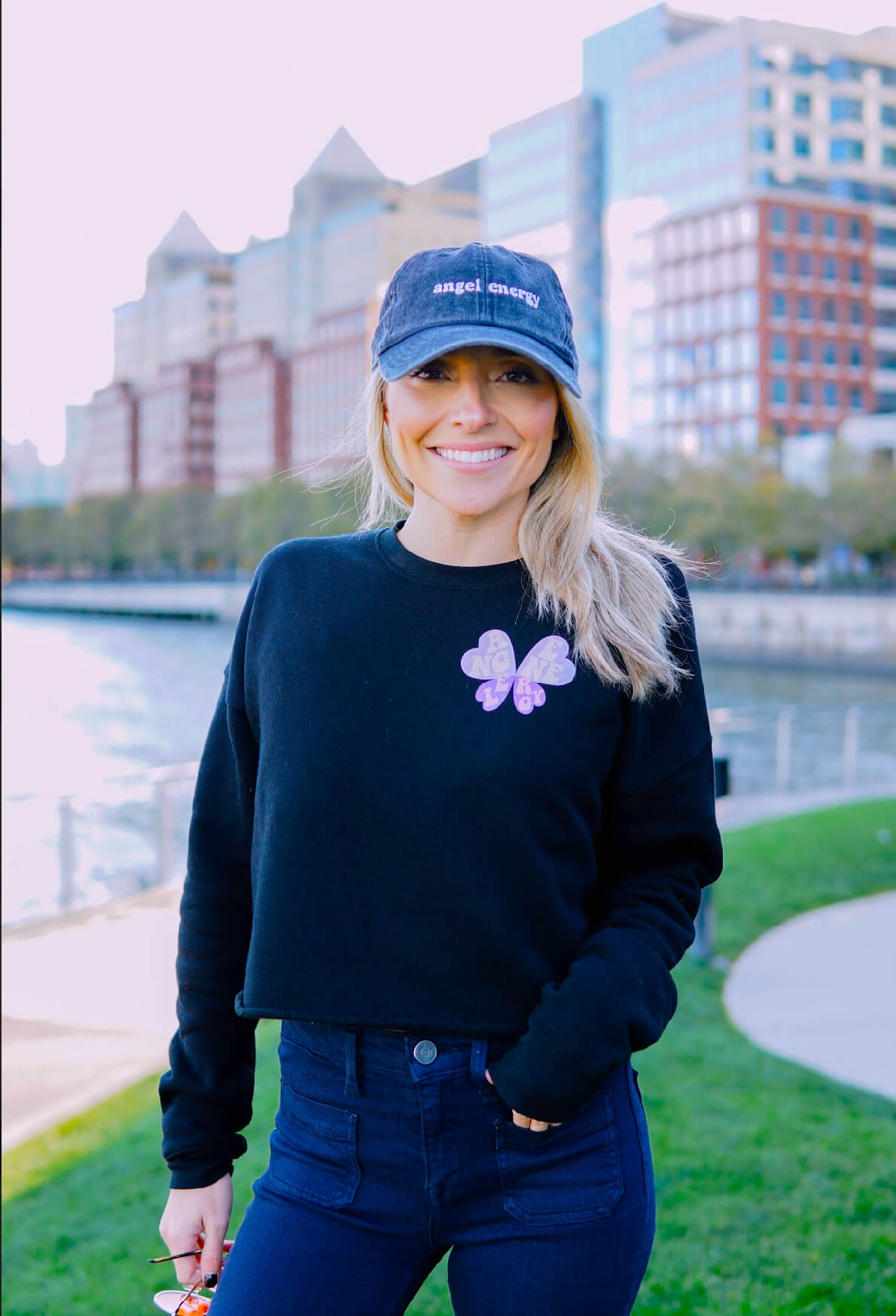 A Voice for the Voiceless
After losing her mother to domestic violence, Sarah Ripoli '14 launched a clothing brand to raise funds and awareness for other victims.
When Sarah Ripoli was 6 years old, her father shot and killed her mother while she was attempting to leave him after suffering years of emotional and physical abuse.
Ripoli, who was in the house with her grandfather at the time, says it was like losing two parents at once.
"Apparently my dad had threatened to kill me too—my mom had written it all down. She basically predicted her death," Ripoli says of her father who subsequently faced a trial and jail time. "It happened the month before I turned seven, and I never wanted anyone to feel bad for me, so I kept it a secret."
Despite the traumatic event, Ripoli tried to move on and live a normal life. She was raised by her maternal grandparents in Southern New Jersey. She came to Monmouth University alongside her best friend, joined a sorority, met her future boyfriend, graduated, moved to Philadelphia, and successfully landed a job working in finance recruiting.
But after working in corporate America for five years, Ripoli started to feel unfulfilled.
Thinking it was possibly the fact that some part of her had always wanted to pursue a career in fashion, she started a fashion blog as a hobby in July 2018.
It was during this time that Ripoli also started to become more curious about her mother, Brenda. The year before, on her 25th birthday, Ripoli received a binder in the mail that one of her mother's former coworkers found on a bookshelf in her office years earlier. It included pictures, journal entries, and letters Brenda had written for her daughter.
"It felt like a sign—it was just weird that it was my 25th birthday," she says. "It was a pivotal moment for me and it kind of sparked my interest in learning more."
As she slowly began combing through the binder and some of her mother's keepsakes, Ripoli was also beginning to amass a following on her blog and social channels. Between the two things, she decided to share her story and use her voice and platform to help others.
"I was sharing so much of my life with all of my followers that I finally got to the point where it was time that I tell my story," says Ripoli, who created an IGTV series titled "Brenda's Story," where she shares more details about her story for all of her followers. "I felt like it was finally the time to come forward and use my voice for good, especially for other people out there who aren't using their voice and who can relate to it but are maybe scared to say something."
After sharing her story, Ripoli received an outpouring of support from victims of domestic violence, including many people who, like her, were exposed to it as children.
She started to include more messaging around domestic violence awareness on her fashion blog, and over the next few months, developed the idea for a company that married her two passions into one.
In August 2019, she launched Angel Energy, a clothing brand which, through its unique designs and proceeds from its sales, raises funds and awareness for domestic violence.
Each month, Angel Energy donates 25 percent of its sales to a different domestic violence charity—this June, proceeds will benefit 180 Turning Lives Around.
The tie-dyed and bubble-lettered tees designed by Ripoli have a '70s vibe that's "optimistic and happy"; the butterfly theme in her hoodies are a nod to her mother, who had a butterfly garden created in her honor after her death.
Since launching, Ripoli has given talks at schools and various police divisions across the tri-state, and this month, she is teaming up with Miss New Jersey 2020 Gina Mellish—an advocate for dating violence awareness via her platform One Love Foundation—to launch an exclusive collection.
Happy to now share her story with everyone who will listen, Ripoli says that she hopes by being open about her experience, she can help others to know that they are not alone.
"Even though I tell my story there are so many silent victims—if you look around a room of people, one out of three [women] is experiencing domestic abuse," she says. "So, with Angel Energy, I want it to be more than a clothing line, I want it to be a movement, so that victims know that they're not alone, and we're in this together and have each other."
---
Violence in quarantine
While reports show that domestic violence calls are on the decline since quarantine began, multiple authorities on domestic violence say that doesn't necessarily correlate to a decrease in abuse. Ripoli says there is actually potential for an increase in abuse due to multiple factors such as increased stress due to job loss or unexpected financial burdens during this time, as well as increased isolation for victims, which decreases their ability to utilize outlets available to them to seek help.
For those suffering abuse or for those who believe a family member or friend is suffering abuse, Ripoli urges victims to contact the National Domestic Violence Hotline (800-799-7233), which offers a wealth of resources for those seeking help.
---