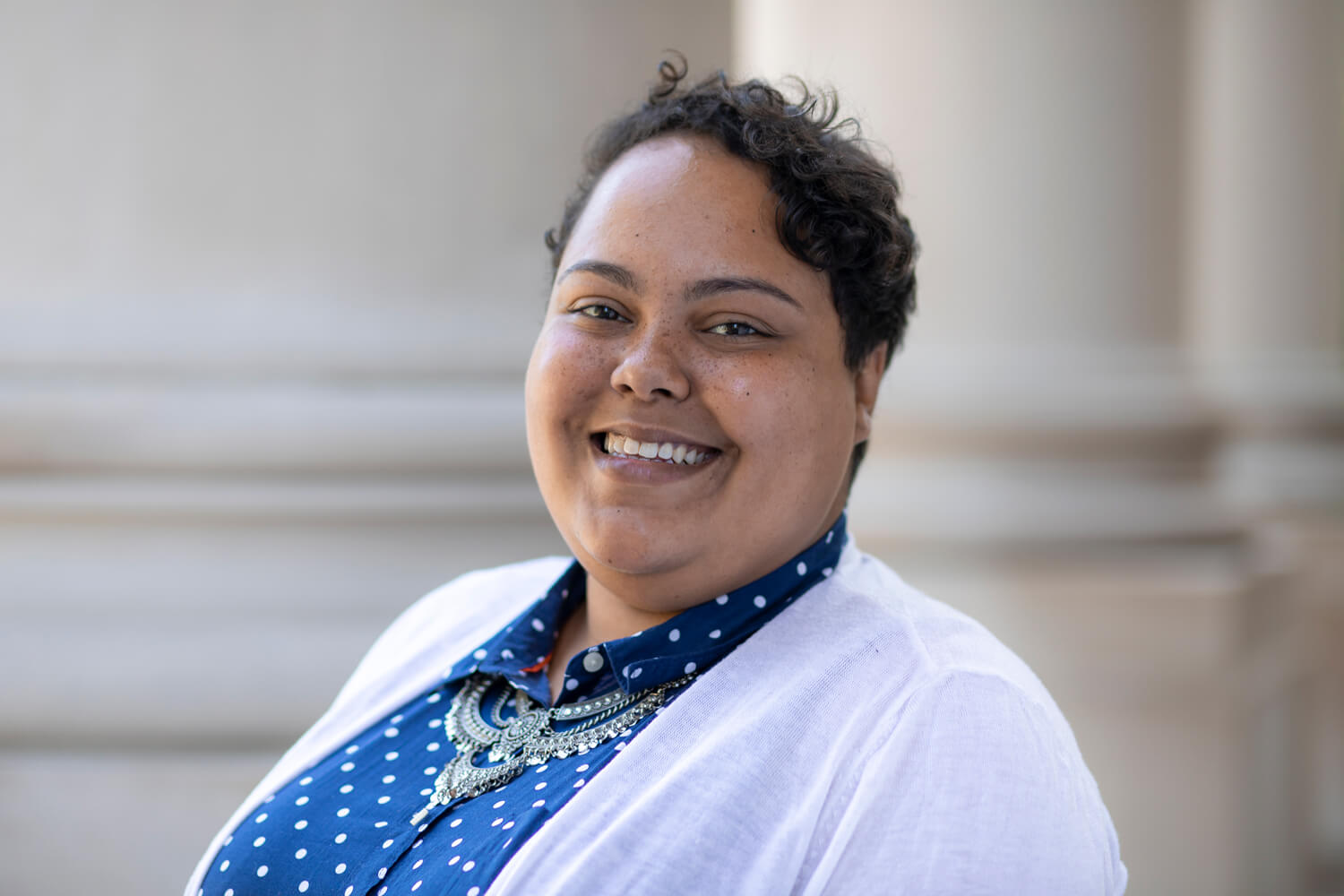 A Conversation with Zaneta Rago-Craft
Director of Monmouth's Intercultural Center and the president's advisor on diversity and inclusion.
In July, President Patrick F. Leahy, Ed.D., announced a series of actions that Monmouth University will undertake to commit itself to becoming an anti-racist institution. One of the initiatives was the appointment of Zaneta Rago-Craft, Ed.D., to the president's cabinet as advisor on diversity and inclusion. Rago-Craft will continue to serve as director of the campus Intercultural Center, which provides programs, educational opportunities, and policy/practice consultation that supports the academic, social, and professional success of historically underrepresented campus community members. She spoke with us recently about some of the work the center has undertaken, as well as how those efforts can help the University in its commitment to becoming anti-racist. The conversation has been edited for length and clarity.
It's been a little more than a year since you were hired as the inaugural director of the Intercultural Center. Can you tell me about some of the work the center has been able to do in that time?
On the student side, we were able to operationalize the center itself. We created a physical space on campus where students can come in, do homework, gather together in a community. Prior to COVID, that was really taking off. We also solidified campus cultural celebrations, such as Hispanic Heritage Month and Black History Month. We started a peer mentoring program for historically underrepresented students through which upper-class students provide guidance and advice to incoming students. And we provided cultural training and workshops for resident assistants and Student Government.
On the employee side, we reinvigorated the Safe Zone program, which is an LGBTQA cultural competency program. Working with the Offices of Equity and Diversity, the Provost, and Human Resources, we hosted networking events for employees of color and LGBTQA employees. And we introduced a new curriculum, Cultivating Inclusion, which focuses on anti-racism and anti-oppression, and how to bring those themes and concepts into your everyday work, whether that be inside or outside the classroom.
How has COVID affected the way you've been able to help the campus community?
We've able to use our social media platforms to share anti-racist education resources and helpful tips. We have also been sharing a lot of wellness resources. I think that's one piece that's particular to historically underrepresented students: It's not just about learning, it's also about taking care of yourself in the midst of a sort of dual pandemic. Everyone is dealing with COVID, but I think a lot of folks are opening their eyes to systematic injustices around them. Historically underrepresented students are generally familiar with systematic injustice, but it can be overwhelming to see violence unfolding around them. So we've been really focusing on care: how to take care of yourself, how to take care of your community, how to step away from the news cycle sometimes. Those things are particular for the students in our community.
Inequity doesn't go away in a digital environment. Oftentimes it's heightened. I think Monmouth has done a good job of taking that into consideration, and will continue to do so as we get ready to reopen in this hybrid virtual environment.
Monmouth recently committed itself to becoming an anti-racist institution. For those not familiar with the terminology, can you explain the difference between being "not racist" and being "anti-racist"?
On an interpersonal level, I think one of the main things is behavior. We can all hopefully recognize racism or discrimination or inequity happening around us, but what we do about it is what makes us not racist or anti-racist. Do we allow it to happen? Do we not intervene? That would potentially make you not racist; you're not taking any action. Anti-racist means you're taking action. You're intervening. You're recognizing what's happening around you and you're trying to influence what you can within your own spheres.
What are some things Monmouth can do institutionally to be anti-racist?
Some of that is addressed in the Anti-Racist Commitment that the president shared with the community. But for me, I think institutionally there are actions we can take, and policies we can create, to actively confront inequity. For instance, in regards to our hiring policies, are we aggressively recruiting diverse candidates to come to campus? And once we recruit a critical mass of diverse representatives within our faculty and staff ranks, what do we have on campus that helps keep them here? That's an anti-racist action: creating support networks and mentoring programs.
Another piece would be taking a hard look at our curriculum. A lot of what the Intercultural Center does is cocurricular, so it happens outside of the classroom. It's really easy for students to opt out of cocurricular initiatives. There's really only one thing students can't opt out of, and that's class. And so I think the institution can take a look at the curricular experience that students are having, and how we can support the courses being offered, and think about recruiting faculty with specialties in these critical areas.
How can your appointment to cabinet help in those efforts?
I think my having a seat at the table will allow for questions of equity to be at the forefront when those with the most senior decision-making roles on campus discuss change. It indicates that we as a University are taking positive steps to confront our history, and our current, and want to envision a better future—one that is more inclusive and welcoming and equitable and anti-racist.
What are your plans for the Intercultural Center for the coming year?
My goal is to see the center grow both physically and in reach. On the student side, I want us to really be a hub for support for historically underrepresented students, as well for students who want to learn and be committed to creating more just and more equitable societies. On the employee side, I really want the center to partner across the University to create opportunities for mentoring, support, and recruitment at all levels of the University. We are only as strong as our partnerships, because we cannot do it alone.
And of course, Monmouth alumni can be partners in this work too. This past year, we worked with the alumni engagement office to get the Historically Underrepresented Group (HUG) up and running on the Hawk Network. It's a digital platform through which alumni can provide career guidance to the upper-class students. We're hoping to expand that, and next spring to have alumni come back to campus virtually to share their career journeys with historically underrepresented students. So alumni should be on the lookout for more of those opportunities.