People on the Move in a Changing Climate
Northeast/Mid-Atlantic Workshop
Virtual Meeting
Schedule:
September 21, 2021: 1:30 – 5:15 p.m.
September 22 & 23, 2021: 1:00 – 4:30 p.m.
Workshop Description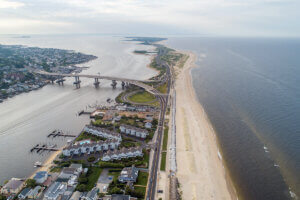 Despite increased reference to the link between climate change and human mobility (which includes displacement, migration and planned relocation), there is a dearth of knowledge on how shifts in population patterns intersect with underlying socioeconomic, cultural, political, and environmental processes and resources that either enable or constrain the ability of people to cope where they are, or force them to move because such support is lacking and/or due to availability of resources in other regions. As part of an NSF Coastlines and People (CoPe) Research Coordination Network (RCN) grant entitled "PEople on the MOve in a Changing Climate (PEMOCC)" led by the Georgia Sea Grant Program, the Northeast-Mid Atlantic Region Project Team is convening a virtual workshop to facilitate a discussion among experts and stakeholders for the identification of the scientific infrastructure that is required to conduct place-based, use-inspired collaborative research on climate-induced human mobility, and regionally tailored educational and engagement strategies.
The goals of the regional workshop are to feature the current state of knowledge on climate-induced human mobility; provide local, regional case studies; and address the unique needs of the underserved and underrepresented coastal communities. Outcomes of the regional meeting will include data and research gap analyses; creation of a framework (possibly developing scenarios) for conducting use-inspired research; enhance education and engagement for building community resilience and climate adaptation; and developing networks of interdisciplinary and diverse researchers, practitioners, resource managers and coastal stakeholders, engaged in the study of climate induced human mobility.
Click here to view biosketches of the workshop panelists. For more information visit the PEMOCC Regional Coordination Network.
Registration
Participation in the workshop is by invitation only. A stipend of $500 will be provided to all registrants who participate in the entire three-day workshop.
An email with a link to the virtual workshop platform will be emailed to all registered participants by Friday September 17, 2021.