Former Monmouth University Professor Randall Abate will return to campus Oct. 11 to deliver a presentation titled "Climate Washing, Corporate Accountability & Human Rights." The event will be held from 8:30-9:50 a.m. and is sponsored by the Department of Political Science and Sociology and the Urban Coast Institute (UCI).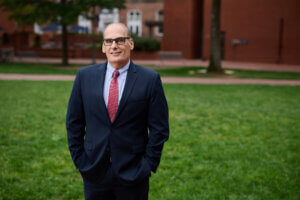 Abate, now the assistant dean for environmental law studies at the George Washington University Law School, will discuss "climate washing" litigation that seeks to hold fossil fuel companies and other private sector entities accountable for misleading the public about their compliance with climate change mandates or goals. Climate washing tactics can threaten human rights to health, property, food and water, and life, especially in vulnerable communities, by postponing effective climate regulation and thereby amplifying the risks from climate change-related events such as severe storms, flooding, heat and droughts. The presentation will propose mechanisms to help ensure that companies' characterizations of climate change compliance are transparent and truthful to limit human rights impacts from their efforts to comply with climate change mandates and goals.
Members of the public are welcome to attend virtually. To join by Zoom:
Zoom link: https://monmouth.zoom.us/j/95205998220
Dial-in option: Call (646) 558-8656 and enter meeting ID: 952 0599 8220
Members of the campus community may also attend in person at Bey Hall Room 129. Space is limited. To RSVP, email Rechnitz Family/UCI Endowed Chair in Marine and Environmental Law and Policy Peter Jacques at pjacques@monmouth.edu.