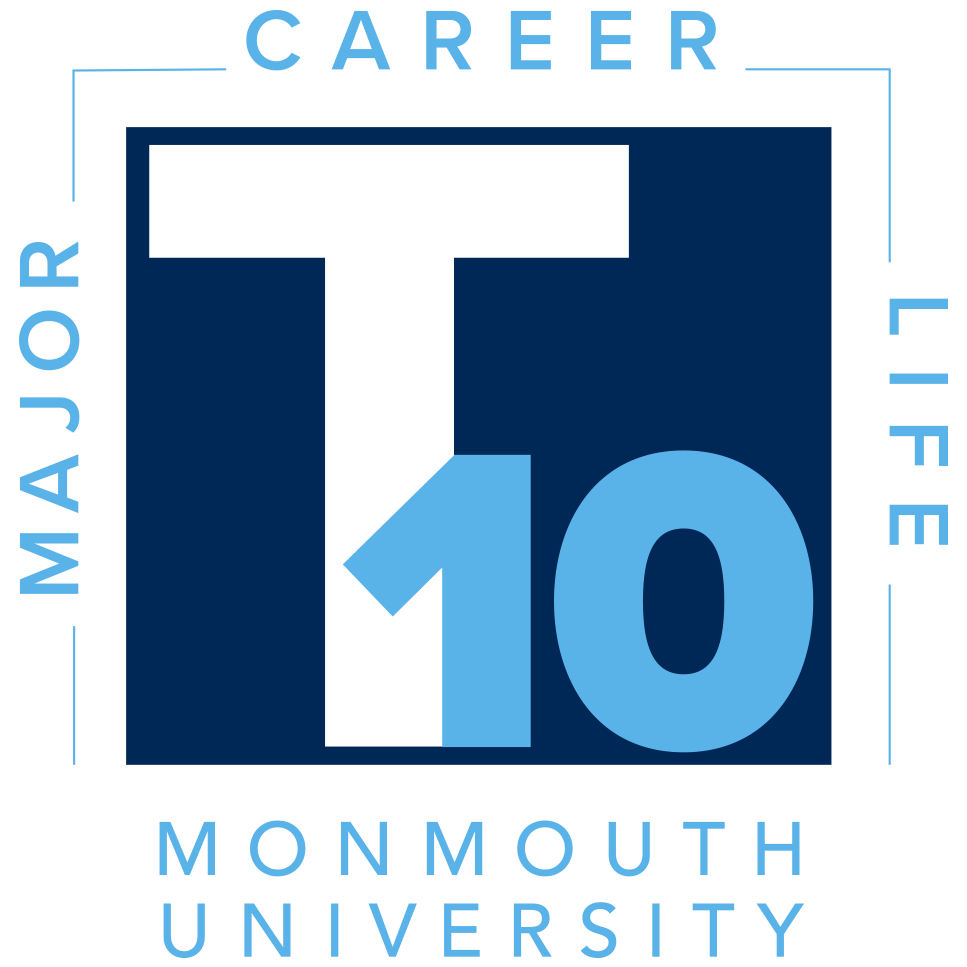 The Transformative Ten (T10) is a series of ten events designed to help students connect the major to prospective career options in preparation for life after Monmouth. This initiative is a direct response to student perceptions and concerns with exploring majors and career opportunities. It brings together current and new programming for a complete portfolio of activities. Please look for this logo on flyers and announcements via the MU portal and social media as the events are offered.
What is the T10 and how does it work?
T10 events are available to all students. Students who attend and sign in at T10 events during the academic year are invited to a capstone dinner, hosted in the spring, with a keynote speaker on employment/industry trends and networking opportunities. Faculty are also invited and sponsor a student. If interested, please contact Anthony Urmey, Director of Transfer Student Services and Undeclared Services (aurmey@monmouth.edu).
What about other existing events?
Department and/or school-sponsored events are extremely valuable for our students and we invite you to join the Transformative 10 lineup for cross promotion and student participation. Please contact Jeff Mass, Assistant Director of Career Services (jmass@monmouth.edu) to connect.
Transformative Ten (T10) Events: My Major, My Career, My Life
FALL 2019 EVENTS:
Academic Welcome for Undeclared Students – Wednesday, September 4, 2:45 – 4:30 p.m.| Anacon B, RSSC
Get information about upcoming events and key resources for students who are exploring academic majors and potential career paths.  Reconnect with New Student Orientation Leaders to highlight strategies for success as you live, learn and play at Monmouth University. This event is for first year, undeclared students.  
JCPenney Suit Up – Wednesday, September 25, 3:00 – 5:00 p.m. | Young Auditorium, Bey Hall
MU Career Services and retail giant JCPenney will present a "dress for success" fashion show. Executives from the retailer will display and discuss wardrobe suggestions for men and women for professional interviews, as well as what to wear on the job, including "business casual". Following the lecture, there will be time for questions and answers. Come to this event if you are planning to look your best in your future career.  All students are welcome to this event. 
Internship Fair – Wednesday, October 2, 1:00 – 3:30 p.m. | Anacon A & B, RSSC
Join a variety of employers to network and secure an internship. This is a wildly successful event for students with many promising placements. Students from first to senior year are welcome to attend this event.
Career Day Huddle: Backpack to Briefcase – Tuesday, October 29, 7:00 – 7:45 p.m. in Mullaney Hall Lounge & 8:00 – 8:45 p.m. in Oakwood Hall Lounge
About to apply for that dream internship or a great summer job? This workshop will help you get your resume on point so you stand out from the crowd. Refreshments and swag for participating, along with tips/strategies for translating your growing expertise and talents into hiring potential for an employer or internship. This event is specifically for sophomores in mind as well as interested students at any level of study.
Fall Career Day – Tuesday, November 5, 12:30 – 4:00 p.m. | OceanFirst Bank Center
Students meet more than 100 employers from a variety of fields to secure interviews, internships and full time employment. All students are welcome to this event. 
SPRING 2020 EVENTS:
School of Social Work: Social Service Career and Internship Fair – Tuesday, March 3, 1:00 – 3:00 p.m. | Anacon Hall, RSSC
This event brings local field placement agencies to campus to meet with students and alumni to discuss internship and career related opportunities.
JCPenney Suit-Up Part 2 – Sunday, March 8, 5:00 – 8:00 p.m. | JCPenney, Monmouth Mall 
JCPenney will host an EXCLUSIVE "suit-up" event for Monmouth students at their Monmouth Mall location (180 State Route 35, Eatontown, NJ). The store will be held open past normal business hours for the exclusive use of Monmouth students, who will receive deep discounts on all professional business attire, such as suits, shirts and blouses, belts, shoes and many other accessories. JCPenney staff will be on hand to lend expert advice for clothing selections. Don't miss this event for a chance at significant savings on your professional wardrobe. RSVP your attendance to Career Services.
Educators' Career Day – CANCELED – Wednesday, March 18 | Anacon Hall, RSSC
This event brings local school districts and educational institutions to campus to meet with students and alumni to discuss career opportunities. This event is open to Monmouth students and alumni.
Career Day Huddle: The Power of the Pitch – Wednesday, March 25,  8:00 – 9:00 p.m. | Oakwood Hall Lounge
Your first career cay can be overwhelming Learn the basics of networking and professional communication by practicing elevator pitch essentials that will help you leave a great first impression. Pizza and swag for participating along with tips/strategies for making a powerful first impression. This event is tailored for first year students. 
Spring Career Day – Tuesday, April 7, 12:30 – 4:00 p.m. | OceanFirst Bank Center
Join more than 100 local, regional, and national employers to discuss career opportunities and potentially secure an internship, full-time or part-time position.  Meet employers representing private, government and nonprofit sectors. Career Services staff and student leaders will be on deck to help you break the ice and get oriented in the career development process. The event is open to Monmouth students and alumni.
Capstone Dinner – Monday, April 27, 6:00 – 8:30 p.m. | Location TBD
Students, faculty administrators and employers come together to network and celebrate the conclusion of a successful year of Transformative Ten events at this prestigious invitation-only  celebratory dinner. The keynote speaker will be Ms. Liz Wessel, of WayUp.
Liz Wessel loves helping people get hired. She is the Co-Founder and CEO of WayUp, the go-to platform used by millions of early-career professionals to get hired, and by thousands of employers to scale their early career recruiting without scaling their recruiting teams — all with an emphasis on diversity and candidate experience.
Founded in July 2014, WayUp is a venture-backed startup based in NYC that has raised over $30M and was named by CNN as one of the 30 most innovative companies changing the world. WayUp has worked with top companies — including Fortune 500s, startups, and nonprofits — to help them reach, recruit, and engage with the next generation of talent.
Liz has been featured as one of Forbes' 30 Under 30, named one of the "18 Coolest Women in Silicon Valley" by Business Insider, and one of New York Business Journal's "Most Influential Women." Liz has been a featured speaker at TedX, the Forbes 30 Under 30 Summit, Advertising Week, TechCrunch Disrupt, SXSW, NACE, and several other notable events. Before founding WayUp, Liz worked at Google as a Product Marketing Manager in California and India.