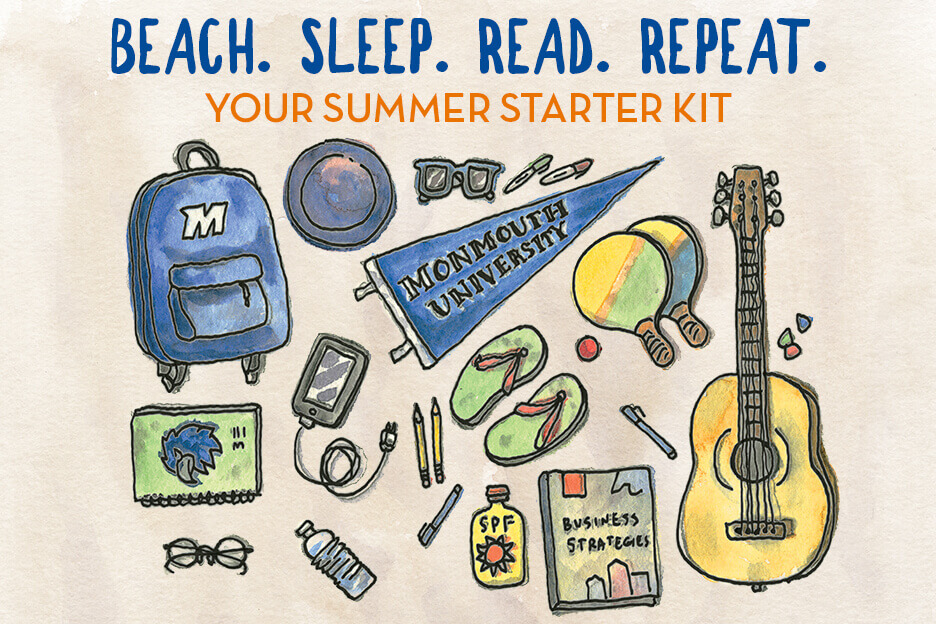 College Acceleration Program
How would you like to get a taste of what college life is like… before you graduate high school?! Motivated high school rising seniors can do just that by enrolling in Monmouth University's College Acceleration Program (CAP) this summer. Through CAP, students can enroll in introductory, college-level courses that are typically taken by college freshmen, and which will generally be accepted for transfer at other colleges and universities.
Be prepared to receive an academically challenging curriculum taught by supportive and caring instructors. With class sizes averaging 21 students each, you will receive the personal attention you need to succeed. Explore different subjects, beef up your college resume, learn something new, earn 3-6 credits, and experience summer at Monmouth University!
CAP Courses
Our visiting high school students are given the opportunity to choose from the below introductory courses, and will be attending class during our 6-week summer E session which runs from July 9 – August 16, 2018. For additional help, please contact Danielle Colbert in the office of Undergraduate Admission at 732-263-5872.
Get a jump start on your college degree!
Summer undergraduate tuition reduced 15%!*
2018 CAP Summer Course Offerings

Radio Production (CO-102-E01)
T/ TH 11:45 – 3 p.m.
College Composition I (EN-101-E01)
M / W 11:45 a.m. – 3 p.m.
Information Technology (IT-100-E50)
M / T / TH 5:30 – 7:45 p.m.
Introduction to Psychology (PY-103-E01)

M / W 11:45 a.m. – 3 p.m.

Discovery and Thinking in Natural Sciences (SC-100-E01)
M 8:45 a.m. –12 p.m.
Climate Science (SC-130-E01)

T / TH 8:15 – 11:30 a.m.
CAP Qualifications
In order to be accepted into the CAP, students must:
Be a rising high school senior
Have a cumulative 3.0 GPA
Have an SAT score of 1100 or ACT score of 22 or higher. PSATs will also be accepted.
Obtain a letter of recommendation from their school counselor
CAP Application Deadline
The application deadline for the College Acceleration Program is June 22, 2018. Classes begin July 9, 2018.
Summer Application and Application Process
Applying for CAP is easy. Simply fill out our summer application and mail it, along with a letter of recommendation from your school counselor and a $50 application fee to:
Monmouth University Office of Admission Processing
400 Cedar Avenue
West Long Branch, NJ 07764-1898
All high school students need to complete sections A, B, and D of the Application for Summer Undergraduate Permission Students. Section C of this application is to be completed by the school counselor. Once we receive your application, an admission counselor will contact you to set up an appointment to discuss your course selection.
Summer Tuition
Summer 2018 undergraduate tuition has been reduced 15% to $917/credit. A typical Monmouth class is 3 credits; most labs are 4 credits. A lab fee will be applicable for some courses.
Summer Housing
Summer housing is not available for high school students.
Summer Parking
Parking is available for students attending summer courses. There is no fee or decal required.
School of Science Summer Research Program
Interested in the sciences? Then Monmouth's intensive 12-week Summer Research Program might be for you! Apply today.
Summer Programs and Camps
Interested in a sports camp this summer? Or maybe you would like to enhance your reading and writing skills at a Literacy Center Program? For more information visit our Programs and Camps page.
Questions?
For additional information please contact Danielle Colbert in the Office of Undergraduate Admission at 732-263-5872.
Please note: The Family Educational Rights and Privacy Act (FERPA) is federal legislation passed in 1974 which established guidelines governing the way educational institutions maintain and supervise student records. Learn more about how FERPA applies to Monmouth students.
*Pending Board approval.