Take a Class This Summer!
Always thought you would be great at painting, but never tried? Have a penchant for 16th century European history and would love to dig deeper? Or maybe you would like to explore a career change or learn additional skills to help you where you are. Now is the time to give it a try. At Monmouth University, be prepared to receive an academically challenging curriculum taught by supportive and caring instructors. With class sizes averaging 21 students each, personal attention is the norm here. So why not take some time this summer to learn something new? We would love to have you be a part of our campus community.
Summer Course Listing, Course Descriptions, and Class Dates and Times
The 2018 summer course schedule is available online here. Class dates and times, class location, and professor names are also listed. In order to access a course description, simply click on the blue course name.
Summer Application and Application Process
Applying to Monmouth's summer classes is easy!
Submit a Monmouth University Undergraduate Non-matriculating Application.
Submit a $50 application fee.
Let us know the course you would like to take.
If the course you are interested in requires previous coursework (pre-requisites), you will also need to provide the admission office with an unofficial college transcript.
Mail your application to:
Monmouth University Office of Admission Processing
400 Cedar Avenue
West Long Branch, NJ 07764-1898
Registration for non-matriculating courses will begin in April, and will continue until classes begin.
Summer Tuition
Summer 2018 undergraduate tuition has been reduced 15% to $917/credit. A typical Monmouth class is 3 credits; most labs are 4 credits. A lab fee will be applicable for some courses.
Summer Parking
Parking is available for students attending summer courses. There is no fee or decal required.
Questions?
For additional information please contact Patrick Dorsey in the Office of Undergraduate Admission at 732-263-5873.
Attend an Event
Come be a part of the exciting things happening at Monmouth this summer!
Please note: The Family Educational Rights and Privacy Act (FERPA) is federal legislation passed in 1974 which established guidelines governing the way educational institutions maintain and supervise student records. Learn more about how FERPA applies to Monmouth students.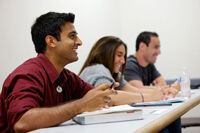 Learn something new this summer!