Regent's University London is located in the inner circle of the beautiful Regent's Park. It is the only "green" campus in London and offers students the best of both worlds. While living in the serene and enchanting setting of Regent's Park, surrounded by swans, lakes, fields, rowboats, an outdoor amphitheatre, Queen Mary's Rose Garden, and more, you are only minutes away from the famous Baker Street area. Students reside in Reid Hall, which accommodates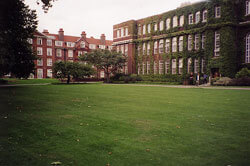 approximately 240 American students from schools across the United States. Most rooms have views of the park and your accommodations are safe, clean, and comfortable. A total refurbishment of the dorms was completed in 2010. The Regent's campus offers a full-service refectory for dining, Brasserie for casual meals, sports bar, library, student services, bookshop, information technology center, gym, and much more.
There are more than 2,000 students attending Regent's University London, which is made up of several different schools. American students are part of the Regent's American College of London (RACL) and are the only "on-campus" residents. The RACL helps to ensure that students are offered classes useful toward their home degree requirements and with similar expectations. You will have opportunities to meet and interact with students from across the world as many classes draw students from the various schools.
Fast Facts:  Program is offered in spring and fall semesters, students live in a double or triple room in Reid Hall, dining hall on campus, room and board charge, courses offered in Humanities and Social Sciences including Communications, Art History and Theatre, also an array of possible courses in Literature and History with some Political Science and International Relations, students report that Aesthetics and Literature are great requirements to fulfill in London (especially the theatre courses), airport pick-up, welcome dinner, London city tour, plus more.
Check out the London photo gallery to see the beautiful campus, what the rooms look like, and more!