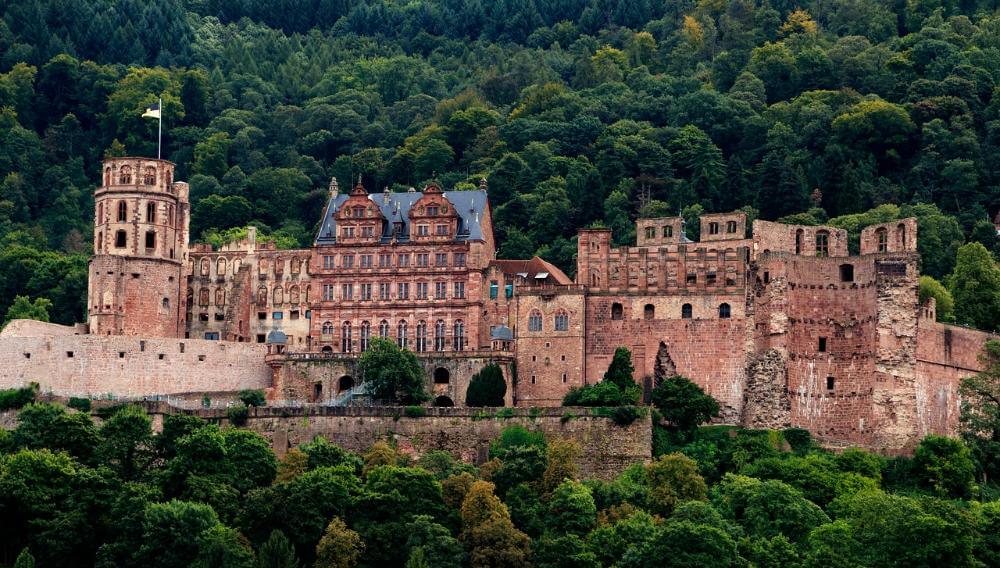 Program Offered: Fall, Spring and Summer 
Fall/Spring –
Monmouth's study abroad program in Heidelberg is hosted by the European Study Center, housed in a 19th-century villa just steps away from the famous "Philosopher's Way" overlooking the River Neckar, Heidelberg's historic downtown, and the majestic castle of the Electoral Prince. Here, students enjoy easy access to the downtown area while living and studying in a quiet and secure residential setting complete with many modern conveniences.
Students will live and take classes at the European Study Center, enjoy the opportunity to take a class with German and other international students at a nearby private university, and participate in a comprehensive co-curricular program of site visits and excursions throughout Germany (including an overnight visit to Strasbourg, France, one of the three "capitals" of the European Union). Students may also participate in a professional symposium during their semester in Germany, presenting their course projects to other students and scholars and gaining a career-building "credential" for their resumes.
Students will have a choice of courses in business administration (including management, marketing, international business, and finance) as well as general education coursework in the humanities and social sciences. There will also be an opportunity to earn GU/CD credit by completing six credits of German as a foreign language. (No German language is required in the program, which will be delivered in English.)
Excursions and cultural activities organized by
ESC:
A guided walking tour of Heidelberg's historic city center, as well as various landmarks across the city
Cultural activities with meals
Special holiday dinners (depending on season)
3-day, pre-planned trip to Berlin
2-day excursion to Strasbourgh, France that includes a boat tour of the city and is in conjunction with the International Symposium
A day trip to Frankfurt, Germany's Financial Center
Trips to the Capri Sonne and John Deere Production Plants
Visit to the BASF chemistry and production company in Ludwigshafen
Volunteer and Community Engagement opportunities
Inclusion in the International Culture and Career Seminar
Fast Facts:  Program offered in fall and spring.  Enjoy the Neckar river, Heidelberg Castle, and the baroque style Old Town. While in Heidelberg, you'll live and study in a safe residential area adjacent to the charming city center. Enjoy the beauty of a historical building without foregoing any modern convenience. The European Study Center (ESC) is housed in a stately, historic Villa Krehl centrally located in an exclusive neighborhood adjacent to Heidelberg's center. Students enjoy easy access to the downtown area while living and studying in a quiet and secure residential setting complete with many modern conveniences. This program is geared to business majors with exciting site visits outside the classroom, International Marketing, Finance, Managing and Marketing in addition to Gen. Eds.
Summer-
The Summer 2019 program "Accounting in Germany" provides Monmouth students with an opportunity to complete a degree requirement while gaining an introduction to Europe's most powerful economy.
Students will be able to complete one of the two accounting courses required of all business majors, take an additional course that may fulfill business or general education requirements, and participate in a series of co-curricular field trips and excursions designed to familiarize students with the business culture of Germany and the European Union.
Daily classes at the European Study Center will be complemented by exposure to "the real world" of business, with visits to a local bank, multinational companies such as John Deere, and the financial institutions in Frankfurt.
The program will also link "German and European history" to the discussion of "business culture," integrating a weekend in Germany's capital, Berlin, with short trips to towns near Heidelberg such as Ladenburg, the home of Carl Benz (of "Mercedes-Benz" fame).
Students will receive a crash course in the life of a European university student in four weeks.  While the program will be an intensive academic experience, we expect the program will also help students appreciate the role culture plays in business and prepare them for a lifelong engagement with the world!
Students in the program will take two courses, each worth three credits, for a total of six credits.
Each student will pick one of the following accounting courses taught by MU professors traveling with the group:
BA 251 – Principles of Financial Accounting
BA 252 – Principles of Managerial Accounting (Pre-requisite: BA 251 or equivalent)
Each student will pick an additional course from the following list:
BK 453 – International Marketing
SO GU BI001 – Leadership and Communication across Cultures (Course Types: GU, SS.SV, BI. EL)
FG 101 – Elementary German I