Engaged in the Election Process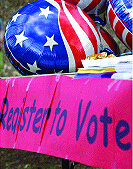 Monmouth University students are active consumers of and participants in local, state, and federal government. Whether in the classroom or through extracurricular activities, they embrace the country's democratic political process. Some of the many ways in which they get involved include:
Students took a five-hour bus trip to New Hampshire during the primaries to meet with candidates. The Concord Monitor stated "All day, through breakfast and into the afternoon, the university in West Long Branch, NJ, dominated the chitchat at College Convention 2008."
The Political Science Club's debate team routinely debates students from other universities on the major issues of our time.
Monmouth students visit Washington, D.C. each spring, and students intern at the White House, in Congress, and in other top national placements.
Student reporters interview elected officials and members of the national media for the student newspaper and radio and television stations, and students are interviewed by major media outlets, ready to give their opinions on the issues.
Monmouth University's Model United Nations Team won the Distinguished Delegation Award at the National Model UN Conference in New York City.
The Monmouth University Polling Institute is a leading center for the study of public opinion on important state, regional, and national issues and was named one of the most accurate pollsters covering the presidential primary races.
The Global Understanding Conference, held each year, provides numerous opportunities for students and the community to enhance their knowledge about global challenges in today's world.