Family Weekend Events – Sunday, September 30
Sunday Brunch*
Student Dining Hall, Magill Commons, 10:30 a.m. – 12:30 p.m.
Join us for Monmouth's delicious Sunday Brunch. The brunch will feature both lunch and breakfast options. Students on a meal plan may use their meal card for the brunch. $13 for adults and $6.50 for children 11 and under.
*Preregistration for this event is required.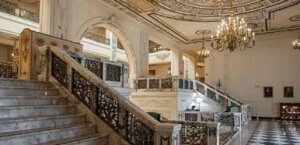 Guided Tours of Wilson Hall
Tours depart from Magill Commons at 11 a.m., 11:30 a.m., noon
Woodrow Wilson Hall, formerly known as the Shadow Lawn mansion, was built in 1929 as the private residence of former F.W. Woolworth Company president Hubert Templeton Parson and his wife Maysie. The building encompasses 130 rooms on three main floors, plus rooftop and lower-level rooms. In 1980, the building was the scene for the filming of Annie, serving as the Park Avenue mansion of the character Daddy Warbucks.