Family Weekend Events – Saturday, September 29
Pregame Luncheon*
Student Dining Hall, Magill Commons, 11 a.m. – 1 p.m.
Enjoy an all-you-can-eat buffet featuring some of your favorite traditional tailgate foods. Students on a meal plan may use their meal card for the luncheon. $13 for adults and $6.50 for children 11 and under.
*Preregistration for this event is required.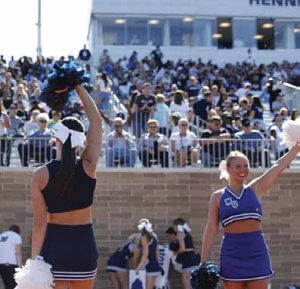 Tailgating
Larchwood Avenue Parking Lot,  11 a.m. – 1 p.m.
Families and friends are welcome to join in a Monmouth football tradition: do-it-yourself tailgating in the parking area adjacent to Kessler Stadium. Monmouth University, in compliance with state law, limits the consumption of alcoholic beverages to designated areas. Persons under the age of 21 are prohibited from possessing or consuming alcohol in any area of the campus. Kegs, beer balls, and bottles are not permitted.
Monmouth Football vs. Wagner
Kessler Stadium, 1 p.m.
Cheer for the Hawks as they tackle Wagner in the 26th season of Monmouth football! Tickets may be purchased at the gate, or online at monmouth.edu/familyweekend/football
Women's Soccer vs. Siena College
Hesse Field, 7 p.m
Support our women's soccer team as they play Siena. The game is free to attend.
Casino Night*
Great Hall, Wilson Hall, 7:30 – 10:30 p.m.
We bring Atlantic City to you! Enjoy an evening at Monmouth University's own casino! Light refreshments will be served.
*No real dollars will be used. Prizes are limited to Monmouth University students only.