National Student Employment Week
 MU's Student Employee Appreciation Week: March 29th – April 4th and National Student Employment Week is April 12th-19th, 2020
In celebration of National Student Employment Week, the Student Employment Office will be sponsoring a number of events celebrating the 24th Annual Student Employee Appreciation Week (SEAW) during the week of March 29th-April4th  ! The National Student Employment Association (NSEA) designates one week each year for universities and colleges across the country to recognize the substantial contributions of students who work on campus.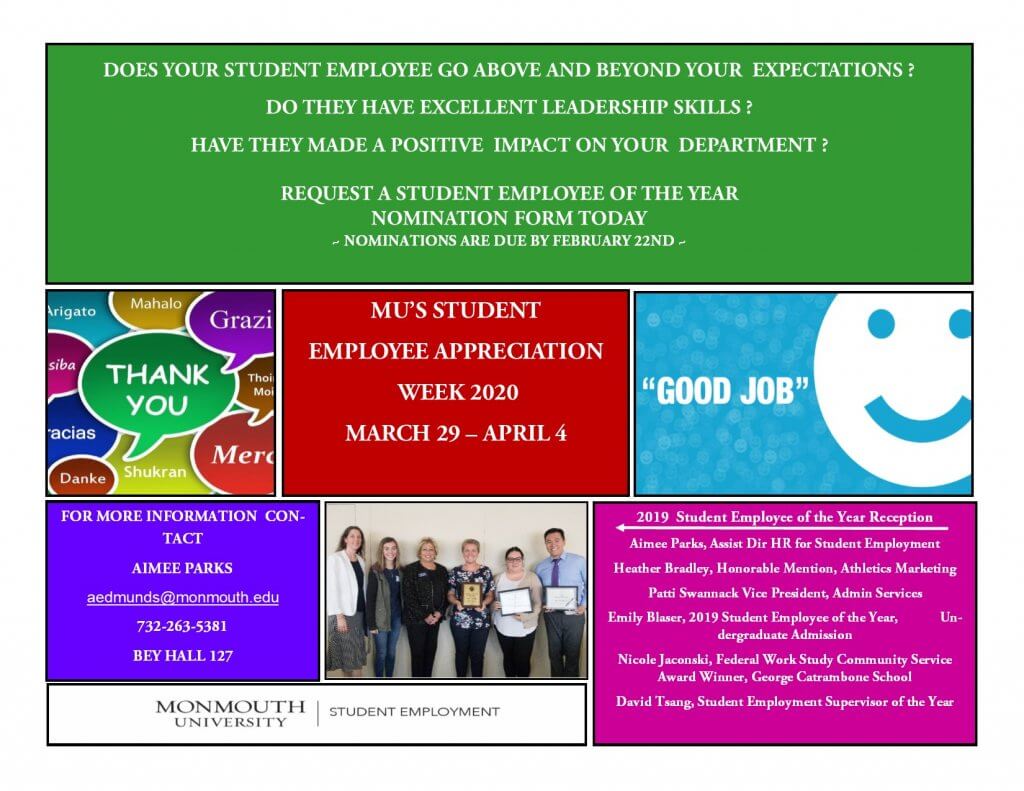 ---
Highlights from the 2019 National Student Employee Appreciation Week: April 14–20, 2019
"The student employee of the year reception and the entire student employee appreciation week is my favorite part of the year at Monmouth.  Many of our student employees work just as hard as we do day in and day out.   Something I touched on at the reception is that our nominees for student employee of the year are campus role models and positive celebrities.  We have been fortunate to see them excel in their studies, at their work assignments and grow as people and professionals.  It's so exciting and rewarding and we thank the students for their valuable contributions." ~  Aimee M. Parks, Assistant Director of Human Resources for Student Employment
Congratulations!
2019  Student Employee of the Year
Emily Blaser, Undergraduate Admission
2019 New Jersey Northeast Association for Student Employment Administrators Student Employee of the Year
2019 Honorable Mention for Student Employee of the Year
Heather Bradley, Athletics Marketing
2019 Federal Work Study Community Service Award
Nicole Jaconski of Long Branch Public Schools – George Catrambone School
2019  Student Employee of the Year
David Tsang, Manager of the Digital Print Center
Monmouth University's 23rd Annual Student Employee Appreciation Week Winners:
 Deck Your Door (with 1,172 votes):
Most Original:  Human Resources – "Our Students Are Off the Rook"
Best Student Employment Message:  Math Learning Center – "Tutors Make Math Easy as Pi"
Supervisor Bake Off Winner:  Kristen Smith, University Store
Gold's Gym:  Stephanie Popper, Salvation Army & Residential Life
 McLoone's Restaurants: Jesse Bragger, Biology, Honors School and School of Science
Candy Guess:  Danisha Cespedes, Student Activities and Facilities & Allison Astudillo, Fitness Center
T-shirt Design:  Samantha Trippiedi
Check out the 2019 SEAW Newsletter
View our 2015 celebration video! – Student Employee Appreciation Week 2015