Virtual Activities for You
---
Monmouth Activities and Other Online Entertainment
Tuesday, May 26
Wednesday, May 27
Thursday, May 28
Friday, May 29
Saturday, May 30
---
Check out @monmouthuniversity social media platforms for more information.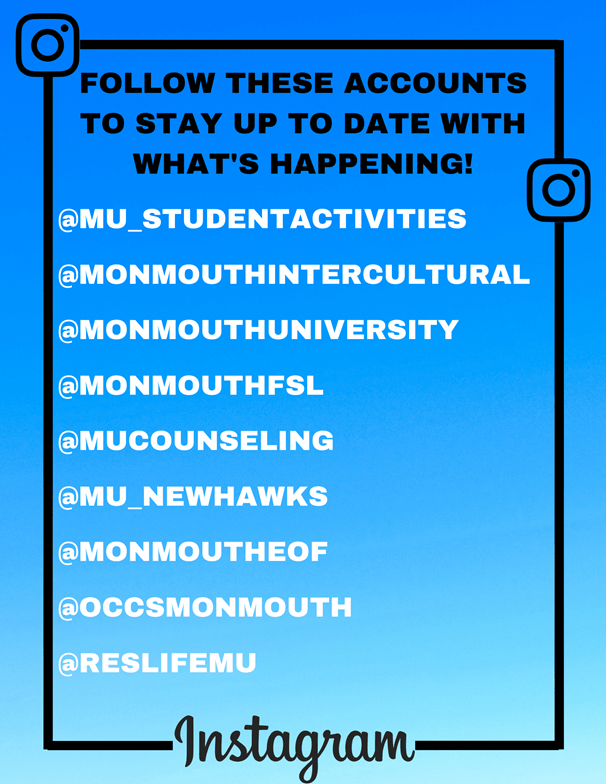 ---
Virtual Tours and Exhibits
LIKE TO TRAVEL? CHECK OUT THESE ONLINE TOURS:
Museums
Sightseeing
Virtual Disney World
Are you a Disney fanatic?! Check these out:

---
Fun Online Activities
Watch Theatre at Home
Catch on-stage performances performances from these renowned theatre organizations in the comfort of your home.
The Metropolitan Opera: free nightly opera streams
National Theatre: free plays every Thursday
Looking for Wellness?
Planet Fitness on Facebook will be live-streaming daily workouts several times a day.
Take on stress with an introduction to mindfulness meditation that you can practice on your own. Guided meditations can be downloaded in both English and Spanish. Provided by the UCLA Mindful Awareness Research Center.
Down Dog App free with .edu email address until July 1, 2020
Open Heart Yoga Flow by Mary Ansell (MU '88)
Check out the "Monmouth Rec" app or at fitdegree.com for free virtual classes you can take with your fellow Hawks!
Enjoy Science?
Check out the Franklin Institute at www.fi.edu.  The Franklin Institute now offers Franklin@Home, "a daily dose of science curated by curiosity and sprinkled with inspiration."
If You're Artistic:
Make Some Food!
Everyday 2pm
Christina Tosi, aka the sweet-toothed genius behind the bakery chain Milk Bar, has launched "Baking Club," an Instagram Live series in which she shares an ingredient list one night and then leads a class using those ingredients at 2 p.m. EST the next day. Her classes have a "choose your own adventure" vibe, since she gives you the necessary ingredients and then lets you pick a few others so it's customized to your liking
https://www.instagram.com/christinatosi/
Other Cooking Activities:
Quizzes about you!
Ted Talks:
www.ted.com
Movie Lovers:
Netflix Party  –  This platform allows you and your friends to watch Netflix shows and movies at the same time, while interacting through a chat platform!
Escape Rooms:
Wonderland Virtual Escape Room
Other: www.crazygames.com/t/escape
Live Music: