Sam and Charlie Go to War
Tuesday, March 27
5:00 – 7:00 p.m.
School of Science Atrium, Room 201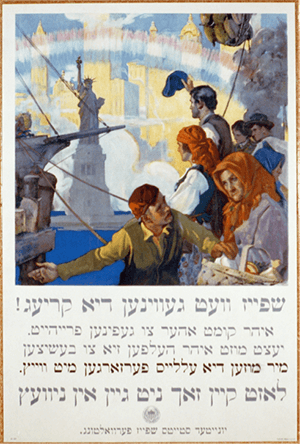 Few commemorations of America's part in World War I focus on the role of Jewish immigrants in the war effort. In April 1917, 15% of the population of the United States was foreign born and hundreds of thousands came from nations on either side of the conflict. The challenge of speedily raising and training an army was doubled by the question of how and what to do about the vast number of immigrant men of fighting age who had not yet naturalized and whose loyalty to the US was suddenly thrown into question. Between April 1917 and October 1918, when massive numbers of the American Expeditionary Forces shipped out to France, the US government passed no fewer than six laws defining who was required to serve in our military, what constituted loyalty to our nation, and what steps would be taken to punish any immigrant who had not shown sufficient love of country to declare their intention to naturalize and who was presumed unwilling to register for the draft. Only one law acknowledged the question of the loyalty the US government owed to those who enlisted before they'd waited the required number of years to become fully naturalized citizens, the Citizenship of Aliens Bill of October 1917.
"Sam and Charlie Go to War" is designed to explore these questions from the point of view of two Russian Jewish immigrants whose eloquent and intimate letters home to a pair of sisters who worked with them in a cap making factory in Brooklyn offer a rare view of what it felt like to be an immigrant Jew faced with the choice of how to serve during World War I.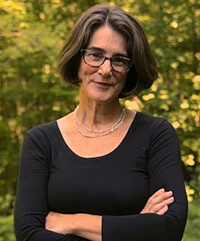 About the Speaker
Writer, teacher, scholar, and public speaker Patricia Klindienst has made the American immigrant experience her subject for more than a decade.
After earning degrees from Hampshire College, Boston University, and Stanford University, she began her career as an interdisciplinary scholar at Yale, publishing ground-breaking feminist re-interpretations of classical myths and biblical stories, including "The Voice of the Shuttle Is Ours," "Ritual Work on Human Flesh: Livy's Lucretia and the Rape of the Body Politic," and "'Intolerable Language': Jesus and the Woman Taken in Adultery." An award-winning scholar and teacher, she left the profession and began to write for a broader audience.
Her first book of nonfiction, The Earth Knows My Name, tells the stories of fifteen ethnic Americans who transmit their cultural heritage through their gardens and was the inspiration behind the Monmouth University Community Garden.