BSW Field Frequently Asked Questions
Download a printable PDF version of this FAQ.
---
So, how does this whole internship thing actually work? It seems like a major commitment.
Well, it is! You will be practicing social work and simultaneously studying social work theory, history and skills. In fact, field education is the cornerstone of social work education. It also generates the most questions, the most trepidation and also the most excitement.
OK, so how much of this field work do I have to do?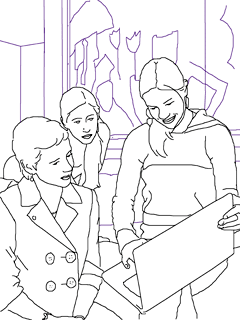 578 hours, but it is broken up across four semesters. In your Human Behavior I class (SW 223) you will be completing a small 30 hour internship. In your Practice Techniques class (SW 321) you will be completing 100 hours of field work. This usually translates to about one full day each week over the whole semester. In your Field Practice (SW 421) you will complete 224 hours followed in the next consecutive semester with Advanced Field Practice (SW 422) which also requires 224 hours. So, you will be in field placement for 448 hours across your senior year. This usually translates into two full days per week over the two semesters that are your senior year.
When exactly do we do all this field work?
Typically, you will take the Human Behavior I class in the Fall of your Sophomore year. Your Practice Techniques class is typically in the Spring term of your junior year. And, of course your Field Practice classes are taken consecutively in your senior year. For more detailed information please view the BSW sequence charts.
How many different internships will I do?
Well, that's an easy one, three. You will be in different practice settings for your Sophomore and Junior placements, but you will be in one placement across both semesters of Senior Field Seminar. This will give you the opportunity to explore three different areas within social work practice!
So how do I actually get an internship?
Another easy question! This is our job in the Office of Field and Professional Education and we love our work! We are here to help you secure not only an internship but an internship that matches your interests. We also are attentive to guiding you toward the experience you will want on your resume in order to get the jobs you want after graduating. For your Junior and Senior field experiences, all students meet one-on-one with us for a field briefing where will go over all of your options and goals. You will leave this meeting with three different options for placement. You will then call to set up interviews with the agencies. After selecting your placement you simply need to complete an easy-to-use online confirmation form and we are ready to go. Of course, we are here five days a week, twelve months a year and are available to speak with you and answer your questions about the internship program. Your internship is, in essence, customized to suit your specific learning objectives.
How do I know what my internship schedule will be?
Full-time students have their social work classes on Monday, Wednesday and Thursday. You may have some non-social work coursework as well, but you can typically keep two full days free each week for field. Part-time students have classes on the same days but in the evenings. Beyond that, you will set your schedule directly with your new field supervisor.
Who will be supervising me?
There are precisely two people who will be responsible for your field supervision, one here at Monmouth University and one at your placement site. You will have a faculty member who will conduct the weekly class and is responsible for the classroom portion of the requirements. You will also have an agency-based social worker who will be your field supervisor. She or he is responsible for assigning you your work and evaluating your performance. Field supervisors are all experienced, Master of Social Work (MSW) trained professionals who are volunteers. They are giving back to the profession the same dedication and commitment once given to them when they were students.
Are there internships close to my home?
If you can get here, we have placement options close to your home! We work with about 500 agencies and have placements from Philadelphia and eastern Pennsylvania, all throughout New Jersey and into New York City. Of course, if you live on campus, we have many local placements available.
Are there paid internships available?
Few and far between would be an over-estimate. We are responsible to ensure that our placement settings meet our standards and provide you with the kind of supported learning experience that truly enriches your classroom experience. However, if you qualify for the Federal Work Study program, we have a limited number of agencies that participate in this program. This is something we can discuss during your field briefing. Additionally, there is one program called the Baccalaureate Child Welfare Education Program (BCWEP) where students can complete their Senior internship with the Division of Youth and Family Services (DYFS). Interested students apply for this competitive program in the Spring of their Junior year. There are limited slots available. BCWEP interns receive a stipend and their senior year tuition and fees are paid in return for a 2 year work commitment with DYFS post-BSW. Again, this is something to discuss during your Junior field briefing.
I currently work in the social service arena. Can I use my job as my internship?
Not exactly. An internship is designed to be a novel set of experiences within which a student can grow and develop new skills. You can't do that at a job you already know how to do. However, we do approve work/field arrangements regularly. For instance, a student may take on additional responsibilities and hours at his or her agency. Each arrangement requires an individualized plan established with us and your employer. Arrangements may vary greatly in terms of scheduling and paid time, etc. Many employers are quite supportive of your going for your BSW and it is largely their support that can make this possible. You will need an MSW-level supervisor that is not your regular work supervisor and your duties must be qualitatively different than your employment duties. This is to avoid a conflict of interests between your evaluation as a learning, developing student and your evaluation as an employee. The rest of the details we will work out with you during your field briefing. Again, we can make no guarantee that such an arrangement will be possible.
Can any of my previous work experience count toward my internship requirement?
No, the Council on Social Work Education, from whom we get our accreditation, strictly prohibits giving credit for life and/or work experience.
I currently work outside of the social work arena. Are there internships that won't conflict with my schedule?
Yes. That said, evening and weekend placements will restrict the type of experience you can get. The majority of our placements mirror regular working hours. School social work, for example, would not be an option. The more restrictive your schedule is, the more difficult it is to find suitable placement options. It is reasonable to expect that some placement options may contribute a degree of interference with your other commitments.
I plan to do an organized volunteer activity this Summer. Can it be used for my internship?
Not typically. You would need to be enrolled in the field practice course, which for BSW students are not typically available in Summer semesters, have an MSW-level on-site supervisor and have this arrangement approved by us in your field briefing. Obviously, we encourage service projects and volunteerism, but it would have to meet all of the requirements of our internship program.
I read about your international field program, who is eligible for this?
We have contractual agreements with placements in more than 8 countries. This is an 8 to 10 week placement that occurs in the last half of your last MSW semester. However, it is only available to MSW students who choose the International & Community Development track. Of course, there are "Study Abroad" opportunities through the University outside of the School of Social Work and we encourage you to take advantage of these enriching experiences. There also "winter-session" trips, usually three weeks long, available as well. We offer one through social work in Santiago, Chile.
For more information, please visit the Student Handbook. Official field policy is contained in the Student Handbook. The information in this FAQ is not intended to supersede or replace policies contained in the handbook.
---
Download a printable PDF version of this FAQ.
---