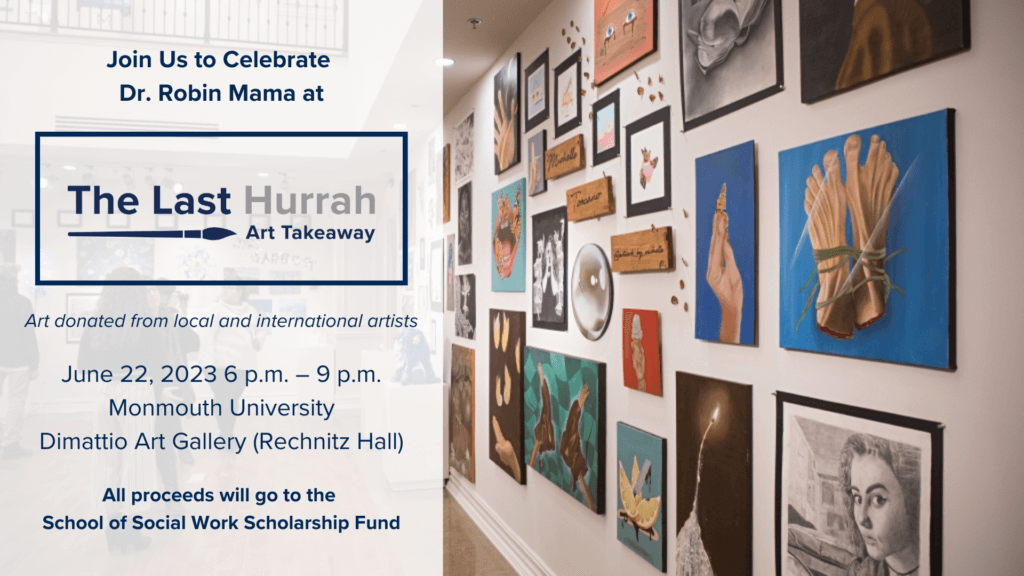 In 2014, The School of Social Work at Monmouth University celebrated its 40th Anniversary. The "kick off" to this milestone was an "Art Take Away for Education" held in the Vince DiMattio Gallery of Rechnitz Hall. The event was such a success that we are holding this for a 3rd and final time, as Dean Mama's "last hurrah", as she steps down as Dean of the School of Social Work after 16 wonderful years.
This evening features donated art from local and international artists, which will be hung in the Vince DiMattio Art Gallery in Rechnitz Hall. The "take away" guarantees that everyone who comes to this event and pays the 'Sponsor" ticket price of $400 will leave with a piece of donated original art of their choice, whether it is sculpture, a framed painting or photography. Remaining art will be "live auctioned" to everyone, including those who support at the "Patron" level of $100. It is great fun and will support the School of Social Work Scholarship Fund which provides scholarship assistance to social work students with unmet need.
If you're unable to attend the event, consider making a gift to the School of Social Work Scholarship Fund.
RSVP for The Last Hurrah: Art Takeaway