Community in Bloom: Singapore's Gardening Engagement Programme
Tuesday, March 9, 2021
7 p.m. – Join Us Online
You will receive the access link via email prior to the event.
Community in Bloom is the flagship community engagement programme by National Parks Board to foster a love for gardening in Singapore. Today, our cityscape is dotted with more than 1600 community gardens thriving in public/private housing estates, schools and organisations attracting over 41,000 gardening enthusiasts of all ages.
With urban farming on the rise, there has been more interest among Singaporeans to become a green-thumb and they are finding new ways to cultivate vegetables and also connect with more like-minded friends! Beyond sharing a passion for gardening, our community gardeners are helping to build social resilience in our community. Come and hear about our community gardening journey as we strive to become a City in Nature.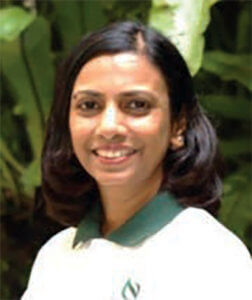 Kay Pungkothai is currently the Director of Community Gardening, Skyrise Greenery and Projects at the National Parks Board (NParks) in Singapore. She is part of a team that spearheads policy, incentive and capacity development of community gardening, therapeutic horticulture and skyrise greenery initiatives in Singapore. She oversees the community gardening portfolio where communities across Singapore from all walks of life, age and ethnic groups from public housing estates, private estates, educational institutions and organizations are encouraged to garden together to beautify their living environments as part of a broader national vision to create a 'City in Nature'. Many of these community gardeners actively use urban environments including rooftops as a communal space for bonding and gardening.