Administrative Assistant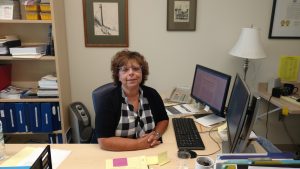 Office: Atrium 282
Telephone: 732-263-5143
Fax: 732-571-4422
E-mail: rjamnik@monmouth.edu
I started at Monmouth in December, 2007 as a Computer Trainer in the Instructional Technology Department. In addition to 'other duties as assigned', I traveled cross-campus providing technical assistance to those in need, administrators and faculty alike.
I left Instructional Technology in December, 2010 to take on the role of Assistant to the Vice President and General Counsel.
Most recently, and for the past five years, I worked in Athletics as an Academic Adviser to our student-athletes.
Although I hold a Bachelor's degree in English, and am certified to teach, prior to my time at Monmouth, I had a lengthy and varied career in Mortgage Banking.
In my spare time, of which I have plenty now that my son David is starting his second year at Drew University, I love the beach, the New York Times crossword puzzle, I'm never without a couple books going, and I knit. My husband, Mike, is retired now, after 30 years as a dispatcher with the New Jersey State Police.
I look forward to joining the School of Science team!