The Social Justice Academy at Monmouth University
in Partnership with Georgian Court University, Ocean County College, & Brookdale Community College
Inspired & Sponsored by the Grunin Foundation
Social Justice Academy Professional Development Series
Combating Racial Injustice Through Education
Language, Culture, and Teaching: What Do Educators Need to Know to be Prepared for Today's Students, Classrooms, and Schools?
Featuring:
Dr. Sonia Nieto
Tuesday, October 12, 2021
10 – 11 a.m. EST
on Zoom
Featured Speaker:
Dr. Sonia Nieto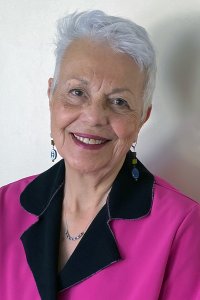 A member of the National Academy of Education, Sonia Nieto is Professor Emerita of Language, Literacy, and Culture, College of Education, University of Massachusetts, Amherst. Her teaching has spanned early elementary through doctoral education and her research has focused on multicultural education, teacher education, literacy, and the education of students of culturally and linguistically diverse backgrounds, with a special emphasis on Latin@ students.
She is the author of dozens of journal articles and book chapters and has written or edited 13 books, including a memoir, Brooklyn Dreams: My Life in Public Education (Harvard Education Press, 2015), and a co-authored book with her daughter Alicia López, an award-winning classroom teacher and part-time instructor at Mount Holyoke College, Teaching, a Life's Work: A Mother-Daughter Dialogue (Teachers College Press, 2019).
Sonia is the founding editor of the Language, Culture, and Teaching series (Routledge Publishers) and editor of the forthcoming Visions of Practice series (Teachers College Press). The first edition (1992) of her classic text, Affirming Diversity: The Sociopolitical Context of Multicultural Education, was selected for the Museum of Education Readers' Guide as "one of the 100 books that helped define the field of education in the 20th century."
Dr. Nieto has received dozens of awards for her scholarly work, teaching, activism, and advocacy, including 9 honorary doctorates and, most recently, the 2021 Governor's Award in the Humanities from Mass Humanities, the state affiliate of the National Endowment for the Humanities.
Sorry. This form is no longer available.