School of Education, Dean
Program Advisory Councils
The School of Education mission is to be a regional leader in the preparation of highly competent, reflective teachers and other professional educators who have the knowledge, skills, and dispositions required to improve teaching and learning in a highly pluralistic democratic society. All constituents in the Professional Education Unit at Monmouth University are committed to preparing graduates to become reflective practitioners who continue throughout life to learn in ways that remain connected to student learning and the many public issues within the schools and communities they serve. All constituents are dedicated to the School of Education's principles outlined in the conceptual framework to prepare educational leaders who are knowledgeable, effective and reflective, and ethical and professional.
Program Advisory Councils within the School of Education are created to provide input from all constituents to ensure that our programs promote our candidates' knowledge, skills, and dispositions that reflect our conceptual framework's philosophy and state and professional standards.
Membership of the Program Advisory Board consists of the following:
Program Coordinator(s)
1 or 2 Current Student(s)
1 or 2 Former Student(s)
School Partner (e.g., Principal, Special Education Teacher, Counselor, etc.)
Each program within the School of Education has an Advisory Council which meets once each semester. Information from these meetings is considered when making modifications to existing programs. The purpose of the Advisory Council is to discuss the following:
Disseminate and discuss program data summaries with all constituents.
Discuss core assessments and make revisions as needed.
Assessments must be examined for accuracy, consistency, and fairness.
Discuss student outcomes and candidate success in the field.
Discuss program and course content.
---
Program Advisory Councils (PAC) – Graduate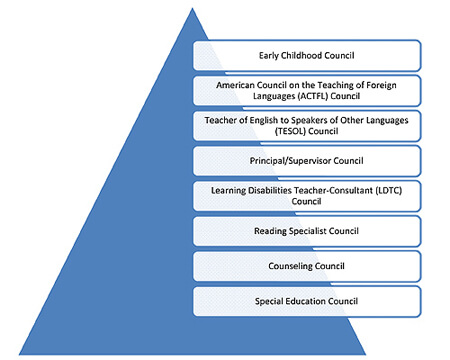 Program Advisory Councils (PAC) – Undergraduate