Provost Newsletter, Summer 2018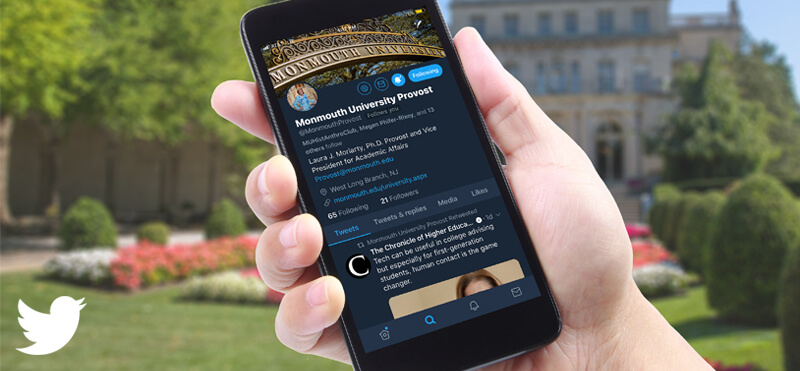 We are moving to Twitter!
Follow us @MonmouthProvost
The purpose of this newsletter was to focus on comprehensive academic information impacting the University and each Vice Provosts' Office.  We have determined that the best way to do this is by using social media.  Using Twitter will allow for more timely communication and allows us to tell more of our stories about what's happening at MU and in the world of higher education.
We hope you will follow us!
Scholarship Week
The 3rd annual Student Scholarship Week took place April 16-April 22.  More than 100 people attended the week's main event, the Hawk Talks, April 18.
12 students presented posters.  Senior Communication major, Sophia Parola, was the mistress of ceremony.  The selected participants submitted a two-minute video as a part of their application, had coaching meetings with Psychology Professor Gary Lewandowski, and had a dress rehearsal with Professor Lewandowski and Katie Urmey, Executive Assistant to the Provost.
Nearly 70 students participated in a poster session on April 17 for the Service Learning Showcase.
The inaugural 9 Summer Scholars presented posters in Club Dining to a full-room.
On April 19, 130 students presented posters at the Inter-professional event for the schools of Social Work, Nursing and Health Studies, and Education.
The keynote speaker and School of Science Dean's Seminar speaker, Phil Baran from the Scripps Institute, ended the week's events with an informative talk.
Overall, the featured events were well-attended and we are improving every year. We are always open to suggestions, please send them to Katie Urmey, kurmey@monmouth.edu.
Summer Scholars
In its second year, Summer Scholars, an initiative of the Strategic Plan, welcomes eight new students from six different departments. A team of faculty reviewed the 21 applications from across the university, and selected the following eight Summer Scholars:
Kaitlin Allsopp (Political Science) will be studying "Impediments to Proportional Representation for Women in American Politics" under the guidance of Dr. Joe Patten.
Emily Blaser (Communication) will be working with Dr. Jennifer Shamrock to examine "differences in the ways in which men's and women's interest magazines write about the #MeToo movement."
Megan Conchar (Psychology) will be working with Dr. Lindsay Mehrkam to "determine the individual (demographic) characteristics and workplace characteristics that are predictive of Secondary Traumatic Stress and compassion fatigue in animal care professionals working in public animal shelters who regularly bear witness to animal suffering."
Emma O'Rourke (Political Science) will join us after she returns from Guatemala where she will start her case study analysis of "the intersection of political conflict and environmental stress factors." Emma is working with Dr. Ken Mitchell.
Jenna Puglisi's (English) "Elements of Nature" project will produce a collection of poetry based on the local environment. Dr. Stan Blair is her faculty sponsor.
Nathaniel Rodriguez (Mathematics) will be working with Dr. Susan Marshall to investigate whether any heron simplexes exist.
Marta Telatin (Biology MCP) will be studying the "Neuropharmacology of Alcohol-Stimulant Co-Use," with Dr. Dennis Rhoads.
Sebastian Vera (Biology MCP), working with Dr. Megan Phifer-Rixey, hopes to establish "new models for diet induced obesity that are more genetically diverse" to aid in understanding obesity risk in humans.
During June and July, the students will conduct research under the tutelage and mentorship of a faculty member. Additionally, students and faculty in this learning community will meet weekly to discuss their progress, help each other solve problems and develop various professional skills. We will have special workshops on topics such as making research posters and writing resumes. Students will live in Willow Hall and take part in a number of student activities such as Movie Nights and food events organized by Residence Life. Students will present their work at the spring 2019 Scholarship Week.
Graduate Commencement
More than 500 graduate students were honored at the 2018 Graduate Student Commencement held on May 10 at Ocean First Bank Center. This was the second graduate-student specific commencement event. The Commencement Speaker was Dr. Moleen "Molly" Madziwa, MSSE '09.  The Graduate Commencement ceremony can be viewed here.
Global Education Office
The Global Education Office (GEO) has been working together with the Office of Graduate Studies and Enrollment Management to prepare the way for the recruitment of more international graduate students to Monmouth University. Last year the University partnered with Intead, a global marketing firm, to create a new international admissions website, sell sheets, and brochures that will support future digital marketing campaigns. This past year, we have engaged several tactical partners to assist us in the recruitment of graduate students in Computer Science, Software Engineering, Information Systems, and Business Administration. GNET, a company that manages agency relationships on behalf of US universities, has helped Monmouth launch recruitment efforts in India and other Asian locations, while the Asia Institute, based in Shanghai, China, has assisted the Leon Hess Business School in creating at least one new Chinese university partnership that will become a source of graduate students in the MBA program.
Initial responses to our efforts have been very positive, and we are well on our way to meeting our enrollment goals for 2018-2019. Our partners have identified the University's prime location in the New York City metropolitan area, strong graduate programs with external accreditation, and our beautiful campus as assets in our recruitment pitches. More importantly, though, they have cited the satisfaction of our international students, the strength of our dedicated faculty members as teacher-scholars, the successful placement of recent international graduates in jobs within the context of Optional Practical Training (OPT), and the overwhelming support of our international alumni, who have responded to our call for testimonials and success stories to populate our various websites and materials. We have identified several potential alumni networks to develop more fully in order to support the next phases of our recruitment work in future years.
At the moment, the University has prioritized China and India as our two more important markets, but our partners have encouraged us to think a bit bigger and consider Top Ten sources of international students for future phases of our international recruitment. A multi-tiered approach of agency relationships, institutional partnerships in key countries, and in-country ESL student outreach should help us reach our goal of fifty new international graduate students in 2022-2023. As our work progresses, we know that we will be engaging faculty to help grow these efforts in various parts of the world.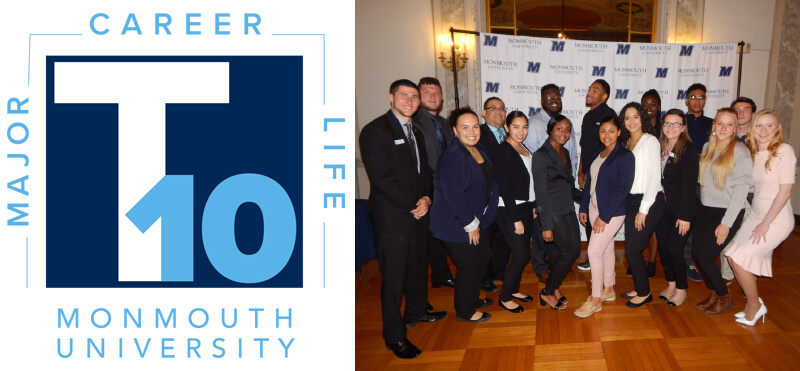 Go Hawks, Go T10!
The Office of Transformative Learning introduced the Transformative Ten (T10), a series of interactive events designed to help students connect their majors to careers in preparation for life after Monmouth. This initiative is a direct response to student concerns centered on selecting majors and exploring career opportunities. The College Student Inventory (CSI) findings, for example, indicate that first year students are persistently concerned with finding a major and exploring their career options. T10 brings together current and new programming for a complete portfolio of activities for all students, regardless of major, class or career interests. T10 activities focus specifically on helping students make the connection between majors and careers, expose them to networking opportunities with faculty, employers and successful alumni, and helps develop student confidence, communication skills, digital literacy/presence, and networking abilities.
Student Engagement Surveys
In the Spring of 2018, the Office of Planning and Decision Support administered the National Survey of Student Engagement (NSSE) to our undergraduate first-year students and our graduating seniors, and the Faculty Survey of Student Engagement to our full-time and part-time faculty teaching our undergraduate students.  These surveys are designed to complement each other.  Administered through Indiana University School of Education's Center for Postsecondary Research, the NSSE and FSSE provide data for our MU students, as well as national benchmarking data, regarding the undergraduate experience (in and outside of the classroom) that can be used in our conversations regarding improvements and possible changes. This year we opted to include the additional topical modules of "Development of Transferable Skills" or "Experiences with Writing" to enhance our engagement information. We had a strong 41% overall response rate for our student invitees and 60% for our faculty invitees. OPDS looks forward to sharing these survey data this coming fall.
OPDS presented an update of the Monmouth Plan (Strategic Plan) to the Board of Trustees at their June meeting. This update will be presented to the faculty and other interested MU constituencies in the upcoming academic year.