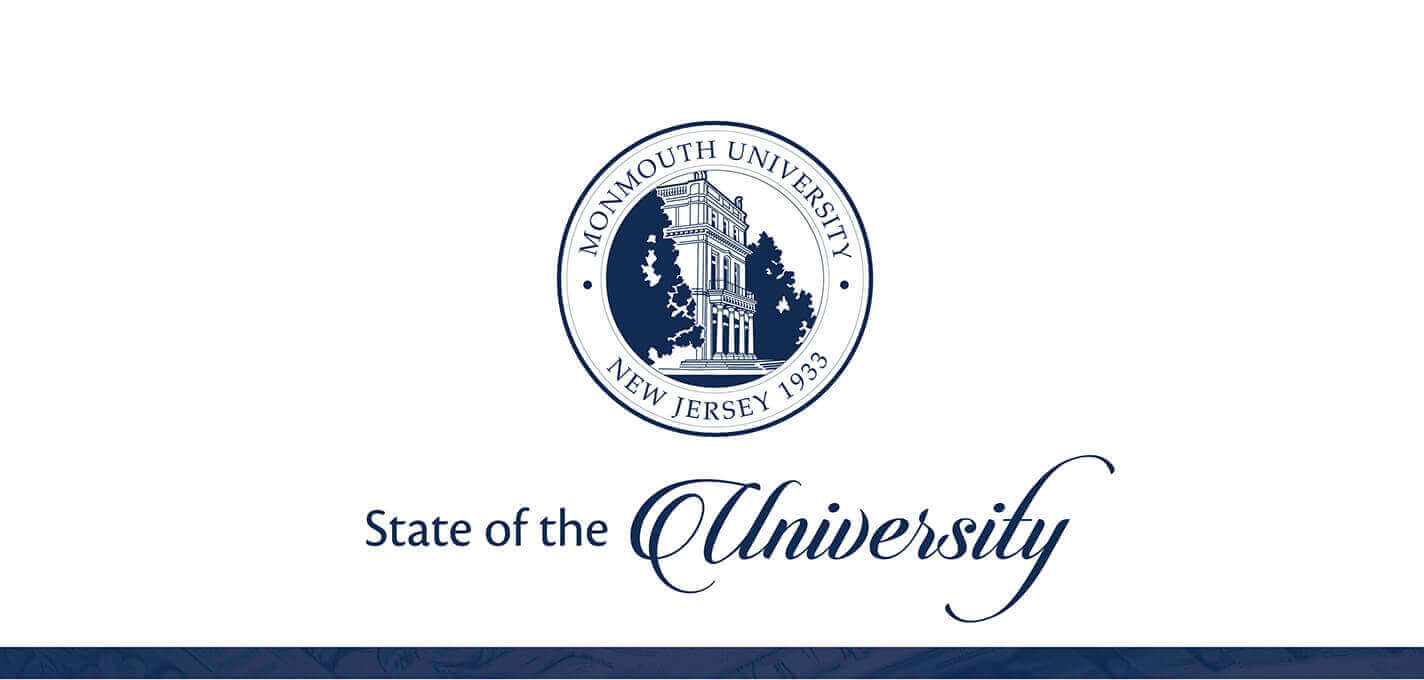 Dear Parents, Alumni & Friends,
We begin 2017 with an exciting new partnership to establish The Bruce Springsteen Archives and Center for American Music at Monmouth University. Announced on January 10 during a campus visit from Bruce Springsteen, this collaboration solidifies our standing as a premiere university and promises to further enhance our national profile in the years to come.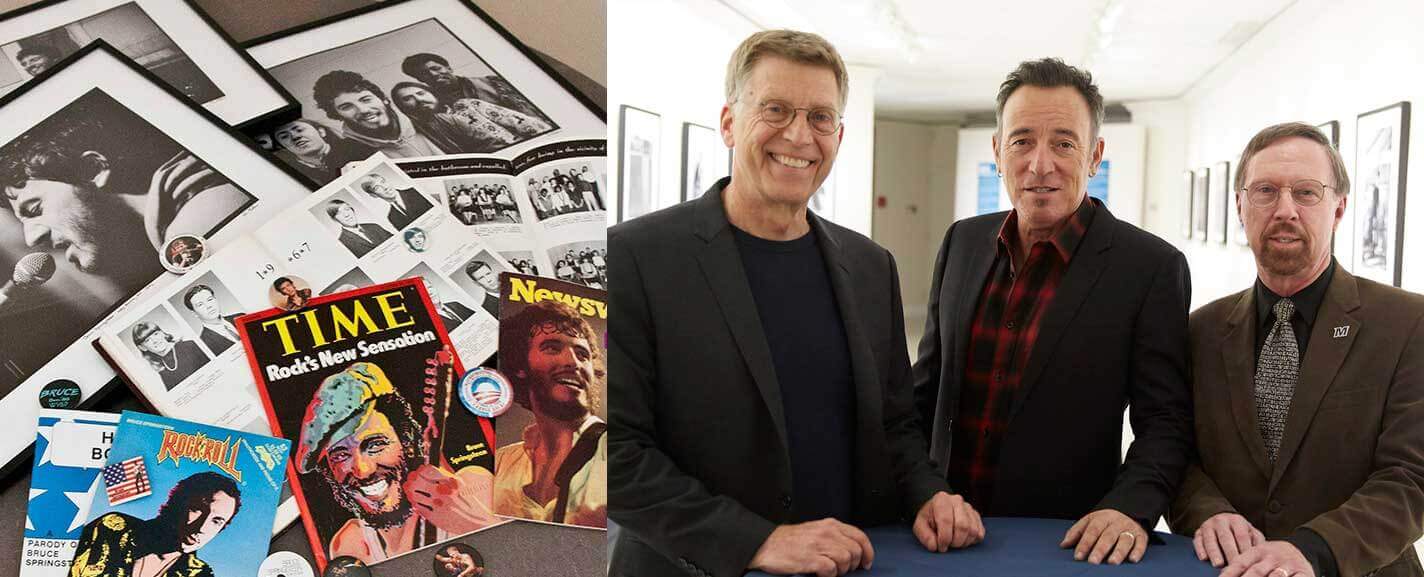 Even as we become the official archival repository for Springsteen's written works, photographs, periodicals, and artifacts, Monmouth University will also preserve and promote the legacy of American music icons like Woody Guthrie, Robert Johnson, Hank Williams, Frank Sinatra and others. By integrating the history and inspiration of American music into the curriculum and research experience, we will open new opportunities for students across a broad spectrum of disciplines, and become an increasingly in-demand destination for scholars and fans around the world.
The expanded partnership and Center for American Music will also strengthen our successful music industry program and augment our status as one of only nine university affiliates of The GRAMMY Museum.
Just days after the announcement, we welcomed another luminary of the music industry, John Esposito, chairman and chief executive officer of Warner Music Nashville, who delivered the keynote remarks at our final winter commencement.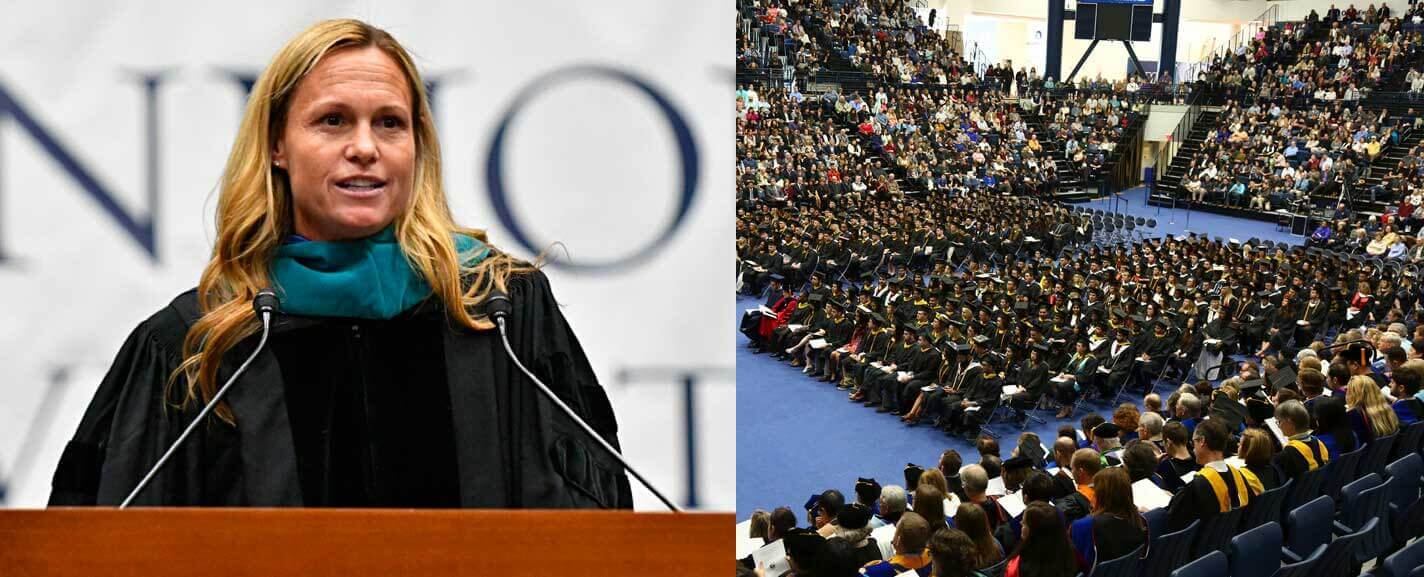 We were also pleased to recognize Olympic champion and former U.S. Women's Soccer Team Captain Christie Pearce Rampone '99 with our Distinguished Alumni Award. She remains one of our most decorated, and most beloved, alumni and it is always a pleasure to have her back on campus to engage with our students.

Accelerating Momentum
These recent events build upon the tremendous increase in our national profile over the past year. Our reputation and stature have accelerated exponentially thanks to the incredible coverage of our Polling Institute in an election cycle that defied all conventional wisdom; the incredible school spirit of our "Bench Mob," whose members captured the hearts of millions of fans across America; and the giant-killer season of our men's basketball team, which continues to break school records in its 2016-17 campaign.
A new partnership to name our signature arena as the OceanFirst Bank Center, which resonates so well with our coastal location, has already taken root on our campus. The newly branded facility was featured in August on MTV's "Ultimate Fan Experience" for a sold-out Shawn Mendes concert, and increased coverage for our athletics programs across the ESPN platform, has continued to expand the buzz about one of the finest athletic and performance venues in our region.
Even more gratifying than the attention of national news media to our successful milestones, the increased engagement of students, alumni, parents, and friends has energized our entire campus community.
That same energy helped secure the external fundraising support needed to begin work on the Monmouth Stadium project on Kessler Field. As home-base of more than half of the University's Division I student-athletes, including football, men's and women's lacrosse, and track and field teams, the stadium will provide a new platform for student, alumni, parent, and fan engagement.
The new facilities will complement the OceanFirst Bank Center and enhance recruiting of academically outstanding student-athletes. With construction now fully underway, we are on target for a home-opening game against Lafayette on September 2, 2017, that will kick off the 25th anniversary of football at Monmouth.
The cumulative effects of these efforts include press coverage that produced the equivalent of over $1 billion in advertising – more than three times what we earned in the previous year. The results have translated to record-setting enrollment numbers, capacity crowds at athletic contests and alumni events, high water marks in fundraising totals, and our broadest array of student internship opportunities to date.
Academic Programs & Initiatives
Our core mission remains providing a rigorous academic experience to an increasingly competitive student body at the graduate and undergraduate level. Over the last year, academic programs have been strengthened with the addition of 30 new faculty members and the appointments of Dr. Nicolle Parsons-Pollard as vice provost for academic and faculty affairs, Dr. Kathryn Kloby as vice provost for transformative learning, Dr. Jon Stauff as vice provost for global education, Dr. Michael Palladino as vice provost for graduate studies, and Dr. Steven Bachrach as dean of the School of Science.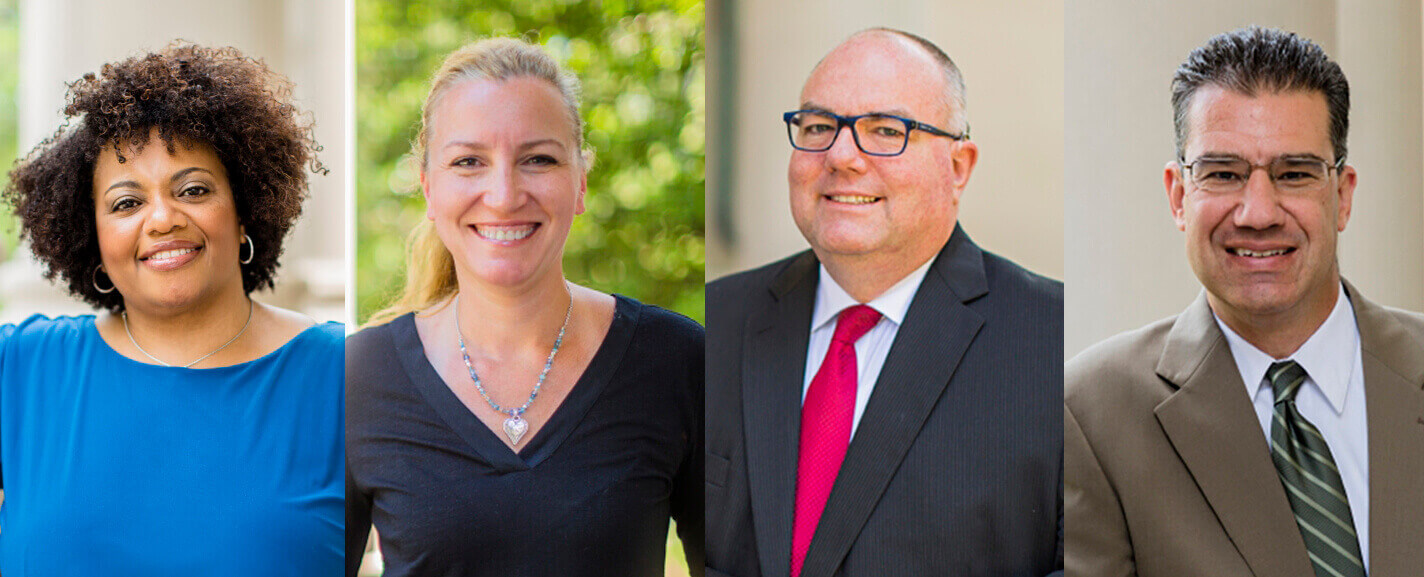 More recent academic leadership appointments include Kurt Wagner as university librarian and Dr. Walter Greason as dean of the Honors School.
In June, we received fresh affirmation of our academic excellence with official notification that the Middle States Commission on Higher Education voted to approve our decennial re-accreditation and commend Monmouth University for the quality of the self-study process and report.
External recognition of our academic excellence include Princeton Review's "Best 381 Colleges: 2017 edition," and "Best 294 Business Schools: 2017," as well as rankings in U.S. News & World Report 's "Best Colleges," and Money Magazine's roster of "Best Colleges for Your Money."
As a result, we have seen a record number of applications and welcomed our second-largest freshman class in university history. Along the way we also became the first and only institution in New Jersey granted status to award a Peace Corps Preparation certificate.
In April, Dr. Lisa M. Dinella, an associate professor of psychology and the principal investigator at Monmouth University's Gender Development Lab, was invited as the keynote speaker at the White House, in Washington D.C. Her research on gender disparities in children's media and toys provided new insights on how toy, media, and retail companies; youth-serving and parenting organizations; and advocacy groups can break down gender stereotypes in the products they create.
In June, undergraduate and graduate students participated in the first archeological project at the Orange Valley sugar plantation in Jamaica, providing hands-on experience under the guidance of Dr. Richard Veit, chair of the Department of History and Anthropology.
Progress also continued across other exciting academic initiatives including the Monmouth University Institute for Health and Wellness, our University Lecture Series, New Jersey History Day, and our comprehensive Student Scholarship Week. Our second weeklong conference to celebrate student academic work inside-and-outside of the classroom, and highlight faculty-student collaboration, is scheduled for April 17-23, and I hope you will visit campus to see the results of their work.
Opportunities for student-faculty research under the auspices of the Urban Coast Institute (UCI) have also made dramatic strides in the past year thanks to the successful $5 million Marine Science & Policy Challenge Grant of 2014 and the Heidi Lynn Sculthorpe Summer Research Grant Program.
One clear benchmark for the success of the initiative has been a more than three-fold increase in the number of UCI-sponsored student-faculty research projects. In the summer of 2015 we had five student-faculty research projects, as compared to 17 UCI-supported research projects in the summer of 2016.
The UCI continued its tradition of bringing thought-leaders to campus, including former New Jersey Governor and EPA Administrator Christine Todd Whitman and Dr. Donald Boesch, president of the University of Maryland Center for Environmental Science. In October, the UCI also held the first of an annual series of joint Marine Science & Policy conferences in partnership with Rockefeller University's Program for the Human Environment.
Many of these academic milestones are already making a significant impact on our current students, while others are setting benchmarks for greater heights of excellence that we will continue to build upon in the years to come.
Confidence in our Mission
A comprehensive campus-wide effort to encourage alumni, friends, industry partners, and the media to actively engage with the university community continues to reap rewards for our students.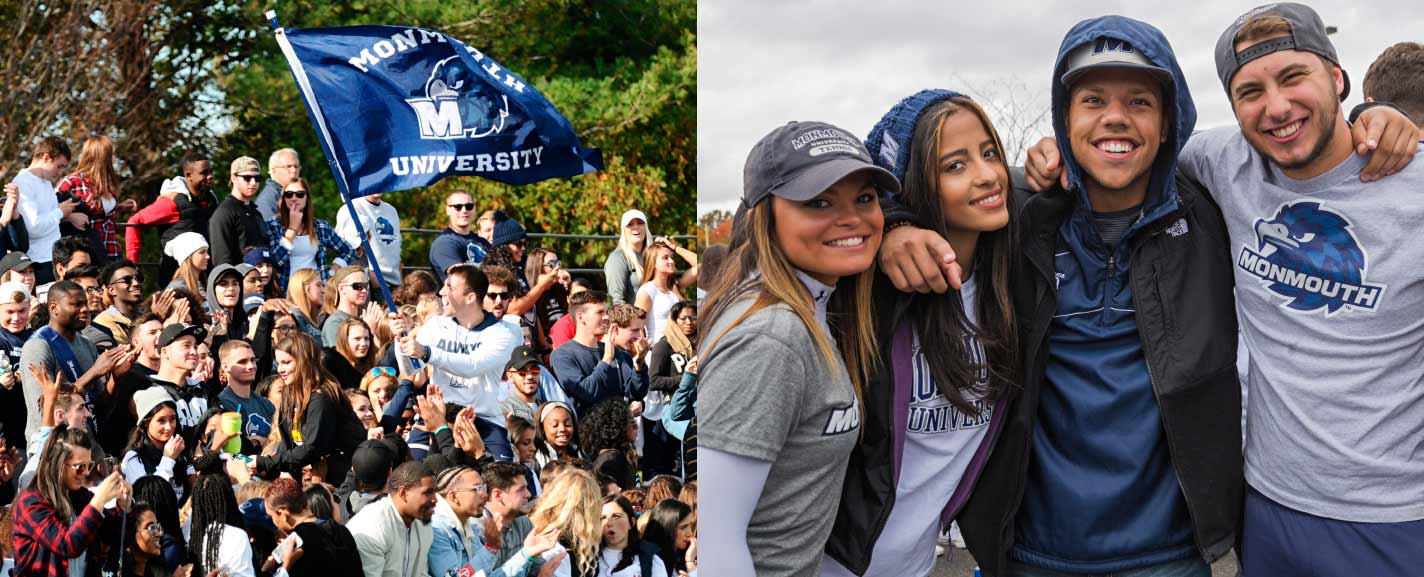 With more than 30 percent of our freshman class qualifying for state-funded tuition aid, and more than 40 percent of the same class identifying themselves as first-generation college students, I am especially pleased that support for student scholarships has been strong in the past year.
Increasing scholarship opportunities through endowments and unrestricted general funds continues to be an emphasis for me and for Monmouth University. Sixteen new endowed scholarships totaling more than $1.5 million were established in 2016, representing a 35 percent increase in the number of endowed scholarships created in 2015, and a 25 percent increase in the total dollars committed to endowed scholarships over the same period.
We are well on our way to raising more than $10 million for the fifth consecutive fiscal year, with average annual totals exceeding $11 million over the past four years.
These record levels of financial support from our alumni, parents, and friends are a demonstrable vote of confidence in the value of a Monmouth degree, our broader mission, and our ambitious goals for the future.
Our achievements over the past year have been remarkable, and they are only possible with your active engagement. We are on a trajectory for even greater success, and a greater impact on our region and our nation, in the year ahead. I hope you will join us in our exciting journey.
Please feel free to contact me with comments or questions at president@monmouth.edu. I enjoy hearing from you.
Sincerely,


Paul R. Brown, Ph.D.