Overview of Alumni Success
Students receiving their baccalaureate degree at May 2014 Commencement were asked to complete a brief survey about their employment status at the time of graduation and their perceptions their experience at Monmouth University.
SOURCE: May 2014 Commencement Survey
What are the graduates' plans right after graduation?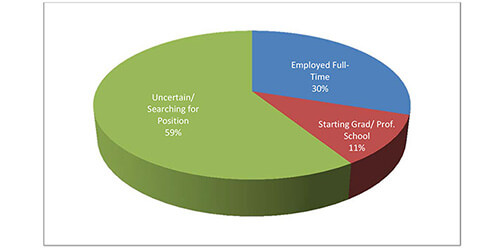 (2% reported that they had a full-time position and would also be attending graduate/professional school; their numbers are reported in the Employed Full-time category)
What are the reported starting salaries of those who had obtained a full-time position by the time they graduated?
The following "word cloud" graphically displays the final thoughts the new graduates provided about their Monmouth experience. The larger the word, the more frequently it was mentioned in the comments.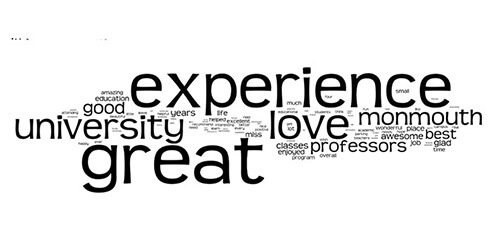 ---
Class of 2013 Post-Graduation Survey
Monmouth University students who received a baccalaureate degree in May 2013 were surveyed in the late winter/ early spring of 2014. Information was obtained for 65% of the May graduating class. The following are the results from that survey. (SOURCE: Class of 2012 Employment Survey)
What was the Class of 2013 doing 6 months to one year after graduation?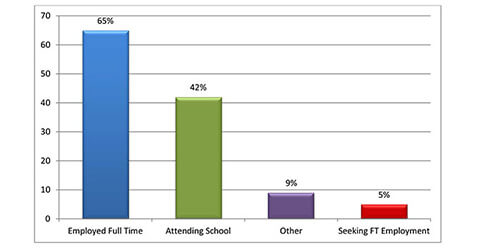 (Other includes serving in internship, homemaker, traveling, preparation for graduate school, etc.)
What types of advanced degrees is the Class of 2013 pursuing?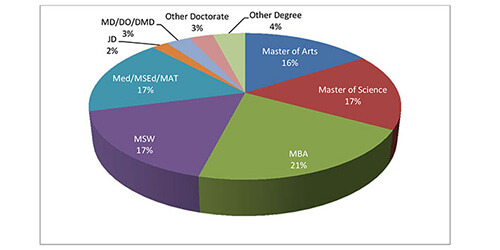 Click here to learn more about placements for specific majors