Understanding the Evolving Commercial Real Estate Market
Inside Monmouth
Understanding the Evolving Commercial Real Estate Market
A successful alumnus changes campus to increase educational resources and highlights of ways that the Kislak Real Estate Institute prepares students to meeting the challenges of the evolving commercial real estate market.
Pozycki Hall: A Safe New Home for the Changing Tide in Real Estate
As Spring 2015 classes came to a close, construction continued on the new 20,000-square-foot, state-of-the-art academic facility known as Pozycki Hall that extends from Samuel E. and Mollie Bey Hall. The timing is impeccable for this new venue, as the real estate industry continues to evolve and the need to adapt to these changes grows.
Median home prices nationwide from a year ago crept higher (up six percent in the fourth quarter of 2014, according to the National Association of Realtors). The struggle to provide affordable housing continues and the state Supreme Court decided in March that the Council on Affordable Housing (COAH) will no longer be in control.
"The affordable housing battleground goes back to the courts, where it began 40 years ago," said Peter Reinhart, director of the Kislak Real Estate Institute at Monmouth University, in a recent opinion piece in The Record. "This moment in the history of the New Jersey affordable housing experiment provides an opportunity for some fresh thinking that can provide affordable housing while improving the tax situation and maintaining open space."
With the real estate market still on a rollercoaster ride, prices are still struggling to recover from a crippling recession, and catastrophic events, like Superstorm Sandy, are still wreaking havoc. There is a vital need for a greater understanding of the market and the ramifications of things like overbuilding, regulatory constraints, environmental and economic impacts, and affordable housing.
The Kislak Real Estate Institute was founded by Leon Hess Business School Dean Don Moliver and celebrated its 20th anniversary in 2014. It provides students with actionable real estate knowledge and hands-on experience to enable them to adapt to the changes as leaders in their field.
"We are in an elite group as the only institution in New Jersey that offers both undergraduate and graduate programs in real estate," said Moliver, who added that there are fewer than 100 real estate programs nationwide.
Helping to enhance this effort is the addition of Pozycki Hall, which was designed by DMR Architects and funded by a generous donation from Trustee Steven Pozycki '73. The new building will enhance both the Leon Hess Business School and the Kislak Real Estate Institute by providing much-needed additional classroom space, a 175-seat lecture hall, eight faculty offices, a student lounge, and an exterior terrace. It will also serve as an alternative venue for University events.
The more technologically advanced space will be available to students in the fall of 2015. The two-story building is connected to the north side of Bey Hall by a pedestrian bridge on the second floor, which is flanked by glass walls.
The new building seems to nestle itself right into the Monmouth campus. It will create a natural courtyard once construction is complete and leave many wondering what drove the man who was instrumental in launching this project.
(continued below)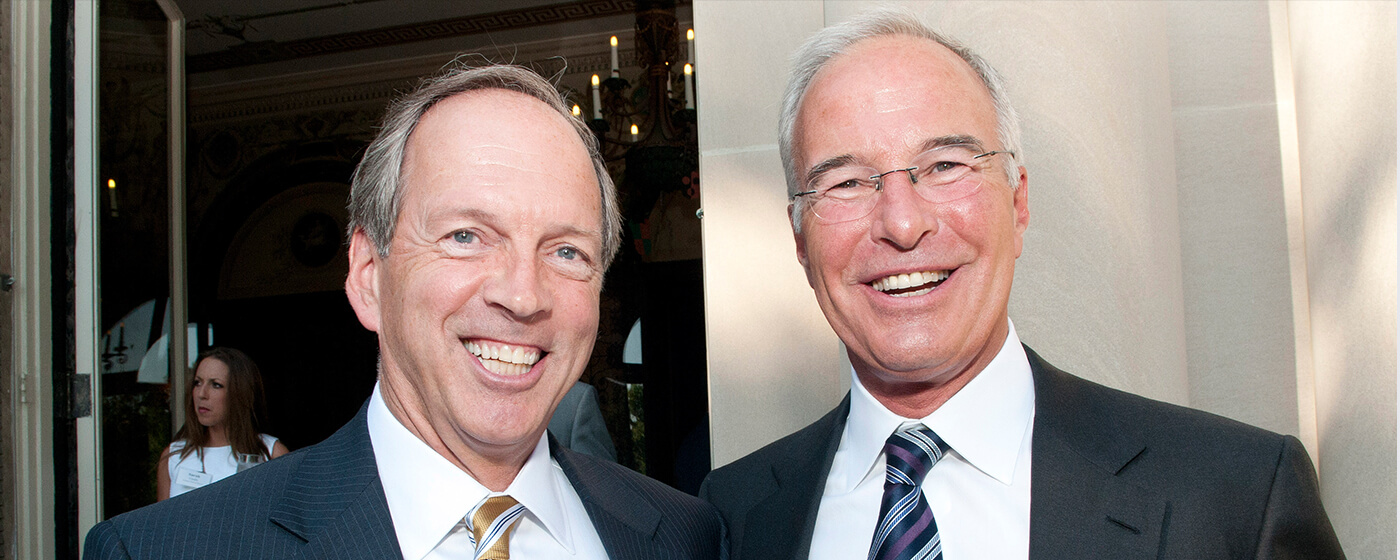 Steven Pozycki, often called a visionary, pioneer, and is consistently voted in the top 10 most influential people in the NJ real estate industry by NJ BIZ, graduated from Monmouth College in 1973 with a degree in business and memories of Bruce Springsteen playing until the wee hours of the morning down the hall of his apartment building. Two years later he found himself among the few who could say they married on the Monmouth campus when he exchanged vows with his wife, Elaine, in the Monmouth chapel.
Thirty-eight years later, Pozycki was honored with a Lifetime Achievement Award from the New Jersey chapter of NAIOP, the commercial real estate development association, at the 26th Annual Commercial Real Estate Awards Gala.
Pozycki began his career in the 1970s with 10 years of institutional experience in real estate finance, first with Metropolitan Life Insurance Co. and then with Equitable Life Assurance Society. He also previously ran the finance office for Lincoln Property Company in New York City that later became the firm's in-house investment banking operation.
In 1981, Pozycki made his most ambitious move when he assembled SJP Properties. His first project was a 182-acre corporate park in Parsippany, NJ, known as Morris Corporate Center. Since that time, he and the SJP Properties team have successfully developed more than 25 million square feet of ground-up real estate projects in partnership with major public and private institutions.
In 1996, he was awarded the Real Estate Institute's Leadership of Excellence Award for his significant contributions to the New Jersey real estate industry. Pozycki has been a Monmouth University trustee since 2003 and is a member of the Real Estate Institute's Advisory Council.
As the founder, chairman, and CEO of Parsippany-based SJP Properties, Pozycki still grows at a breakneck pace. From a skyscraper in Newark for Prudential Financial to new headquarters for Pearson Education in Hoboken, the New Jersey native has a firm hold on being one of the most reputable and innovative developers in the New York Metropolitan region.
So when Pozycki made the donation to Monmouth in 2013, it seemed like he was coming full circle and returning to the place where he first immersed himself in the business of real estate 40 years earlier.
As he continues to build his company and make a significant impact, Pozycki said, "We will continue to instill a philosophy that truly great places can only be built with a thoughtful eye for the greater impact they have today, and into the future."
Explore more
Inside Monmouth