Searching for Answers through Science and Research
Inside Monmouth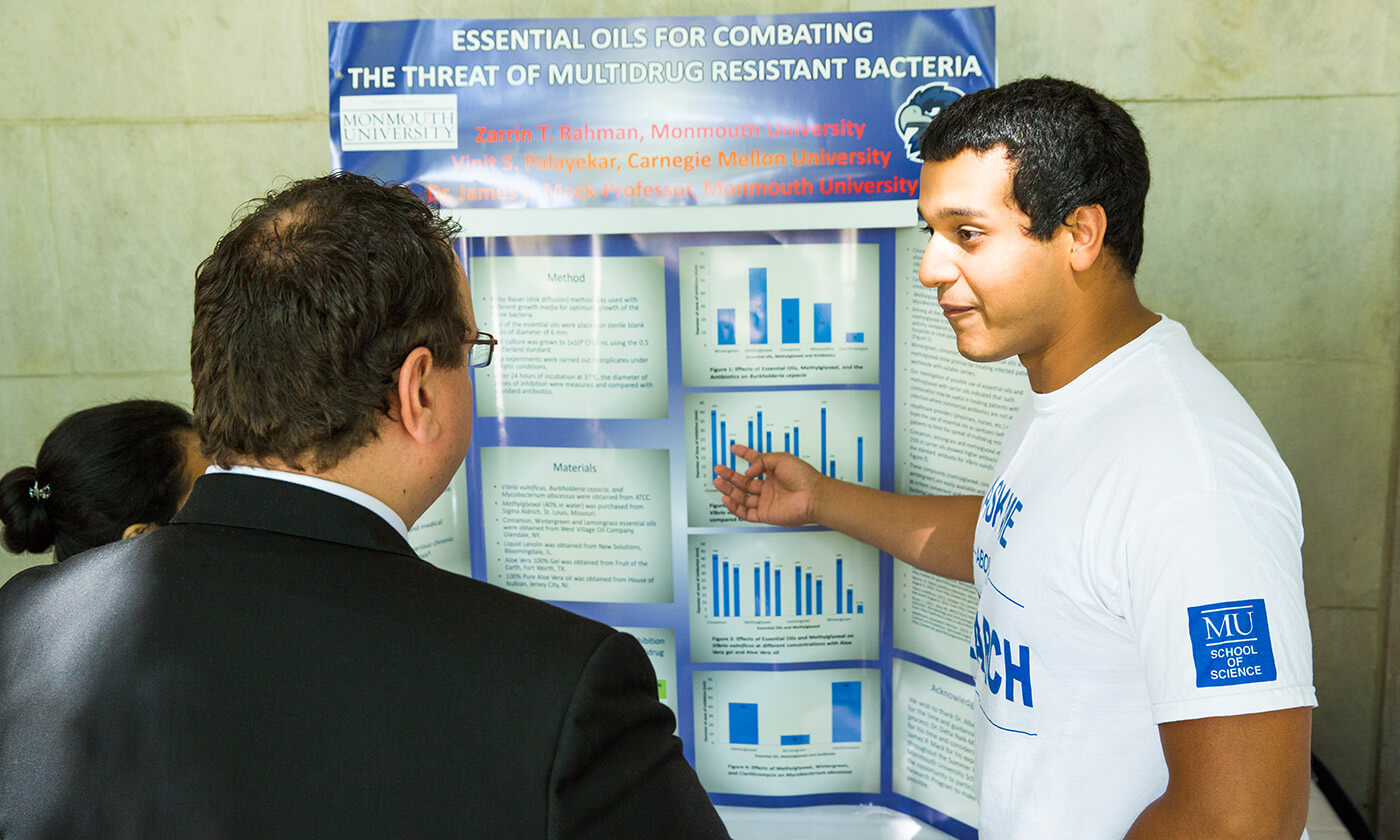 Searching for Answers through Science and Research
One student advances research in Marine Chemistry and embarks on a bright future plus highlights from several successful Summer Research Programs.
Graduate Makes Waves in School of Science
Marine biology first showed signs as a field of study in 1200 BC when the Phoenicians used the stars to track their ocean voyages. A more definitive recording of the science didn't happen until around 380 BC in Greece when Aristotle, known as the father of marine biology, identified a variety of species.
Fast forward over 2,000 years and nearly 5,000 miles west on the campus of Monmouth University, and one marine chemist in particular is still searching, quietly, for answers in our waterways. Considering oceans cover about 71 percent of the Earth's surface, his findings could have a profound impact. Pete Chace, a 2012 Summer Research Program participant who attained a bachelor's degree in biology and chemistry in May 2015, is a standout student who embraces exploration and analysis.
From long-term plankton studies in Barnegat Bay to researching in Seattle for the National Oceanic and Atmospheric Administration's Earth-Oceans Interactions Group to a presentation in Spain showing the geochemical impacts of shallow volcanic gas vents on coral reefs, the young academic career of this New Jersey native could never be called lackluster.
"He's motivated by the things he's passionate about," said Robin Kucharczyk, a mentor and former professor and perhaps one of his biggest fans. "Life is a chemistry experiment for him. He is one of the smartest, most ambitious and modest students I've encountered."
And the tide of Pete's career is just getting started. Interspersed among his numerous research projects was a five-year stint as a jellyfish curator, interpreter, and relief aquarist at Jenkinson's Aquarium in Point Pleasant.
When asked what scares him, Pete shrugged his shoulders and said, "The sound of running water when it shouldn't be running." He recalled having dreams of cracked fish tanks and the resulting trickle or gush of water.
(continued below)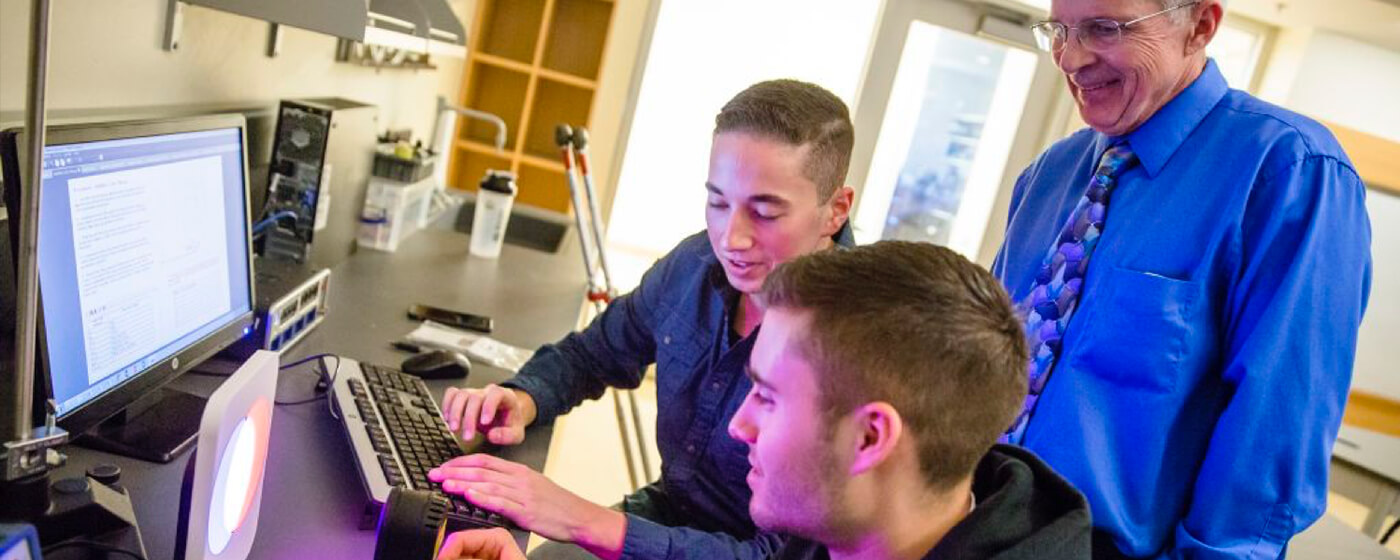 Pete has always wanted to be a scientist. At the age of seven he would frequent the brackish waterways in his hometown of Brick Township and volunteer at nature centers. He discovered his passion for learning more about fish and decided, when he grew up, he would be an ichthyologist …otherwise known as a fish scientist.
Armed with a double major in chemistry and marine and environmental biology and policy and a minor in statistics, the 22-year-old had already mapped out the next stage of his life prior to commencement in May 2015.
He is returning to the West Coast to study at Oregon State University for a master's degree in chemical oceanography, a path that will likely lead into a doctoral program. He will study the chemical-biological interfaces of extreme habitats, particularly those of deep-sea vents. This is Pete's third trip to the West Coast. In the summer of 2013 he interned for 10 weeks at Oregon State as part of a research experience for undergraduates, and in summer 2014 he received a NOAA scholarship and studied the chemistry of hydrothermal vents at the University of Washington in Seattle.
When asked about his dream job, Pete said without hesitation that he aspires to be a research professor. An academic career would enable him to continue his research but also share his knowledge with students—something he has been doing for three years at Monmouth as a Peer Mentor in the School of Science.
The Peer Mentoring program is directed by Interim Dean Catherine Duckett and Dr. Kucharczyk. Mentors meet with first-year students periodically throughout the semester, both individually and in group activities. They answer questions about life at MU and how to obtain academic assistance and other help on campus. They also encourage critical thinking that will enable students to solve their own problems.
"Pete has distinguished himself as a Peer Mentor in many ways, mostly by his authenticity and intellectual drive," said Dr. Duckett. "His intense grilling of potential Peer Mentors during our group interview role plays where he pretends to be a disgruntled and depressed first-year student have been legendary performances."
Dr. Duckett added, "He is committed to a life as a marine scientist and will be a stellar researcher and a good-humored but cynical faculty member. He has been critical to our recruitment of well-spoken graduate students for our 'success in graduate school' panels. I have no doubt of his future success. Pete is tenacious and indomitable; these are his greatest strengths."
As evidenced by his many fans, Pete has taken full advantage of every opportunity offered at the School of Science. When he wasn't studying, researching, or mentoring, Pete spent some time working with Dr. Tsanangurayi Tongesayi on developing environmental remediation technologies. He has also provided field support for Dr. Ursula Howson's long-term plankton studies.
Beyond his aspirations of becoming a research professor, Pete also said he hopes to publish a book or two. When pushed to choose another career if science no longer was an option, he said, "I'd probably be a writer or journalist. I am interested in a lot of things. People might be surprised to hear that I love reading, writing, and theater."
Explore more
Inside Monmouth