Hands-On Exploration and Analysis to Solve Meaningful Problems
Inside Monmouth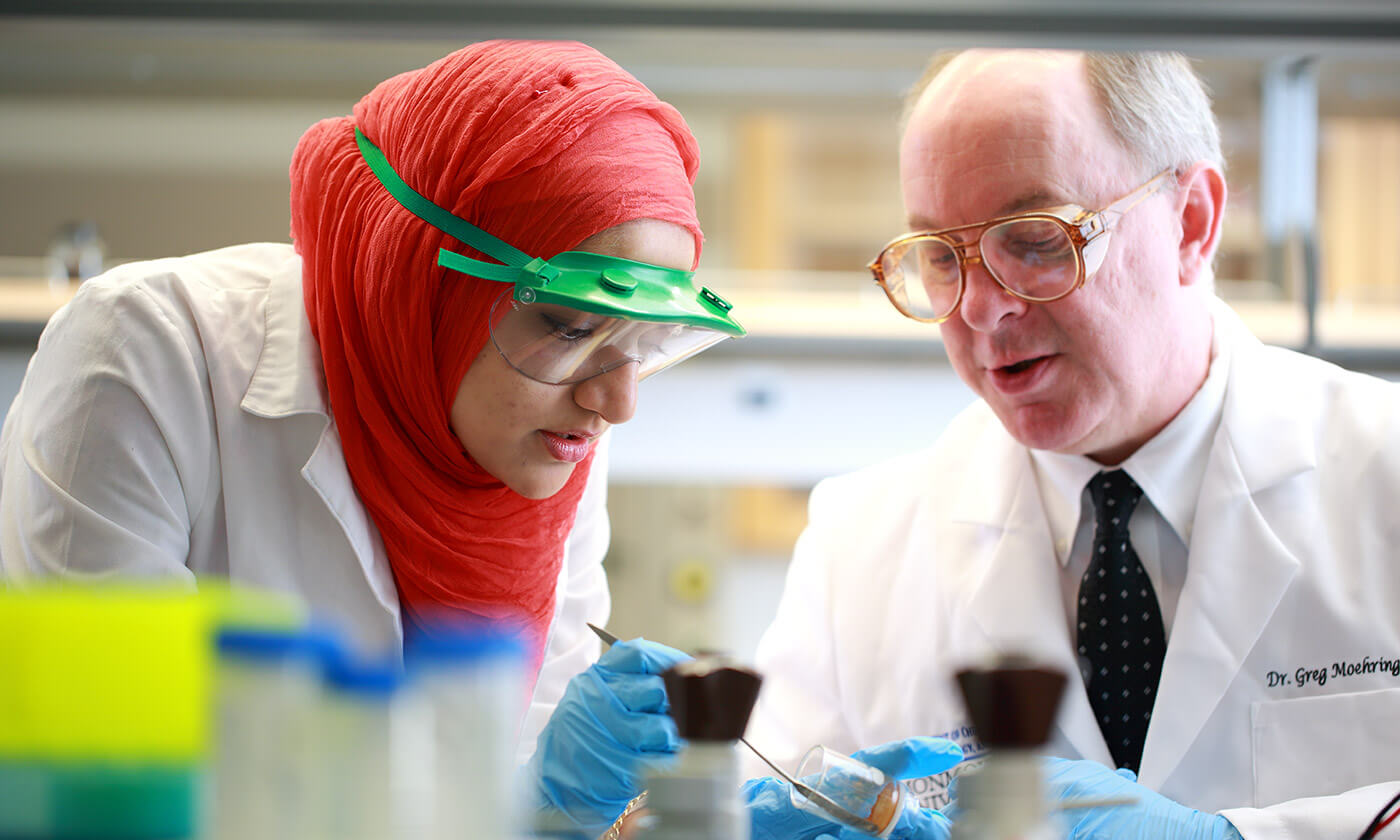 Hands-On Exploration and Analysis to Solve Meaningful Problems
The importance of student-faculty research to launching a successful career and several features on the immersive, high-impact research opportunities.
Collaboration Beyond the Classroom: Student-Faculty Research
The esteemed physicist, historian, and philosopher Thomas S. Kuhn was responsible for introducing the phrase "paradigm shift", which is used widely to mean a disruptive change in organizational thinking and intellectual progress. While scholarly seeds sown by undergraduate student-researchers may not always add up to a paradigm shift, such projects done in concert with a faculty member can yield breakthroughs in creative and original thinking that help evolve bodies of knowledge and academic disciplines.
According to the Council for Undergraduate Research (CUR), there is an expressed national anxiety about the general lack of support for research in the United States. The CUR believes that undergraduate research opportunities help develop critical thinking, creativity, problem solving, and intellectual independence, all of which in turn contribute toward advancing an innovation-oriented culture—a culture supported by Kuhn's conceptual revolution.
Importantly, a university graduate who puts on his or her résumé that they have conducted a research project in partnership, or even co-authored original research, with a faculty member instantly stands out to potential employers as someone who can contribute original thinking to the organization. That valuable experience is not limited only to students of the sciences, said the former dean of Monmouth University's School of Science and now Vice Provost for Graduate Studies, Michael A. Palladino, Ph.D.
Students at Monmouth from all majors have worked one-on-one with faculty on a wide variety of topics. Some have been presented at professional conferences, some have been published in academic journals, and some projects have become creative and artistic works that have pushed toward far-reaching expressions of talent. All have in common the experience of a meaningful, productive, and human mentoring relationship with individual faculty members who have guided students to value their own ideas.
(continued below)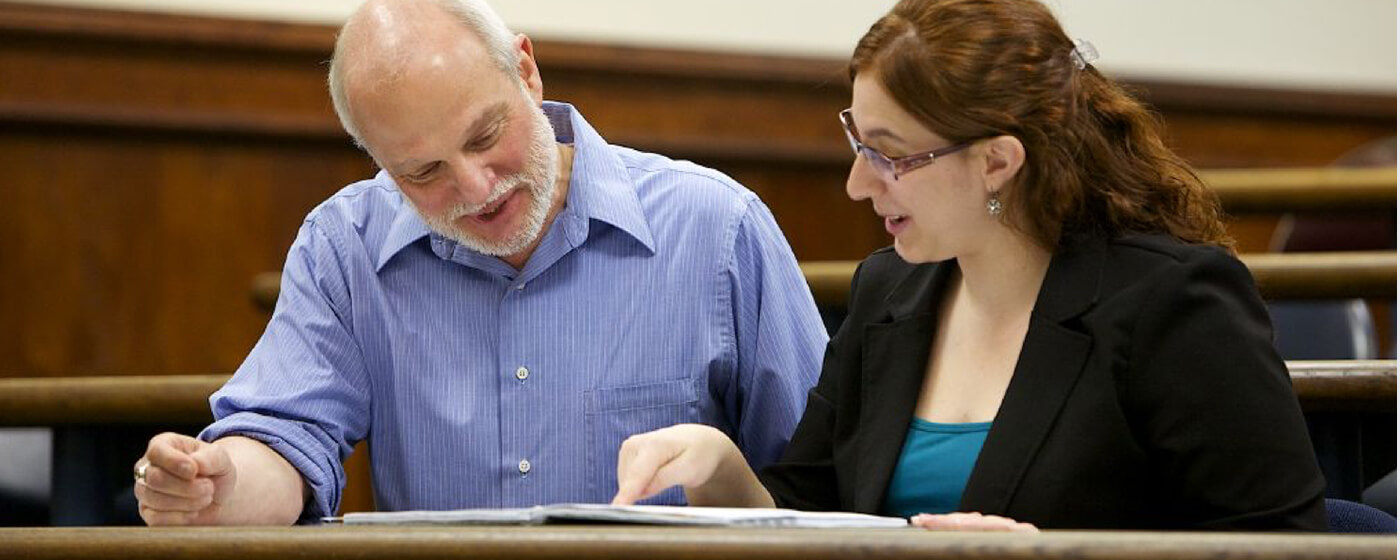 At Monmouth University, both undergraduate and graduate students, across all disciplines (if qualified) may be able to contribute meaningfully to just such a value-added partnership, which could very well mean the difference between "getting a job" and "pursuing a career."
The University is committed to learning experiences that are both high-impact and immersive—and that extend beyond the classroom. Research opportunities with faculty are a transformative way for qualified students to undertake thoughtful and challenging work. Exploration and analysis can nurture the student's own intellectual passions and provide a path for future career goals and/or entry into graduate programs or professional school programs.
Dean of Monmouth University's Honors School Kevin Dooley, Ph.D., said the personal and professional value of faculty-student research opportunities cannot be denied. "This is a way for the student to have something that will make them stand out in today's very competitive job market," he said. "Employers want to see how that job candidate thinks, and not just about the job, but how they function analytically and creatively. Our students do such original research that they make a real impression.
"We encourage interdisciplinary skills, and that kind of multi-dimensional thinking can translate well into the world of work," Dooley said.
Dr. Dooley said the value of research work is about more than the actual project. He said the value of a lasting mentor relationship with faculty gives students a confidence that stays with them long after they have left the University.
"The opportunity for doing collaborative research as an undergraduate was a huge draw for me," said Genevieve Fasano '14, a biology major with a concentration in molecular cell physiology. Genevieve is now attending medical school at Drexel University in Philadelphia.
"I was excited by the opportunity to participate in research as a freshman. In my second semester at Monmouth, I began collaborating on research in the Dean of the School of Science's reproductive biology lab. I worked on this same project for three years and because of it, I developed my own independent research project."
Dr. Palladino, who worked closely with Genevieve on her research, said that for science majors, as it is for all STEM (science, technology, engineering, and math) students, "the best way to learn science is by being active and by doing hands-on science. Students do not learn science by listening to professors talk about it or by reading a textbook. Science is learned by doing."
He added that it is an obligation of the University's mission to give students the opportunity to try research and to see if they like it and are good at it.
According to Dr. Palladino, nationally, less than 30 percent of all undergraduate students have an original research experience. "One of the great benefits of Monmouth students having an original research experience is not only working side-by-side with a faculty expert, but that expert is working with the student as a partner. Additionally, students are learning to work on a team. Not only are they working in a collaborative way with the faculty expert, but part of that experience is also about learning to work as a team member with faculty and with other students.
"By exploring something together, the student is not just a bystander, and when a faculty member can share their passion for the importance of their research with a student, they can be an exciting and effective mentor for that student."
Explore more
Inside Monmouth